Despite the hatred you might have absorbed through being in contact with internet trolls and the shaky basketball knowledge you picked up from Skip Bayless, LeBron James is still the sports hero of the Millennial generation. Not convinced? Check out the facts below.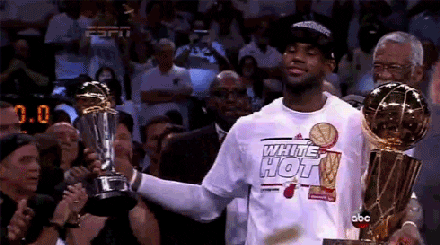 LeBron dominates his field. 

"

Numbers don't lie" says the anonymous owner of Tidal. ESPN releases a new stat that LeBron broke almost any time he touches the hardwood. I won't bombard you with numbers because you have Google, but peep this comparison to legends from last year.


LeBron is the archetype of the high school-to-pros era. 

He

 left prom and went to the NBA to become Rookie of the Year and get $90 million from Nike. Did you need a hall pass from your teacher so you could go be on the cover of Sports Illustrated? Didn't think so.



LeBron is savvy on social media.

He

 tweets his thoughts, lets us know what music he likes and takes selfies like any hip Millennial. We get a lot of glimpses into the life of King James via social media. We even saw him like a picture of an IG honey after a tough loss, and that made him even more human in our eyes.


LeBron stays woke. 

At the height of his career, he spoke out against Donald Sterling's racist comments and wore an "I Can't Breathe" t-shirt to protest the unjust murder of Eric Garner.  



LeBron has a zillion endorsements & iconic trademarks. 

Witness, King James and the baby powder toss before games are all things we'll remember about James, just like our older siblings had with Michael Jordan's Air Jordan and  tongue-out-while-hooping trademarks. According to Forbes, James is bringing in $44 million a year off the court from endorsements. 

LeBron is extremely clutch.




LeBron is a very visible family man. 

He

 married his high school sweetheart and has three kids. One of which is LeBron Jr., who is already receiving college recruitment letters at age 10.  The apple didn't fall far from the tree.



Forbes already told you LeBron was the most powerful athlete

.

 The magazine ranks celebrities based on the amount of money they make, as well as a fame component, which is compiled of social media engagements and mentions in the media. "James' influence lands him as the top athlete on Forbes' Celebrity 100

. The only celebrity across all categories to finish in front of King James on Forbes' annual tally is musician Beyonce." – via

forbes.com


LeBron's got an unblemished public record. 

*knocks on wood* LeBron has kept himself away from scandals, baby-mama drama and run-ins with the law. He'd be "America's Hero" if he wasn't a big black guy with tattoos from Cleveland, but that's for another think piece.


LeBron's sneakers are that fire and he inspired the greatest Twitter video ever. 

See below:
Need to save this so I can play it for my sons and future generations #witnesspic.twitter.com/Du37iBE9oU

— Sanchez (@ChezthePrez) May 16, 2015
want more posts like this? subscribe to our weekly digest below.
[mc4wp_form]