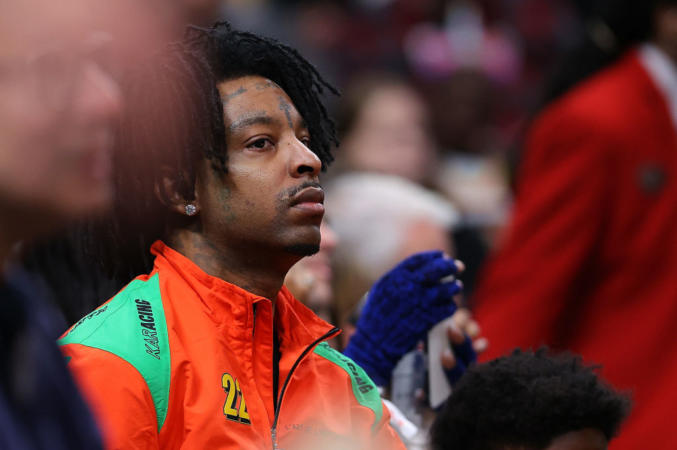 21 Savage Gets Into Heated Argument On Clubhouse: 'I Advise You To Shut The F**k Up'
Clips of the heated argument have surfaced on social media.
January 18, 2023 at 2:32 pm
Rapper 21 Savage recently got into a heated debate with an unknown man on Clubhouse, the app that became extremely popular in the early months of the COVID-19 pandemic.
While there's not a lot of information about what started the argument, the recordings of the 30-year-old's rants have begun circulating on social media. 
The clip starts with the rapper, whose legal name is Shéyaa Bin Abraham-Joseph, making a statement about people from Chicago.
"You waited for this moment your whole life, so you could argue with a n***a on Clubhouse," he said, as reported by Complex. You keep letting all these Chicago n****s boost your head up, like y'all n****s ain't dying in real life, man. Stop playing."
The unknown user attempted to ask the rapper if his point was that his "side didn't take no losses." From there, the exchange got pretty savage.
"Every n***a that we beef with, they got 30 of they n****s get smoked, n***a, and don't nothing happen to us. In real life, n***a!"
Other rowdy voices were heard on both sides of the conversation.
Savage continued, "Man. Aye aye, look, cap, you from Chicago. I advise you to shut the f**k up! I advise you to shut the f**k up 'cause the n****s that I f**k with up there'll spank your s**t! So stop playing!"
He continued, emphasizing, "Y'all ain't spankin' nothin' n****a!"