Today we take a trip down
'90s nostalgia
lane to revisit a story all about how one young man's life got flipped and turned upside down. This is going to take a moment so just sit right there as we count down the 21 best moments from
The Fresh Prince of Bel Air
:
21. When Aunt Viv had to show those snooty heifas in dance class what she was working with. Do you see this muscle tone and melanin though? Okay, Auntie!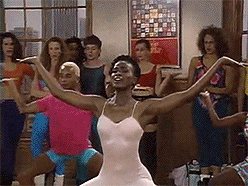 Photo: 90s90s90s.com
20. Anytime Will came with the stupid freestyle.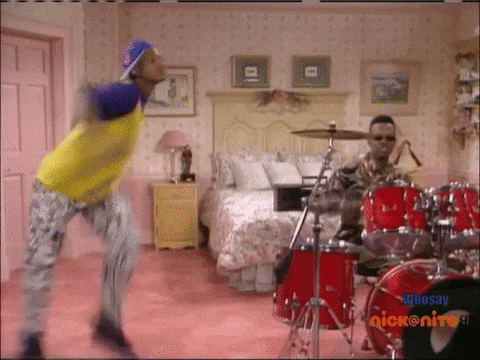 Photo: whosay.com
19. When Will got in formation with Ashley. Slay Smith or you get eliminated.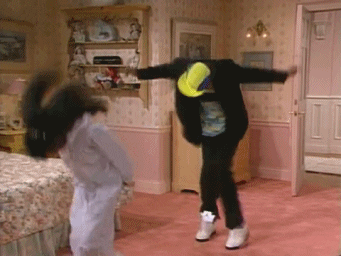 Photo: Eonline.com
18. When Will found out the Banks' were really 'hoodrich.'
17. When Carlton chose a questionable role model.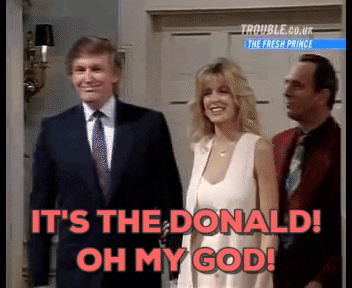 Photo: YouTube.com
16. When Tyra couldn't be bothered with Will's unique charm.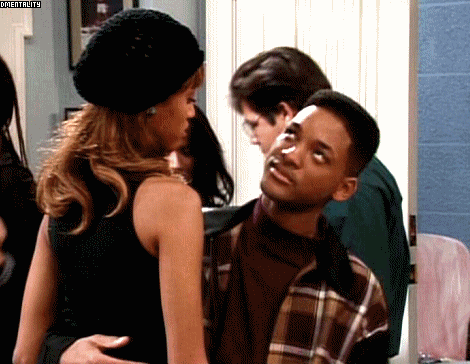 Photo: FreshPrinceofBelairgifs.tumblr.com
15. When Hillary was blackmailed by both Will and Carlton.
14. When Will and Jazz's exaggerated dap put #BlackMenGreetings on the map.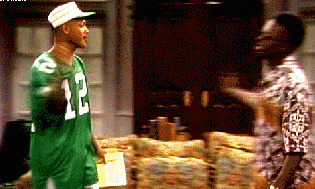 Photo: mtv.tumblr.com
13. When they thought we wouldn't notice that Jazz wore the same shirt every time Uncle Phil threw him out of the house.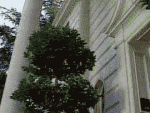 Photo: s413.photobucket.com
12. When Will and Carlton teamed up for this epic ode to the Sugar Hill Gang. Tonto, jump on it, jump on it, jump on it.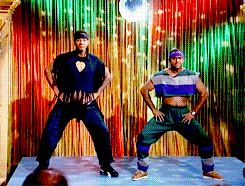 Photo: femburton.tumblr.com
11. When Hillary's proposal went terribly wrong.
10. When this little ditty earned Carlton pop culture legend status. #TheCarltonDance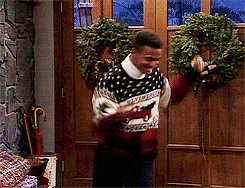 Photo: funnycutegifs.com
9. That time when Ashley grew up, put on a bustier and went all R&B on us. Photo: ruinedchildhood.com
8. When Carlton body-mopped the floor for no apparent reason.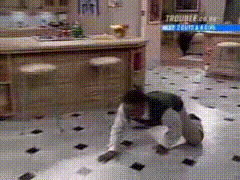 Photo: Giphy
 7. Every time Will couldn't resist a good roast.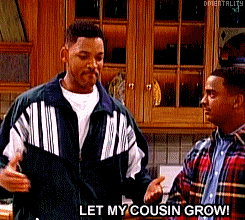 Photo: FreshPrinceofBelAirGifs.tumblr.com
6. When Jazz's crazy, deranged sister came through to shut down Will's entire life.
5. When Ashley was the beneficiary of some interesting advice on how to intimidate the school bully.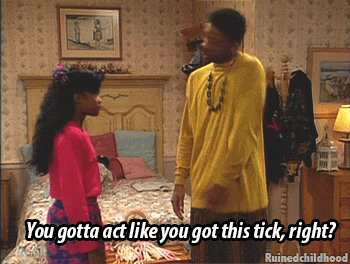 Photo: wifflegif.com
4. When the show's writers cleverly laced humor with truth.
3. When Lisa stole Will's heart.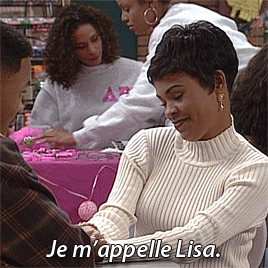 Photo: freshprincesubs.tumblr.com
2. Every time Geoffrey proved to be the king of the sneak diss.
1. That one time when Will got stuck in the basement with his girl and made some interesting discoveries.