5 Mike Tyson Quotes Which Highlight His Peculiar Way With Words
Words for a warrior.
February 22, 2020 at 7:30 pm
Mike Tyson was only 20 years old when he became the youngest titleholder ever after knocking out Trevor Berbick in only five minutes and 30 seconds. Knocking out heavyweights viciously, and in seconds, was something that marked the career of "Iron Mike." In addition to his unbelievable career, Tyson's way with words cemented his position as a pop culture mainstay.
1. "I ain't the same person I was when I bit that guy's ear off."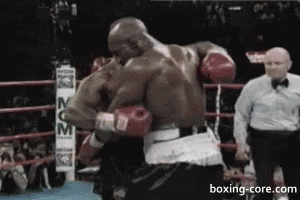 Hopefully, Tyson is the only person in the world who can accurately say this. In 1997, he committed career suicide by biting off Evander Holyfield's ear during a heavyweight match. After he was disqualified from the match and the sport, Iron Mike's life took a tailspin. In 2004 Tyson told the New York Sun that he turned into a bum with even drug dealers feeling sorry for him. After finally getting his license to fight back, he sought to turn his image around. Part of that included vowing to lay off feasting on the body parts of his opponents.
2. "I'm just a dark guy from a den of iniquity. A dark shadowy figure from the bowels of iniquity. I wish I could be Mike who gets an endorsement deal. But you can't make a lie and a truth go together. This country wasn't built on moral fiber."
When he was young, he found all of his earthly belongings thrown into the street after his mother was evicted from their middle-class Bed-Stuy apartment, he told New York Magazine. The family ended up in Brownsville, a place ravaged by crime and drugs. The jarring change had a major effect on Tyson as he conveyed in Hokum: An Anthology of African-American Humor. The hardship set the stage for Tyson's brutal desire to be an uncompromising warrior.
3. "They all have a plan…until they get hit."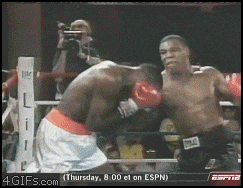 As evidenced by this quote captured by HBO's Barry Tompkins in 1987, Tyson knew the power of his punch. Although their powers were never formally measured, using the punching power metric of one of his opponents (Frank Bruno, who he knocked out twice) it's estimated one of his punches would clock at about 1,600 joules of energy. According to Thrillist, a Tyson punch would feel like getting hit with a 221-pound anvil dropped from 5 feet. Yikes!
4. "How dare they challenge me with their primitive skills."
Tyson thought highly of himself, and for good reason. He won 50 professional fights in his career and landed 56% of his power punches. The man was a beast! Of course, he would be offended that mere mortals would attempt to challenge him as seen in this interview following his victory over Bruno.
5. "I guess I'll just fade into Bolivian."
A 2002 interview following his fight with Lennox Lewis demonstrated just how much Tyson has quite the way with words. Although all aren't in the correct context, that somehow makes it all the better. Fading into Bolivian is probably just as good as fading into oblivion, so why split hairs?