From its legacy of voter suppression to the calculated dash for the Black vote, America's political landscape has a long and complicated relationship with the historically disenfranchised. Through it all, Black people allied with the Republican Party have stood to remind that their experiences cannot be confined to a monolith and that Black voters should not be forced into a box. While this ideology is not new, the face of Black conservatism was recently made most prominent in tandem with the rise of Donald Trump thanks to boisterous support from rapper Kanye West and Candace Owens, a provocative conservative pundit. Nevertheless, the presence of the Black conservative perspective has been well-documented.
Here are five of the most prominent Black Republicans.
1. Condoleezza Rice
Condoleezza Rice, the first Black woman to serve as U.S. secretary of state, is most well known for her work within the Bush administration — in both presidencies. Rice worked as special assistant to President George H. W. Bush for national security affairs and then as national security advisor to his son in 2001, CNN reports. Rice was the first woman to hold that position. Still, Washington was not the sole site of Rice's pioneering: she was the first woman, first Black person and youngest person to ever be appointed provost at Stanford University in 1993.
In current events, Trump's presidency stands in stark contrast to former President Bush's, a comparison upon which CNN host Fareed Zakaria pushed Rice to comment. Zakaria recalled the dignity and professionalism that defined Bush's 9/11 response, which was an attempt to discourage anti-Islamic sentiments from spreading in the country.
"Look," Rice responded to Zakaria's comparison of the two leaders. "The president needs to be a lot more careful in the way he speaks about these things because race is a very delicate and raw nerve in America. We have a birth defect of slavery… of a number of people being treated badly, so you have to be careful."
Rice, who was born to a minister and a school teacher, nurtured childhood dreams of being a concert pianist. She studied music at the University of Denver before making the switch to political science, ultimately earning her bachelor's degree at 19.
In a 2019 conversation with NBC's Sheinelle Jones, the award-winning professor de-escalated liberals' observations of racism in Trump's White House.
"[Race relations] sure doesn't feel worse than when I was growing up in Jim Crow Alabama. …I would be the first to say we need to watch our language about race. We need to watch that we don't use dog whistles to people, but when we start saying, 'Oh, you know, it's worse today,' no, they're not," said Rice.
Rice will soon serve as the new director of The Hoover Institution, Stanford University's policy think tank.
2. Colin Powell
The political philosophies of Colin Powell, the first Black U.S. secretary of state, are dotted with a bipartisan approach to politics. In recent years, the Reagan-era national security advisor has lent his voice to criticism of the nation's most powerful Republican: Donald Trump. Powell called him a "national disgrace" in 2016 and crossed party lines with his vote for then-candidate Hillary Clinton, Time reports.
When questioned about his loyalty to the GOP, Powell, who voted for Barack Obama (both times), reminded Americans at a 2015 forum that he voted for "five presidents in a row who were Republican," adding, "I want to continue to be a Republican because it annoys them… I'm still a Republican because I believe in a strong defense, because I believe in the entrepreneurial spirit that is so typical of the Republican Party in the past."
Admittedly, the child of Jamaican immigrants said that he is "having difficulty with the party now."
3. Ben Carson
On the 2016 presidential campaign trail, retired neurosurgeon and Presidential Medal of Freedom awardee Ben Carson captured both the attention and skepticism of America with his resume. Carson played a lead role in the nation's first successful separation of conjoined twins attached at the head and facing opposite directions. While Carson ultimately lost the Republican nomination to Trump, he has found his way back to Washington in a similar fashion. He now acts as secretary of the Department of Housing and Urban Development. The role, much like the presidency encapsulating it, has been steeped in controversy.
Last year, the Government Accountability Office investigated the department's unauthorized spending of roughly $40,000 to redecorate Carson's office. According to CNN, the department's internal investigators later cleared Carson of any wrongdoing. Still, The New York Times reports the retired physician has found his new role to be colored with "more complexities … than in brain surgery."
In step with the White House, the former Johns Hopkins director of pediatric neurosurgery has assumed the party position on the COVID-19 pandemic, asserting on Fox News that "it may be a year or more before we have a vaccine."
"If you wait that long, your economy's gonna be completely dead," the HUD secretary said of his eagerness to get Americans back to work.
4. Tim Scott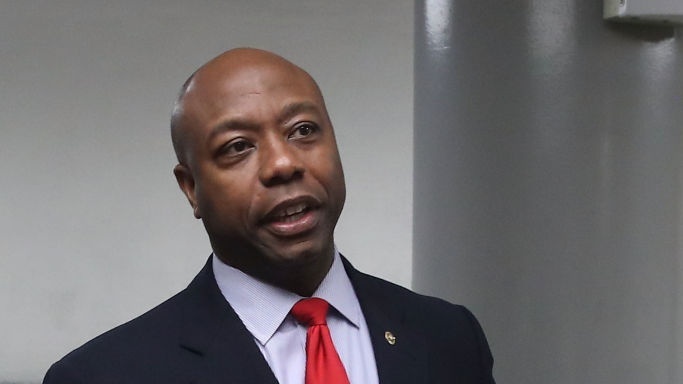 South Carolina Rep. Tim Scott led the charge on Opportunity Zones, a 2018 legislative effort to incentivize "long-term investment in low-income and distressed communities, by offering a deferral of capital gains taxes for investors," the senator said in a column penned for Fox News. Further, the senator argued his approach would be more effective than previous attempts to offer support.
"Unlike other programs attempting to help those in need in the past, there is no federal bureaucracy created by Opportunity Zones, meaning red tape will not get in the way."
The senator, who wrote about overcoming adversity in his 2020 book, Opportunity Knocks: How Hard Work, Business and Community Can Improve Lives and End Poverty, highlights the importance of an independent, innovative approach to economic development in his column for Fox News.
"So many families and communities are limited not because of a lack of ingenuity, but simply a lack of opportunity. They have lost hope," Scott writes. "Opportunity Zones will help unlock the potential of these communities."
Opportunity Knocks chronicles Scott's recovery from the car accident that derailed his plans to play college football, highlights the presence of fatherlessness in impoverished communities and proposes Republican values as a means to combat poverty.
In conversation with radio personality Bill Martinez, the author explained: "My experiences are evidence of what hard work and determination can still achieve in America. My hope is that it brings optimism in this time of great uncertainty and inspires people to seize their opportunities."
In response to COVID-19's disproportionate impact on the Black community, the state representative called for the Trump administration — which supports his Opportunity Zone legislation — to track and report racial disparities.
"Aggregating the information from the federal level will be very helpful," Scott said on CBS This Morning.
The state representative has also suggested hospitals resume elective surgeries as a means of maintaining their bottom line.
"As I talk to CEOs of hospitals around South Carolina, what they say they need is the ability to go back to work. They're not doing elective surgeries, they're not doing procedures — and about 80% of the hospital funding comes in those categories," Scott said on Fox News.
5. Candace Owens
In the fateful years surrounding Trump's unprecedented 2016 candidacy, Candace Owens, a Black girl from Connecticut, found her voice. Never before, the political commentator said, had she even been inspired to vote.
"This is the first time I've been politically inclined and active, and I think Donald Trump is a tremendous president," she told NBC News.
Indeed, Owens' rise to the mainstream was legitimized by Trump himself. He crowned her "the hottest thing out there right now" in a 2018 conversation with Fox and Friends, Billboard reported.
Owens, who reportedly never completed her degree program at the University of Rhode Island, has been represented by her far-right views and incendiary language. In a 2018 hearing on the rise of hate crimes and white nationalism, California Rep. Ted Lieu played audio of Owens in which she stated Hilter's approach would have been "fine … if Hitler just wanted to make Germany great," asserting that the nationalist dictator made the mistake of globalizing his ideas.
Owens' nationalist views have cast left-wing Black activists as targets of her criticisms. Indeed, the pundit leveraged her platform as a communications director of conservative student group Turning Point USA to communicate her disapproval on issues of race and identity politics. At a 2018 UCLA speaking engagement, she referred to Black Lives Matters activists as "privileged Americans" who should be embarrassed to claim the oppression that only their ancestors experienced.
Black Lives Matter protesters showed up to my @UCLA event to protest. Here is a video clip of me smacking them down with the truth; they're a bunch of whiny toddlers, pretending to be oppressed for attention. pic.twitter.com/riBA0A3J1I

— Candace Owens (@RealCandaceO) April 20, 2018
Still, Owens maintains that her views do not exist in a vacuum. In a deft move demonstrating the conservative's knack for baiting the press, Owens linked Blexit, her 2018 effort to mobilize the exodus of Black voters from the Democratic Party, to one popular Black conservative in particular: Kanye West. Unfortunately for the Blexit campaign, West later denied any involvement.
I introduced Candace to the person who made the logo and they didn't want their name on it so she used mine. I never wanted any association with Blexit. I have nothing to do with it.

— ye (@kanyewest) October 30, 2018
Today, Owen's provocative point of view can be heard on Fox News' The Ingraham Angle, where Owens accused the leftist media of racializing the COVID-19 pandemic.
"Black Americans are impacted more by diabetes and heart disease because we are disproportionately overweight. Does it have anything to do with race? No. What [leftists] are hitting at is not racial disparity, it's economic disparity. … The question is why. Its not because of coronavirus. It has nothing to do with the history of racism. It has to do with leftist policies."