R. Kelly's sordid past made its way back into the news cycle, thanks to the premiere of Lifetime's Surviving R. Kelly. The conversation surrounding the "Pied Piper of R&B" (ew) has been productive at its best and nauseating at its worst. If you're one of the people who still believes in Kellz, here's a few reasons why you're dead wrong.
1. R. Kelly's Relationship With Aaliyah Has Always Been Murky
The truth about R. Kelly's relationship with Aaliyah was probably buried with her. Outside of a shoddy copy of a marriage license, the pair made sure their bond appeared innocent on the surface.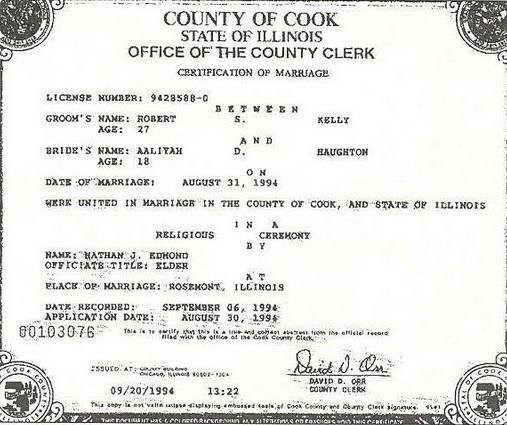 A 1994 feature story in Vibe magazine detailed some of the confusion. Kelly originally agreed to speak with the magazine for the piece, but backed out at the last minute after consulting with his legal team. Jamie Brown, former editor-in-chief of Sister 2 Sister, remained skeptical regarding the nature of their relationship, despite the insistence of a platonic relationship.
"I've been hearing about Robert and Aaliyah for a while — that she was pregnant," Brown said at the time. "Or that she was coming and going in and out of his house. People would see her walking his dog, 12 Play, with her baseball cap and sunglasses on. Every time I asked the label, they said it was platonic. But I kept hearing complaints from people about her being in the studio with all those men. At 15, you have all those hormones and no brain attached to them."
Dame Dash, who was in a relationship with Aaliyah at the time of her death, has said her relationship with Kelly became strained over time. However, he was never able to convince her to tell him why and what exactly happened.
"I remember Aaliyah trying to talk about it, and she couldn't. She would just leave it at 'that dude was a bad man.' I've been tight about this s**t for years," he told Kenyatta, "The Hip Hop Motivator," in an interview. Jay-Z's decision to work with Kelly also contributed to their fractured relationship.
"So, to me, Roc-a-Fella was defunct. It was over. I couldn't f**k with it. It was something that, to me — I don't wanna say 'unforgivable,' but I couldn't understand it," Dash said.
2. The "Pee Tape" Trial Wasn't the First Time Kelly's Sexual Deviance Landed Him in Legal Trouble
Tiffany Hawkins and Tracey Sampson sued the "Bump n' Grind" singer in 1996 and 2001, respectively. Both women accused Kelly of having sex with them while they were underage, according to a 2002 piece from The Chicago Sun-Times.
Hawkins claimed Kelly convinced her to drop out of school to pursue a music career when she was 15 years old. Kelly became sexually involved with her shortly after, according to court papers. One of Hawkins' friends told The Sun-Times they had a threesome with Kelly when they were underage.
Sampson said she was forced to perform sex acts with Kelly and other girls.
"During my relationship with Robert Kelly, I lost my virginity to him," Sampson stated in her lawsuit, the Sun-Times reports. "I was lied to by him. I was coerced into receiving oral sex from a girl I did not want to have sex with. I was often treated as his personal sex object and cast aside. He would tell me to come to his studio and have sex with him then tell me to go. He often tried to control every aspect of my life including who I would see and where I would go."
He eventually settled with both women out of court.
3. Kelly Wasn't Acquitted Because He Was Found Innocent
After an anonymous source sent the now-infamous "pee tape" to journalist Jim DeRogatis, who covered R. Kelly for almost 20 years, he broke the story to the public and turned the tape in to the police. Kelly's legal team tried to force the journalist to reveal his sources, but DeRogatis refused, citing his First and Fifth Amendment rights. He was advised not to speak because viewing the tape — even for reporting purposes — would act as an acknowledgment of child porn, according to WBEZ. DeRogatis responded similarly to all other questions from Kelly's lawyers.
"I respectfully decline to answer the question on the advice of counsel, on the grounds that to do so would contravene the reporter's privilege, the special witness doctrine, my rights under the Illinois Constitution, and the First and Fifth amendments of the United States Constitution," DeRogatis said in his testimony.
"Thanks; that's exactly what we wanted you to do," defense attorney Ed Genson replied.
Additionally, though many witnesses were able to identify both parties in the video as Kelly and the alleged victim, jurors were unable to do so without a reasonable doubt.
Kelly explained the decision in his memoir.
"My lawyer broke it all down, explaining why the jury found me 'not guilty.' The prosecution's 'star' or 'surprise' witnesses never took the stand, including the woman that the prosecution believed to be the woman in the tape, in spite of her deposition to the contrary. The Chicago Sun-Times reporter, Jim DeRogatis, who broke the story and was the first to receive the supposed sex tape, took the Fifth and refused to testify. Instead, jurors had to rely on testimonies of 'con men and hustlers.'"
4. R. Kelly's Publicist Quit Because He Acted Inappropriately Toward Her Daughter
When Kelly's former publicist Regina Daniels severed ties with the R&B singer in 2007, she was vague regarding the reason why, stating the singer "crossed a line" without elaborating further. Her husband George later spilled the tea, according to MTV News.
"He crossed the line with my daughter. It didn't get to the extreme of that [sex tape] video or else I wouldn't be here, if you know what I'm talking about," George said in 2008. "The reason that I'm talking about this, it's not just for me, it's not for my wife, it's not for my daughter, but it's for other fathers and mothers because it doesn't have to be a superstar, it could be the dude on the corner. There are guys who sit around and give your child a couple of bucks to go to school and then wait until they get a little older, then they set that trap."
George and Regina's daughter Maxine also confirmed the relationship, which happened when she was 21 and Kelly was in his early 40s.
"My stepmother and father didn't know about my relationship with the singer because I knew and he knew that they wouldn't approve," she told
The Sun-Times. "So I tried to keep it a secret, but when my stepmother found out about our relationship, she resigned because she felt that Rob had 'crossed the line' by dating a girl that he has known since she was [seven] years old."
5. R. Kelly Threatened to Sue BET If They Re-aired His Infamous Interview With Touré
During a 2008 interview for BET with journalist Touré, the writer and producer behind "Age Ain't Nothing but a Number" gave a shocking answer when asked if he "liked teenage girls."


Facebook | Touré
Touré revealed this was the second time Kelly had a chance to answer the question, in May 2018 piece for Rolling Stone.
"Early on in the interview, Kelly had defined underage girls as below 13, and dismissed the idea that he was interested in anyone that young. I realized that I had to take a different approach, but I wasn't yet sure what to do. I asked him, 'Do you like underage girls?' It was an easy, direct question. Surely he'd say no. His crisis manager jumped up, trying to shoot down the question, but Kelly stopped him and said he wanted to answer it. The crisis manager sat back down, and we started again. But this time, remembering how he'd defined underage as pre-teen, I changed the question. 'Do you like teenage girls?' I asked."
In an April 2018 Facebook post, Touré claimed Kelly threatened to sue BET if the clip was ever re-aired.
"The interview aired once on BET, and then Robert's people demanded that it not re-air or they'd sue. On what grounds I have no idea," he wrote. "BET immediately caved and consented to never air it again. Even though the ratings on that first airing were massive. I know the internet never forgets and it feels like the infinite library holding everything ever but my interview with Rob isn't on the web except for this small part."
Touré also addressed Kelly's nickname of "Pied Piper" during the interview, and how Kelly's answer foreshadowed his post-interview behavior.
"Later in the interview, I asked him about being called the Pied Piper, a bizarre nickname for someone widely accused of slash known to luring children away," Touré continued. "I asked him if he can promise his fans this would never happen again. I meant the debacle around him and sexual impropriety with young girls. He said, testily, "Oh yeah, *this* interview will never happen again."
Hopefully, 2019 will be the year R. Kelly is muted forever.
Blavitize your inbox! Join our daily newsletter for fresh stories and breaking news.
Now, check these out:
R. Kelly Is Reportedly Working On A Website Titled 'Surviving Lies' To Discredit His Accusers
'Surviving R. Kelly' Viewers Are Questioning Why Charlamagne Tha God Was Included In The Docuseries
Dear Black Girl: You Aren't Fast, The World Is Just Moving Slow