7 Books By Female Authors Of Color Being Released In 2017
Get ready for the takeover!
February 06, 2017 at 6:16 pm
We know women of color killed music last year. That they held culture by a string. That from being the leaders of the Black Lives Matter movement to being on the front lines at the polls, they've been showing out. But there is a field where a new cadre of minority writers are set to take flight: Novels. From YA love stories with a boricua twist to a novel gut-wrenchingly taut with the spirit of the BLM moment, 2017 is set to be book club-lit.
1. Liliam Rivera - The Education Of Margot Sanchez
Photo: Good Reads
Central to the theme of the other is being set in multiple worlds simultaneously. Torn apart by yourself wedged between the roaring swell of your past, the will of your present, and the flicker of your future. Margot finds herself at just such a place. Filled to the brim with romance and the rhythms of a Bronx, New York forever morphing. There is her prep school, her parents' grocery store, and the expectations for her life yes. But there is also the beach party she can't miss and a local boy she can't stop looking at. Lilliam Rivera weaves a tale of ache that is bursting at the seams. She's won the Pushcart Prize, is a Pen writing fellow and her work has appeared in The Rumpus, Tin House, the Los Angeles Times and Midnight Breakfast just to name a few.
2. Angie Thomas - The Hate U Give"
Photo: Good Reads
Black lives matter. But do they matter less when they're a drug dealer? The answer is no, of course not. Now let's tell society that. And that's where Angie Thomas's protagonist Starr comes in. She's a witness to a shooting. A cop pulled the trigger. But what lies on the other side of perception when she's got her own life to live? This thriller by the Jackson, Mississippi native is set to go nuclear. It's already been picked up by Fox 2000 and the former teen emcee is one you're set to see everywhere in 2017.
3. Khadijah Queen - I'm So Fine: A List Of Famous Men And What I Had On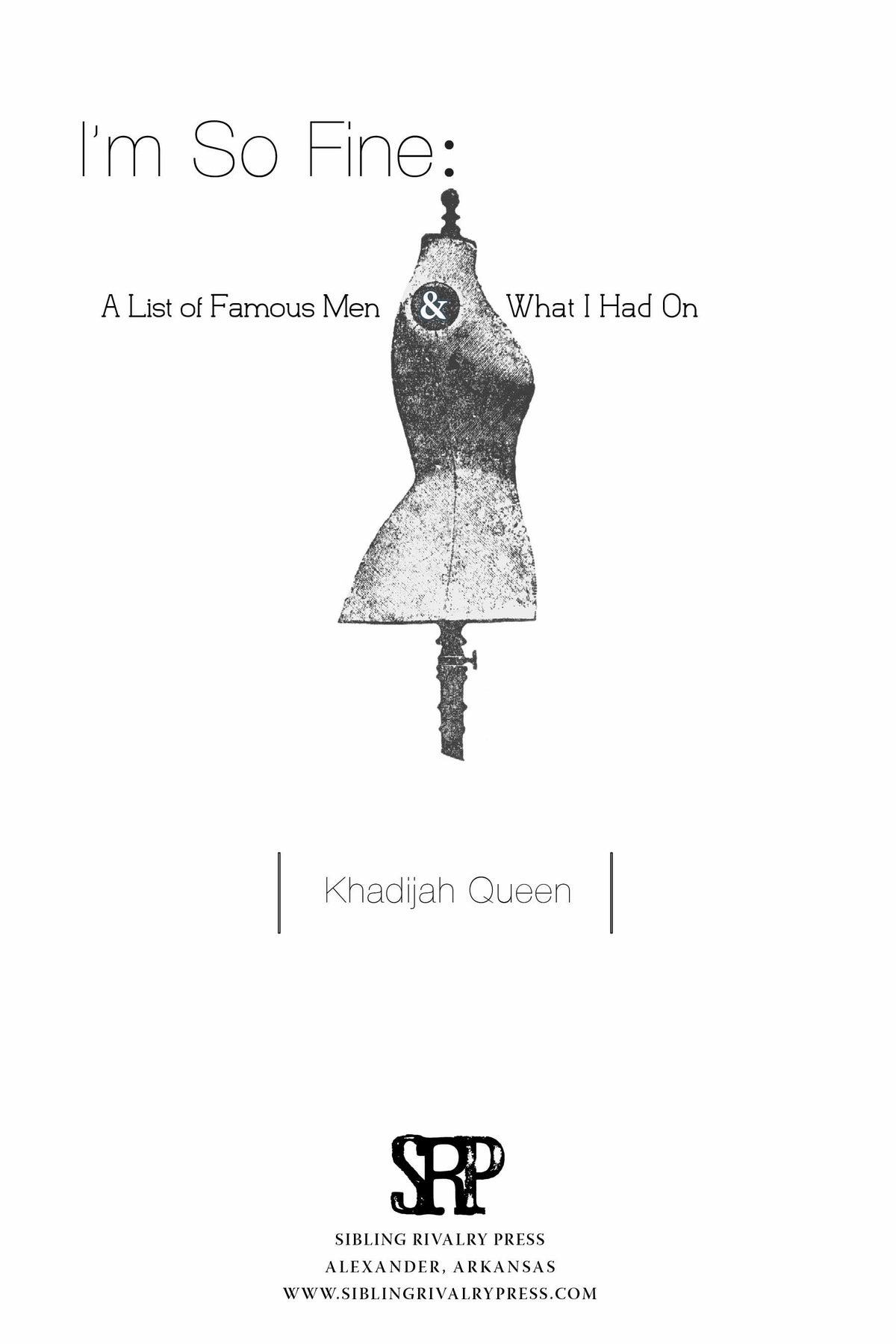 Photo: Sibling Rivalry Press
Khadijah Queen's poetry enlivens you to the chaos you're already experiencing but ignore in a way that can only be considered alchemy. As a playwright, her work has been presented by TheatreLab. She is the author of "Conduit." A beautiful book that Publishers Weekly called a "nuanced and courageous lyric." And this book takes you through interactions not from the gaze of famous men, but from the women they roll up on -- some simply children -- to talk about beauty and heat in 1980s Los Angeles, 1940s Detroit, and wherever else men try to dominate.
4. Jesmyn Ward - Sing, Unburied, Sing
Photo: Google Books
You've already heard of Jesmyn Ward. She edited a work of stories last year called "The Fire This Time," where a crew of fine authors succumbed to the work of James Baldwin. What you might not have known is that her novel "Salvage The Bones" won the National Book Award. That book is a cousin to this one. Both set in Mississippi. Both resurrect ancient tropes of love, tenderness, and scorn. And both are by an author that is, already, one of the best of our generation.
5. Lesley Nneka Arimah - What It Means When A Man Falls From The Sky
Photo: Google Books
Imagine a future where climate change has rendered Europe the new Atlantis. Where the French wash up on the shores of Senegal not as conquerors but as refugees. Now imagine they try to steal it. This is the world that Arimah has created. A dystopia so closely resembling our own that it has no choice but to induce horror. Now, a brief respite, there is an equation that can remove a person's grief. Arimah's short story "Light" won the Commonwealth Award and it is scary how brilliant her novel has the potential to be. Look out for it in April 2017.
6. Carmen Maria Machado - Her Body And Other Parties
Photo: Amazon
A book of short stories acts as Machado's debut, melding horror and realism with Machado's ear for great storytelling. A graduate of the prestigious Iowa Writers Workshop, Machado easily pushes genres to create something else entirely. Make sure you look out for it and grab it when it drops in October.
7. Morgan Parker - There Are More Beautiful Things Than Beyoncé
Photo: Google Books
This one literally just dropped on February 14. So go out and grab it while its momentum means it could end up on the New York Times' bestseller list. There are poems about Beyoncé in this, yes. And they are gorgeous lyrics, yes. But there is more, as Parker plays with language and form to make poems bend and ache. They will make you do the same. This is her second collection. Her first, "Other People's Comforts Keep Me Up At Night," was selected for the Gatewood Prize.
Check out these awesome reads this year and let us know about your favorite.