This piece is part of a 28-day series celebrating modern black love among millennials. It was created by Chuck Marcus and Michelle Nance, exclusively distributed by Blavity.
Her: Skyla | 25 | Administrative Supervisor, Physical Therapy Clinic
Him: Victor | 28 | Art Teacher
Relationship Status: Dating, 2 Years
Skyla and Victor met on the campus of LIU, but not in a traditional way. She, a member of Delta Sigma Theta Sorority, and he, a member of Kappa Alpha Phi Fraternity, both realized that their organizations' step teams tend to practice in the same spot on campus. In an effort to secure this coveted location, Skyla went early one day to hold down the fort for her team. Victor approached her, questioning who she was, which quickly led to Skyla shutting down the conversation. Shortly after, their teams competed in the same competition and celebrated together at the after party. Similarly to a middle school dance, the two were coerced to dance with each other all night long, as everyone knew Victor had a thing for Skyla. Not the shy type, Skyla stepped to him first, and from there, it's been an organic transformation from a friendship to love.
---
Q: What does black love mean to the black community?
Skyla: I feel like [love] is starting to come out a little more in the black community. I'm so used to hearing people say how they're going to be single for the rest of their lives. That may be because I, and everyone around me, is getting older. I feel that black love gives the black community hope. It gives people who have given up on our kind the mind to give it a chance. It means unity among ourselves to become an even stronger and unbreakable force. It means love and care to lift up our own people. It means recreating, and the continuance of legacy.
Victor: Are we trying to be exclusive? Are we saying that a black person with a white person is not black love? Or are we saying that we unite as people on every platform, whether it's running a business or having a relationship? In that sense, it's uplifting. I think it's always existed. I don't think we need the title. It's not brand new.
Skyla: I think it depends on how you grew up. I grew up in a single parent home, compared to Victor, who grew up with his mom and his dad.
Q: Do you think there's sufficient/significant representation of black love in media? Are you encouraged or discouraged by those you see in real life or in media?
Skyla: So, you have celebrities and their version of black love, like, Gucci and Keyshia Ka'oir. I feel like those are over-hyped and I don't feed into those. Then you have the random proposals on Instagram. I watch those all the time and start fake crying. Last night, I saw a video on Instagram where he made up a whole poem for her and had their families there. It was so real. I feel like celebrities have to look good. That's their job. Look at Cardi B and Offset.
Victor: I feel pressure from these Instagramable proposals. I just know that when it's my time to do it, I want it to be dope, but I also want it to be real. I feel like I'm capable of it, but that's also me assuming that she's expecting that. I feel like everyone in my circle alone is vibing off of this relationship energy. I will post a picture and my boy will be like, "Man, I have to post a pic now." Also, other people are always gassing us and saying, "I need to settle down," and asking the pros and cons, and for advice. In this time, people think courting and chivalry is dead. I think it's coming back. It's encouraging to me. You can now post a pic with your girl and not worry about people picking on you.
Q: What's the hardest part about being a millennial in a relationship?
Victor: For me, I don't feel too many challenges being in a millennial relationship because I have an old school mindset and I consider myself to be a classic man. We can talk about this generation's fear to court, to date and practice chivalry, but I definitely can't relate because I don't feed into those pressures. If I have to say, the hardest part would be thinking of a dope proposal when the time comes, because with all the creative ones I've seen on Instagram, I can't help myself from not wanting to make my lady feel as special as some of the newly engaged women.
Skyla: I don't think I struggle much in my relationship due to being a millennial. If I had to really dig, I could, however, see some potential issues. Social media being one of them. Back in the day, things traveled by word of mouth. Now, all you need is a screenshot to find out who is dating who and who broke up with who — because all of their pictures are deleted on their page. It's somewhat of an invasion of privacy that we chose not to have control over. We want to be considered "goals." We want to show that black love is real, but in the same token, when the whole world is looking at you, the pressure is really on.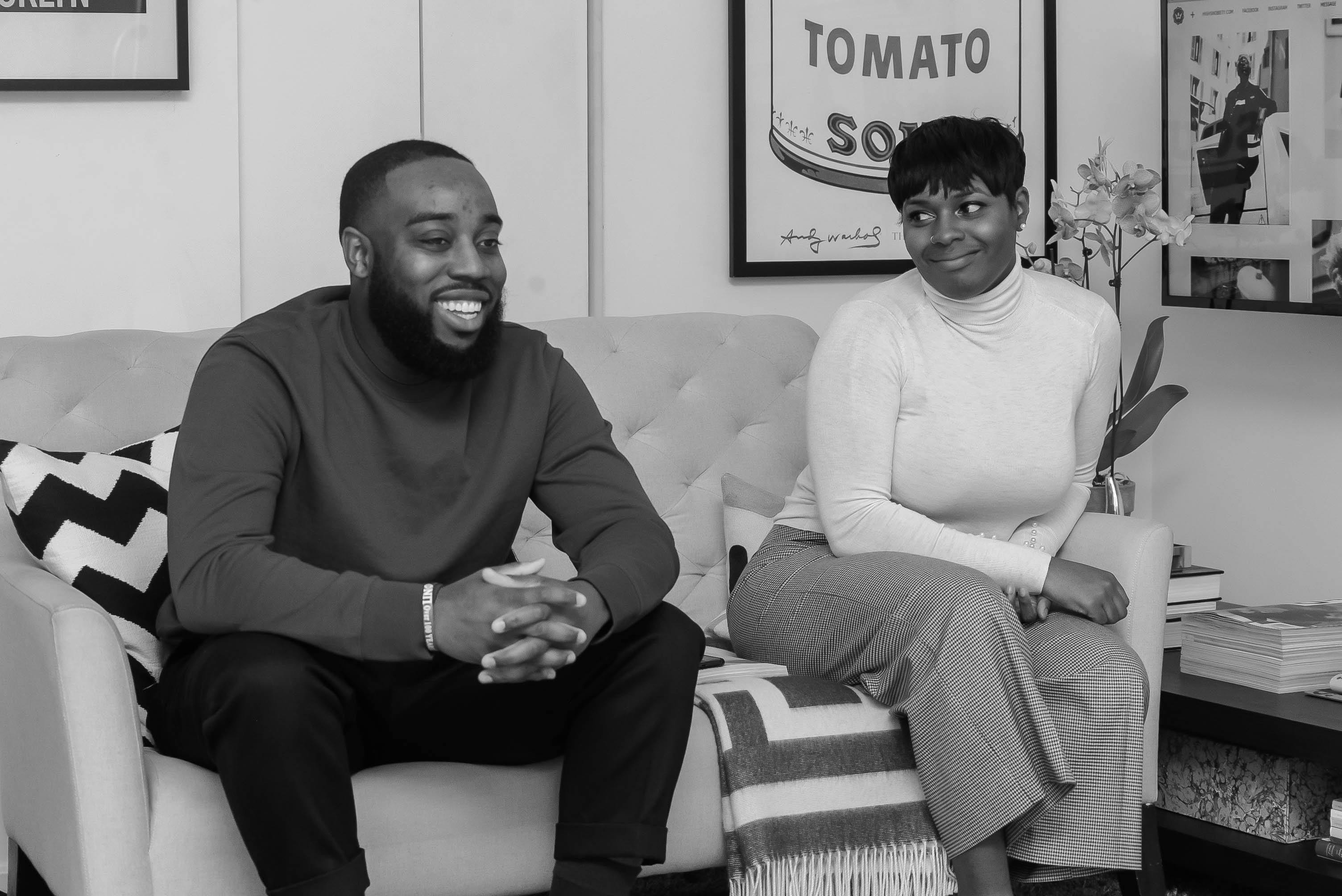 Q: Are there any individual relationship struggles that you had to overcome?
Victor: I had to overcome the feeling of resentment or disappointment when I would set my expectations high and receive a totally opposite outcome from my girlfriend. I realized that it wasn't my significant other's fault, and more my fault for not communicating and being selfish in my needs. I began to become more transparent in my approach to communication.
Skyla: My biggest struggle was, and still is, that I'm not an affectionate person like Victor, who loves PDA and loves to be all over me. I would always find myself pushing him away and I realized it would hurt his feelings. I had to learn that is how he knows how to give love, and by me shutting it down, he could be taking that as a sign that I don't feel the same way about him. So now, I'm trying to be more open to it. I am embracing his love.
Q: Previous generations had clear and specific gender roles. How do you two define each other's roles in your relationship, if at all?
Victor: Our roles are not clearly defined at all, we just pick up where the other person is lacking. We clearly communicate our needs and wants, and move in that way. We like to go half on a lot of our responsibilities.
Skyla: Victor and I are very equal. I cook and he cleans, or he tries to cook and I clean up the damage that was done. He takes me out to dinner, I take him out for brunch. The best is when we're both low but we need a date night, so we go half on the bill. We realized early on in our relationship that we're not in our parents' and grandparents' generation, so we can't try to base our relationship off of what we've seen them doing. We have to do what works for us.
Q: Do you feel pressured by your family to be with someone who looks like you?
Victor: Not at all. However, my parents, being old school Caribbean and sometimes stuck in their old school morals, would definitely prefer a woman who looks like me.
Skyla: I honestly don't feel too pressured by my family, but I guess I see so many healthy relationships in my family that are between two black people that it made me want to continue that. I guess they are putting the pressure on me without even realizing it.
Q: What is it about having a black significant other that impacts you the most?
Victor: I think it's the clear communication and cultural connection. We are both from Brooklyn and our backgrounds are of Caribbean descent. We are aligned in that way. It's great to be able to relate to your significant other without being a "me too" couple, and to share similar memories and experiences.
Skyla: The fact that I don't have to explain things is what impacts me the most. He just gets me, and I get him. Especially being that we're both Caribbean. We both have the same sense of pride when it comes to growing up black in Brooklyn. It's never a battle about, if we have kids, how we would raise them.