In a recent interview with The Cut, White House Correspondent April Ryan, shares how she manages her hectic life.
Ryan, as you know, has been a political journalist for nearly 20 years, has covered four presidential administrations, was NABJ's 2017 Reporter of the Year, is an expert Sarah Huckabee Sanders dragger and is also a political analyst for CNN.
On top of her already busy career life, the 50-year-old recently released her new book, Under Fire: Reporting from the Front Lines of the Trump White House.
It's easy to say that Ryan is radiating black excellence, and thankfully she lets us in on her secrets for accomplishing it all. Her day starts bright and early at 5 am She hits the ground running by getting her kids ready for school and checking emails and phone calls. Her first meeting for the day starts at 7:45 am.
Her life at the White House is crazy, and she said the city is her office: she works anywhere and everywhere she can. In a typical day, Ryan is on calls, answering emails, and appearing on CNN from the North Lawn of the White House to filing her daily reports.
Of course, Ryan was asked about becoming one of the internet's favorite reporters, and one of everyone's favorite gifs.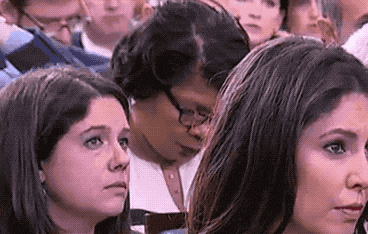 As she often says when cast in the spotlight, Ryan said, "I'm not supposed to be the story and I don't like being the story."
On that famous gif, she added, "It is bizarre. My reactions are always genuine, and I'm trying to have more of a poker face, but some days you're just so shocked. So I have found a place in meme history and my facial expressions will live on."
It's been often noted that Ryan is one of the few minorities and one of the few women in White House press briefings. She said she's well aware of what that means, and of the importance of representation in spaces of power.
"All of it's a big responsibility: being a woman, being African American, but also just being a person," Ryan said. "That's why we need to have diversity in newsrooms, and particularly in that briefing room. I remember many years ago, George W. Bush said we need more minorities in there because you don't hear a lot of the issues unless it's coming from a person of a certain background."
She said that standing out in press briefings immediately made her a target, and that she's had to learn how to survive in today's adversarial government-media environment.
"I'm not the typical White House correspondent — I was one of the people that those in power thought they could pluck off. I heard they were surprised that I was such a formidable challenger," Ryan said. "Let me say this: I'm not a street fighter, but there's a street game. All you've got to do is sit and watch and you know how to play it. They got a lot of these politicos off-kilter, because a lot of the politicos don't go low like they do."
She added, "When they tried to smear me, I was like 'Oh no, I've got receipts. I've got receipts of everything.' My first priority is to be a mother, and then do my job. But that job puts food on my table. That job is going to send my kids to college like anyone else. You're not going to lie on me to take my livelihood away from me. I've been doing this for 21 years, and you just got here."