A Wrinkle In Time has been making waves ahead of its March release, and, now, there's even more reason to be excited. The film's director, Ava DuVernay, has revealed that none other than Sade has contributed a new song to the movie's soundtrack.
I never thought she'd say yes, but asked anyway. She was kind + giving. A goddess. We began a journey together that I'll never forget. Proud to announce that Sade has created an original song for WRINKLE IN TIME. It's entitled "Flower of the Universe." And it's a dream come true. pic.twitter.com/FdXrZ1MFMO— Ava DuVernay (@ava) February 20, 2018
If you know anything about Sade and her meticulous method of releasing music, you know this is a huge deal. She doesn't just come out the woodwork for anything! With this move, the filmmaker has accomplished the impossible.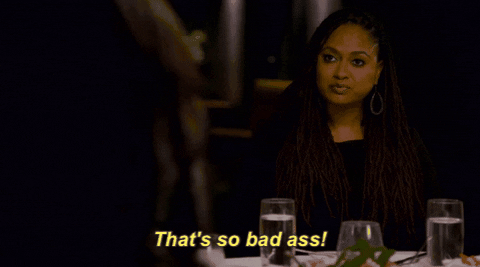 Tuesday must have been #WrinkleInTime music day because DuVernay also shouted out other music featured in the film, including a Demi Lovato and DJ Khaled collaboration, a Chloe x Halle song and a new Kehlani track, the latter of whom recently appeared at Blavity's Afrotech.
Ahhhh!! I'm so excited to finally tell you guys my new song #IBelieve with @djkhaled will be on the soundtrack for Disney's @WrinkleInTime ???????????????? See the movie and get the album on March 9th ❤️ pic.twitter.com/ZSe3QGP1FP— Demi Lovato (@ddlovato) February 20, 2018
WRINKLE IN TIME was made w/ love for young people. To share ideas about being a light in this often dark world. The new song "Warrior" by the phenoms @chloexhalle often makes me cry – with joy for the future. They are wonderful young women who help me hope. Thank you, ladies! pic.twitter.com/IZMyL0oEnQ— Ava DuVernay (@ava) February 20, 2018
Last but not least, I am in love with the music of a young woman hailing from Oakland. Her vibe. Her voice. Her vision for herself. It's all beautiful. Kehlani's original song "Let Me Live" is the first heard while watching WRINKLE IN TIME. It's all about Meg's inner life. A gem. pic.twitter.com/Slc3yuIyWQ— Ava DuVernay (@ava) February 20, 2018
With this lineup, we're certainly looking forward to the soundtrack, it's looking to be every bit as lit as the Black Panther record!