Off-and-on Twitter user Kanye West once tweeted "Me and Kendrick got 40 songs and me and Young Thug got 40 songs." The tweet gave rap fans high hopes.
A month ago, one of those legendary tracks, "Madlib Freestyle 6," leaked, but it was taken down by the Recording Industry Association of America, according to Okayplayer.
West and Kendrick Lamar officially collaborated on "No More Parties in LA" and a re-release of West's single "All Day," featuring a verse by Lamar, and while those tracks were lauded, fans couldn't help but wonder what the other 38 songs sound like.
If you're a rap stan waiting on the edge of your seat for more collabos from West and Lamar, you're in luck!
According to Complex, two more unreleased demos, featuring West and Lamar, have also been leaked to the world. Ryan Bassil, the editor of VICE's NOISEY, posted the Soundcloud links on Twitter:
I guess kanye wasn't messing around abt having those 40 tracks with kendrick lamar somewhere in the vault. this father stretch my hands demo just leaked: https://t.co/o7QJVpYCLY— Ryan Bassil (@ryanbassil) March 23, 2018
and this: https://t.co/G1084oMDh7— Ryan Bassil (@ryanbassil) March 23, 2018
One of the tracks, "Liberated (FSMH DEMO)," seems to be a rough draft or alternative version of "Father Stretch My Hands Pt. 1" from West's latest album, The Life of Pablo. Lamar delivers his verse after the "I just wanna feel liberated" hook.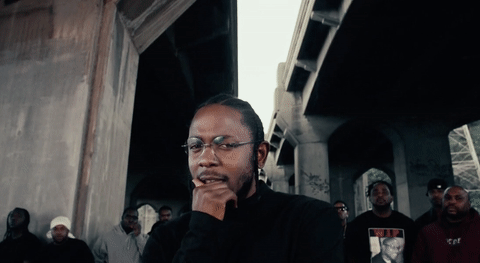 The second cut is "Don't Jump," where West and Lamar rap over an brand new, sick beat.
We want more!