Twitter relives the Beyoncé concert featuring Coldplay and Bruno Mars
February 08, 2016 at 1:52 pm
Many sat in anticipation as both Beyoncé and Bruno Mars returned to the Super Bowl Halftime Show. Although Coldplay was the headliner, Bey and Bruno pulled a 2015 Missy Elliott on Katy Perry.
Twitter was on the play-by-play.
Dear future entertainers: If you want people only talking about your halftime show, never give up your floor to better artists. #SB50

— Follow Me (@TheSkorpion) February 8, 2016
I like Coldplay and the first part of the show I liked. But they coming back in once the show was Bey and Bruno was like gentrification.😂😂😂

— Trudy (@thetrudz) February 8, 2016
When Beyonce and Bruno Mars make it their halftime show. 😂😭 #SB50 pic.twitter.com/o9OfKS7jBx

— NBA SKITS (@NBA_Skits) February 8, 2016
Coldplay opened as a warmer upper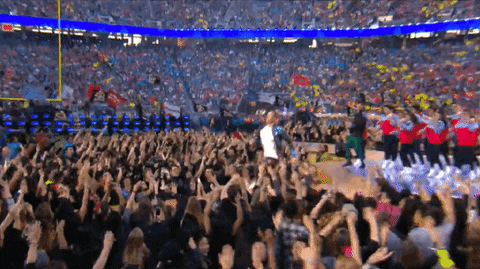 Coldplay gets paid to make and perform legendary music , what do YOU get paid for??

— Joseph Hernandez (@josephcaptures) February 8, 2016
died when coldplay sang paradise

— aria (@ariaclemente) February 8, 2016
Anything @coldplay does I literally melt to. Also…@BEYONCE #SB50

— Kevin K.O. Olusola (@KOlusola) February 8, 2016
Things heated up as Bruno Mars and Mark Ronson hit the scene
Bruno Mars is INCREDIBLY talented. He can sing, dance, write, perform.. There's nothing that he can't do, musically.

— Khalil (@kbyrd2) February 8, 2016
Too legit to quit! @BrunoMars @MCHammer #SB50 pic.twitter.com/Us2ncnf1fR

— ExtraTV (@extratv) February 8, 2016
this was bruno mars https://t.co/PkskYmm6Z7

— honey (@snsdcult) February 8, 2016
And then Beyoncé and Co. set off an inferno!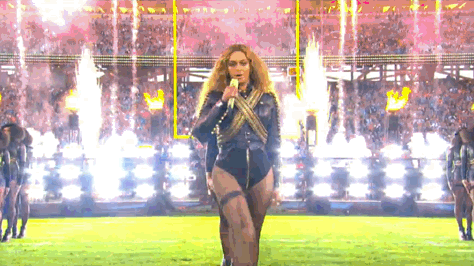 This looks like Beyoncé is a tribute in the hunger games who came out in her chariot as her own district partner pic.twitter.com/RaP3gs6DVx

— Ben J. Pierce (@BenJPierce) February 8, 2016
me during the entire game vs me during beyonce pic.twitter.com/PLBkhQD3so

— Common Black Girl (@CommonBlackGirI) February 8, 2016
Beyoncé survived from this… You can survive Monday pic.twitter.com/Nt8CwZzBpO

— Music News & Facts (@musicnews_facts) February 8, 2016
Then Bey and Bruno battled like You Got Served 3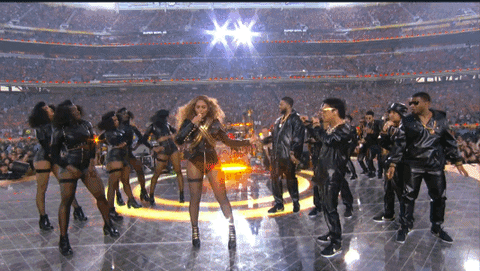 Beyonce is a goddess 🔥 pic.twitter.com/j53ryLHyMX

— Gifted Voices (@GiftedVoicess) February 8, 2016
BRUNO AND BEYONCE HAVING THAT DANCE OFF THOUGH 👏🏾👏🏾👏🏾 https://t.co/hmSpHAmfls

— Bruno Mars Vines (@BrunoVines) February 8, 2016
United they reminded us of two things: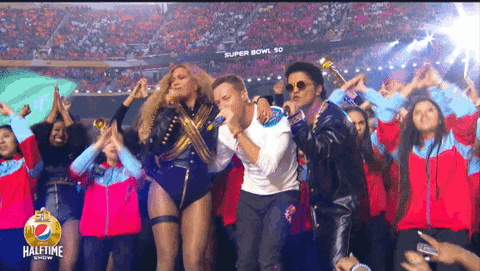 We're always chasing MJ…
Paying homage! #MJ @beyonce @brunomars #SuperBowl pic.twitter.com/xI3eYInFoU

— KardashianKollection (@thek_kollection) February 8, 2016
Michael Jackson 1993 x Coldplay, Bruno Mars & Beyonce 2016. pic.twitter.com/rumc5Z0xkH

— ㅤㅤㅤㅤㅤㅤㅤㅤㅤㅤㅤㅤㅤㅤㅤㅤㅤㅤㅤㅤ (@Bloop) February 8, 2016
And we should always believe in love.
OMG #BelieveInLove it was so awesome @coldplay I luv you guys so much !!! #PepsiHalftime pic.twitter.com/ykL7pwudyQ

— ..Little asskicker.. (@lalou03) February 8, 2016
In conclusion the performance received a collective…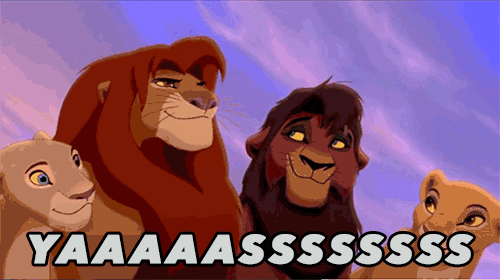 Catch the full performance of 'Formation'
BEYONCE'S FULL PERFORMANCE RT TO SAVE A LIFE https://t.co/YwVxWlMuOv

— Common Black Girl (@CommonBlackGirI) February 8, 2016