While the United States is still deciding if they want to put Harriet Tubman on the $20 bill in place of the engineer of a genocide, Canada has decided that it will put a black woman on its $10 bill.
Viola Desmond was chosen out of more than 26,000 candidates to be placed on the bill unveiled by the Bank of Canada last Thursday, The Guardian reports.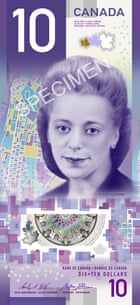 Wanda Robson, Desmond's sister, was in attendance at the unveiling, and spoke highly of the currency.
"It's beyond what I ever thought. It's beautiful," she said. "I say thank you, thank you, thank you. Our family will go down in history – in history, imagine that."
Desmond is the first Canadian woman to appear on the country's bills. The bill is also the first to be printed in vertical orientation.
Desmond became famous when she refused to leave her seat in a whites-only area, in a segrated theater, in 1946–nine years before Rosa Park refused to give up her seat on a Montgomery city bus.
Desmond had been traveling for business when her car broke down. The car was sent to a repair shop, and she decided to see a movie while waiting for it to be fixed. She asked for a floor seat, but was refused, and had to buy a balcony ticket instead. She bought the ticket and sat in the floor section anyway. The police were called, and she was dragged out of the theater, injuring her hip.
She was arrested, spent a night in jail and charged a $26 fine. She fought the charges, and while she lost her case, she was credited with ushering the start of Canada's civil rights movement and the end of segregation in the Nova Scotia province.
Segregation was outlawed in the province in 1954. Desmond passed away in 1965 at the age of 50. She was posthumously pardoned by Mayann Francis, the province's first African Nova Scotian lieutenant-governor in 2010.
"Here I am, 64 years later – a black woman giving freedom to another black woman," Francis said in an interview.
The bill is expected to enter circulation at the end of the year.