The VMAs were pretty good for the most part on Sunday night. We had moments like Kanye's speech,
followed by his amazing new video featuring Teyana Taylor
, Teyana's body and her fiancé, Iman Shumpert. But whether it was pre-show or post-show, Chance the Rapper was delivering wavy vibes all night. First was the moment was when he and Jaden Smith had a hearty
black men greeting
and complimented each others' fits.
Chance and Jaden admiring each other's style. So cute. #VMAs pic.twitter.com/D5mn5vL6KF

— Ashley Weatherford (@sincerelyash) August 29, 2016
Then, during an interview afterwards, he was talking and then subtly interrupted by none other than the showstopper of the night herself (let's just call them the BeyMAs to be honest). 
Best thing you'll see today. pic.twitter.com/CPdUttMKLr — Trey Mangum (@treymangum) August 29, 2016
Giving an interview with MTV's Meredith Graves, he was in the middle of telling Drake he was coming for his muscles when his good friend Auntie Yoncé dropped by.
The slight move.
Photo: Tumblr / darkestnighthour
Then he figured out what just happened...
Photo: Tumblr / darkestnighthour
...and then rushed over...
Photo: Tumblr / darkestnighthour
...and did a happy dance.
Photo: Tumblr / darkestnighthour Bey complimented the host Meredith Graves' tatoos, and the fact that she's a Virgo, so it's safe to say she had one of the best nights of her life, too.
We would have all had the same reaction.
Chance the Rapper reacted the same way I would've if Bey just touched me. I would've DIED.

— Princess unikitty (@TAN1AAA) August 29, 2016
Chance is me to be honest. Also, imagine Yonce giving you a "just saying hi" hug cos you that cool? Ngingafa. https://t.co/mCwy2iyQ2f — Gugulethu Mhlungu (@GugsM) August 29, 2016
Chance's love for Bey is so authentic. She's cool with him, and he still stans. https://t.co/3dbygkpIpJ

— Rah-Rah (@_DebbieDebs) August 29, 2016
Live footage of me waiting for Beyoncé to change my life as well.
[caption id="" align="aligncenter" width="700"]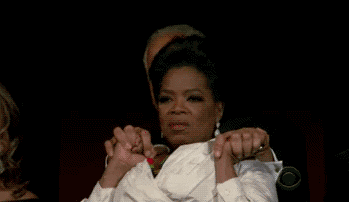 Photo: Giphy


[/caption]