Deshauna Barber wins Miss USA 2016 and her black girl magic captivated us
Once again, 2016 is proving to be the most blackest year in recent history. Miss District of Columbia, Deshauna Barber, was crowned the winner of the 2016 Miss USA Pageant, which aired Sunday night on FOX.
From the District of Columbia, #MissUSA 2016 Deshauna Barber!

This Queen belongs in the White House. pic.twitter.com/4WrvAM5eSl

— MISS USA (@MissUSA) June 6, 2016
Her mother, who is battling lung cancer, cheered along from their home in Fayetteville, N.C. The 26-year-old is a logistics commander for the U.S. Army, while also working full time as a IT analyst for the Department of Commerce.
Barber's mother, father and two siblings all served in the military as well.
Barber wants to focus her platform on PTSD treatment for soldiers returning from deployment. She is an alumna of both Virginia State University and University of Maryland University College.
Deshauna is also a member of Sigma Gamma Rho Sorority, Inc.
Congratulations #MissUSA #DistrictofColumbia Deshauna Barber #SGRho pic.twitter.com/fO1ByIQWcP

— Sigma Gamma Rho (@SGRhoUpdates) June 6, 2016
Barber's reign includes a luxury New York City apartment complete with living expenses, a one-year supply of CHI Haircare products, a personal stylist, modeling portfolio, all-access to exclusive events, a year-long salary along with loads of other perks.
Black girl magic was in abundance beyond Barber at the pageant, with 22-year-old Emani Davis, Miss Georgia, taking home 2nd runner-up. Miss Hawaii, Chelsea Keolani Hardin, was the 1st runner-up, rounding out the top three finalists, comprising of people of color.
Top 3 for Miss USA 2016 are all WoC! I was speechless! pic.twitter.com/xdwZOVZyzO

— Cray Bee . (@Draybeee) June 6, 2016
Barber delivered the most poignant responses of the night, many of which dealt with being a woman in the military. When asked what it meant to be "confidently beautiful", Barber said:
Serving in the military has taught me that being confidently beautiful is about being able to earn respect from people regardless of what you look like. As a woman in the military, people associate beauty with weakness and they learn very quickly that I'm extremely strong, and although I'm small, I'm powerful and confidently beautiful is being myself and being very happy with who I've become.
After Barber's win, Twitter was ecstatic!
MY PRESIDENT IS BLACK, MY FIRST LADY IS BLACK, MY MISS USA IS BLACK

— romnie (@rommmniiie_) June 6, 2016
miss usa is a beautiful black woman. our mood right now #MissUSA pic.twitter.com/ApfzHPcIDx

— jyn lemonade kent (@jyndonce) June 6, 2016
Miss USA is a beautiful black woman pic.twitter.com/SqxQnAsnQc

— Morgz (@sMORGANbord_) June 6, 2016
The new Miss USA is from DC AND she's black AND she's dark skinned AND her name is Deshauna. pic.twitter.com/v5ZoPFEr9c

— taina morales (@withlove_eb) June 6, 2016
New #MissUSA is a Black woman who is member of a Black sorority and HBCU grad. Happened in Black Music Appreciation Month. #JETJune #SoBlack

— Awesomely Luvvie (@Luvvie) June 6, 2016
We are excited to witness Deshauna's reign as Miss USA and watch her kill it in the Miss Universe pageant!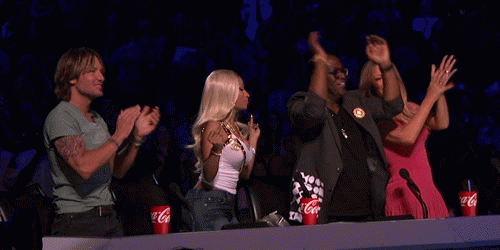 ---
Share this article with your friends on Twitter and Facebook below!
---