Remember when Diddy was at the political forefront with his "Vote or Die" campaign?
In 2004, he was all up and through MTV-esque TV spots urging young people to register to vote. After 2006 when the movement disbanded, Diddy became relatively silent on hot button political issues.
It's especially interesting considering the day-to-day drama of the Trump administration and of the man himself, Donald Trump, who Diddy even once referred to as a "friend" in Vibe.
Welp, if you thought Diddy stopped talking for good, you thought wrong!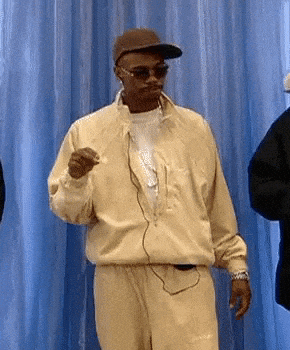 The Bad Boy Entertainment mogul sat down with The Daily Beast primarily to promote his upcoming documentary Can't Stop Won't Stop, which has been acquired by Apple. The doc is set to premiere in New York and Los Angeles on June 23 before exclusively launching to Apple Music customers on June 25.
But, after Diddy spoke briefly spoken about being a black man living in today's society, how could the Daily Beast ever avoid bringing up Trump?
They couldn't help themselves.
"I think that to be honest, we don't really give a f*ck about Trump, because [black people are] in the same f*cked-up position. So that's not what we're on. The tomfoolery that's going on in D.C., that's just regular everyday business to black folks. That's not surprising," Diddy said.
The mogul went on the say that his main priority is promoting the self-love and self-care of the black community.
"We're turning CNN and all that shit off because we're trying to get ourselves together. That's what I'm about. I'm like, 'Turn that shit off, let them deal with all that shit. We gotta start dealing with us.' So my thing is, I gotta keep showing the dream. I gotta keep magnifying that and keep it focused on that self-love that we need to give our race."
Moving on from Washington, Diddy discussed the recent acquittal of the police officer that killed Philando Castile.
"I didn't really understand the new normal until the day before yesterday when [the cop who shot] Philando Castile was acquitted. I was like, Instagram's not even jumping about this. This is such the new normal that it's not even a major thing right now. The way his mother expressed herself, she put out a very clear warning to us as a people. I think it fell on a lot of deaf ears. I feel like it's really at the point where it's a tragedy that has to stop. I mean, this is the new normal: The cop got off, but like we have to go to work tomorrow."
Getting emotional, Diddy continued, "Here's the president talking about no issues that you've been having, then you see yourself getting killed and you see people getting away [with it], and you see marching and you see it happening over and over. There comes a breaking point. The breaking point is not being covered by the mass media. I think America is getting to a dangerous point where they're letting our hearts be pushed into. I hope and pray people wake up. There's gonna come a day when you can't keep killing our kids."
Word. Until that day comes…