When most children visit their favorite relatives' houses, they usually dream of eating dessert before dinner or building a fort made of couch cushions.
Five-year-old Shon, on the other hand, would rather play dress up as his favorite superheroes, becoming a hero in animal rescue.
While dressed up in costume as Batman, Superman and the Ninja Turtles, Shon spends his visits with his aunt and uncle Kia Griffin and Kris Papiernik in Philadelphia rescuing street cats.
How did this passion for saving stray felines come about?
According to The Dodo, Papiernik and Griffin have been independent cat rescuers for 10 years. Shon quickly joined in their love for animal rescue.
"We've been a big part of his life ever since he was born," said Papiernik. "If he was with us, he was around cats. He follows our lead."
Because he is so young, Shon's aunt and uncle were not fully comfortable with the boy interacting so closely with the strays when he first began doing so.
"We were a little hesitant at first because they're feral cats, and we thought they're going to run from a rambunctious 3-year-old," Papiernik said.
After witnessing how passionate Shon was about the mission, they changed their minds.
"It was the total opposite — they just gravitated to him," Papiernik said. "He'd scratch their bellies and scratch their heads. It was amazing to see these cats who wouldn't even allow us to touch them, but immediately took to him. He must have this magical effect that the cats can pick up."
Looks like Shon was a natural.
Papiernik, Griffin, and Shon have also named the territories for which they find most stray cats from Kolony Kats, Backyard Boys, Stray Kitty Crew, Meow Squad, Gas Station Kitties and Indoor Kitties.
How adorable is that?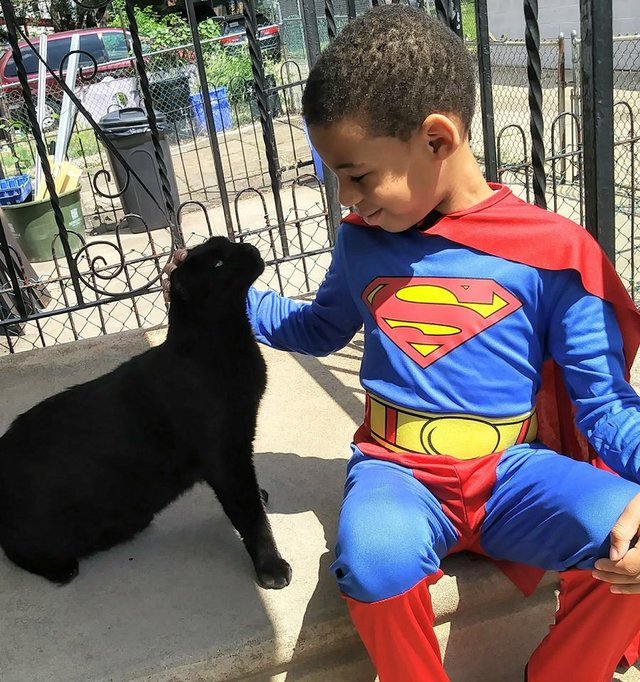 Because many of the stray cats in these areas are untamed, it can be quite difficult to find homes for them. Shon, however, nurtures even these untamed cats back to health despite people's unwillingness to adopt many of them.
Papiernik and Griffin with the help of Shon have rescued more than 40 street cats and placed them in loving homes.
Shon loves the experience to be able to save the street cats of Philadelphia and the surrounding areas so much that when the weather doesn't permit it, Shon becomes discouraged.
"If it's raining or cold or he can't go, he gets really upset," Papiernik said. "He cries, and it really hurts him hard."
Though Shon is still too young to administer medicine to the cats, he is at least able to feed them dry food, treats and fill their water bowls while giving them boundless belly rubs and neck scratches, proudly demonstrating that superheroes come in all sizes and of all ages.