It's always dope to see young activists making big moves! Meet 19-year-old Mary-Pat Hector, who has already spent a bulk of her life raising awareness for various injustices. She was named the national youth director of the National Action Network at the tender age of 13 and launched a gun violence awareness campaign called Think Twice. We covered her Stonecrest City Council seat bid, which — while unsuccessful — she had made history as one of the youngest candidates in the state. Along with reigning in the likes of Al Sharpton for assistance, appearing on CBS to talk about Think Twice's inspiration and writing a poignant play about child molestation, Hector has been a key staple in her community.
Now, the Spelman College junior is leveling-up Think Twice with a billboard campaign that started in Atlanta and is traveling to Chicago. Per My AJC, Hector received a $50,000 Peace First fellowship that resulted in 50 anti-gun violence billboards all over metro Atlanta.
"When you think of gun violence, you think of black boys in Chicago or Bankhead," said Hector, who grew up in a family of activists. "But to become uncomfortable with that, to be moved to action, you have to see yourself. I wanted to create billboards so that people could see themselves, to see it happening to them."
The response filled Hector with the greatest joy and humility. "I was so proud," Hector noted. "People began hearing about the billboards, and I began getting invitations to speak about Think Twice."
Of course, having 50 billboards in a major city was a huge deal, but expanding beyond her resident city is something that is beyond her wildest dreams. With the help of Allstate Foundation — who sponsored her trip to the U.S. National Special of WE Day that aired on CBS — Hector now has an anti-gun violence billboard in Chicago. And this is just the beginning!
"I was taken aback," she said. "It's still in the beginning stages, but we're really excited. Really, really excited."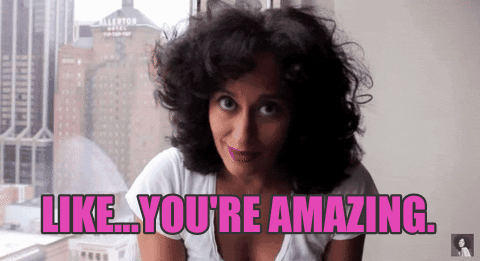 Excitement is the right feeling! At this rate, Hector will be going even further than she could ever imagine! Go magical black girl, go!