If you are a Twitter user and haven't heard the name "Matthew A. Cherry," oh no baby what are you doing?
Along with being Black Twitter's unofficial "hype man," Cherry recently took to Kickstarter to successfully crowdfund for his upcoming animated short, Hair Love.
Cherry's personal hype train is chugging along nicely because besides the successful campaign, his feature film 9 Rides has just been acquired by Gravitas Ventures and Flourishing Films!
Gravitas will be scooping up the U.S. and Canadian distribution rights, while Flourishing will have international rights. Josh Spector, Director of Acquisitions for Gravitas Ventures and ICM's Grant Derkac and R. Vaughn Gill negotiated the deal.
9 Rides, which stars Dorian Missick, Omar J. Dorsey, Robinne Lee, Xosha Roquemore and Tracie Thoms, follows the rollercoaster night of an Uber driver (Missick) dealing with a major life crisis on New Year's Eve.
"9 Rides was inspired by wanting to do a movie that took place in one night and wanting to shoot an entire film on the iPhone," Cherry told Blavity. Yes, that's right, the whole movie was shot on an iPhone 6s.
"I take Uber a lot in LA and I always would end up in these crazy scenarios every time I would take an Uber Pool with other riders, and I used some of the scenarios to reimagine them through the perspective of the driver," Cherry said.
9 Rides premiered at the 2016 SXSW Film Festival, and successfully rode the rest of the festival circuit. It was the first film completely shot with an iPhone 6s. "We wanted to prove that it didn't matter what you shot with, iPhone or Red Camera, a good story is a good story, and you need to tell your story by any means necessary," Cherry said.
Cherry is certainly excited about the acquisition and feels that his film has found an appropriate home. "I think what makes Gravitas and Flourishing Films a good home for us is that they both understand how to work non-traditional movies in non-traditional ways. They both loved the film and got what it was we were trying to say, and it's easy to partner with people that see your vision like that."
So, where will you be able to check out 9 Rides? Gravitas will be releasing the film on VOD and DVD later this year and Flourishing will distribute it internationally around the same time.
And Cherry promised that Hair Love will be coming soon, too. The Kickstarter for the animated short has just one day left, and has raised more than $200,000 for the project.
"The support has been incredible and we are all so thankful to everyone who donate to or shared our project with their friends and family. Everything we raise is going to go into making sure the short is as high of a quality as it can be as possible and we are working to hire some of the best people in the business to work on the project to ensure it's quality,"Cherry said.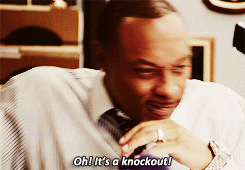 Stay tuned for updates about both projects, and congrats to Matthew!