Auntie Maxine Waters, how do we love thee?
We have already counted the ways!
Representative Maxine Waters was recently honored at the Black Girls Rock! award ceremony where she was presented with the Social Humanitarian Award.
Black Girls Rock! is filled with unmatched support of sisterhood, uplifting notable figures across generations.
Among all of the night's honorees, it is safe to say that Representative Waters is our wise queen!
She took to the stage to accept her award and dropped a speech to end all speeches, per HuffPo.
First, Representative Waters made a point to highlight the importance of safe spaces for black girls.
She also spoke about just how much representation matters and how we must continue to celebrate what we all now refer to as "black girl magic."
"For much too long, black girls have not reached their full potential ― but now things are changing," she noted, citing powerhouses such as Shonda Rhimes, Ava Duvernay and astronaut Mae Jemison. "All of these fabulous women who are inspiring so many young girls and showing them that they too can be successful, they are certainly examples of what is possible."
Then, came the climax.
Ever since Maxine Waters came onto the public scene, she has been applauded by her fans for unapologetically criticizing President Donald Trump and his shortcomings. Of course, her outspoken nature quickly made her a target for right-wing politicians and white supremacists.
As the attacks continue, through the sheer strength of black sisterhood, support for Representative Waters has grown exponentially.
"I know that if it was not for the love and respect shown to me by black women, those right wing, ultra conservative, alt-right haters would have me believe I'm too black, I'm too confrontational, I'm too tough and I'm too disrespectful to them but I know I am simply a strong black woman," said Waters.
"We have power, we have influence, we can do things that others have told us we can't do," she continued. "If you come for me, I'm coming for you."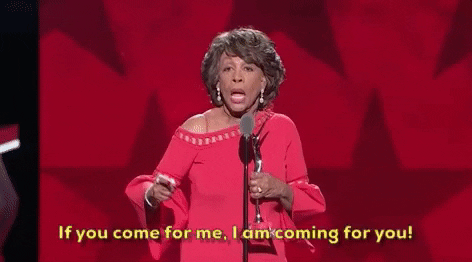 Waters then doubled-down on the electric line, making sure the folks who her words were specifically directed to, hear her loud and clear.
"Whether it's the president of the United States of America or any of his cabinet members, we will say to them, 'We will resist you,'" she exclaimed. "We will not allow you to damage this country in the way you're doing."
"We will not allow you to take us backwards," she concluded. "Not only will we resist you, we will impeach you!"