News
Nicki Minaj Arrived In China For A Concert That Turned Out To Be A Scam
Minaj was scheduled to perform at the DWP Festival, which was news to the real organizers of the DWP Festival.
Nicki Minaj raced to China, likely excited about her upcoming performance in the country. Unfortunately, however, her planned concert never happened.
According to Shanghaiist, the Queen singer was set to perform at the Djakarta Warehouse Project (DWP) China Festival in Shanghai on November 18. She was reportedly promised a $3 million check. Tickets cost as much as 3,000 yuan ($433).
However, only a few days before the event, the festival placed the following notice on its website: "The event rumored to take place in Shanghai on 17th & 18th of November 2018 is an unauthorized use of DWP trademark. DWP as a brand, has no association with the event. The alleged lineup artwork of DWP China, which has been circulating online is unauthorized."
Like what you're reading?
Get more in your inbox.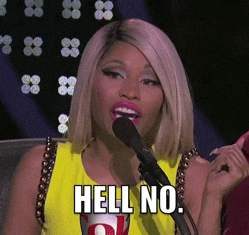 DWP normally takes place in Bali; the Shanghai concert advertised itself as an extension of the Indonesian festival. Naturally, comparisons to the Fyre Fest (a luxury music festival organized by Ja Rule and Billy McFarland that never came to fruition), popped up.
Twitter sent Nicki a mix of shade and support:
why China did nicki minaj so dirty? is it because of Chun Li?

— rihanna (@rebelledit) November 18, 2018
@NICKIMINAJ I'm so sorry about tonight in China, please don't angry, Chinese fans are all love you, I wash you can come back China later😥

— quiet (@7QnNOqDjfPaSGyD) November 18, 2018
For her disappointed Barbz, Minaj posted a video apology, which was shared on Twitter:
Thank u Nicki! We are sooo sorry for what happened today and we love u soooo much! Plz come to Shanghai next time PLZ! @NICKIMINAJ pic.twitter.com/KPnzR4Id41

— Kallie🌸 (@IvaWong23) November 18, 2018
"Thank you, guys. To my real fans, I love you so much," she said in the video. "I'll be back, you guys, for my real fans, in Shanghai, in China. I love you so much … And I'll be back with a better partner."
According to BuzzFeed, Minaj's management hasn't released an official statement on the matter yet.