Since SZA's debut studio album CTRL was released, audiences have gotten to witness the pen power of the dynamic Black songstress. After one full rotation of the record, we can hear through Solána Rowe's personal experience that she is also singing our lives through her words.
From the recollection of becoming a scorned lover after being abandoned by an ex on Valentine's Day ("Supermodel"), to navigating your way through the clash of piling responsibilities and embracing life while you're young ("20 Something"), here are some of the most impactful lyrics on control that make you say, "…yes."
1. "Supermodel"
Why I can't stay alone just by myself?
Wish I was comfortable just with myself
But I need you, but I need you, but I need you
SZA, on "Supermodel," is the part of us that wishes we had all the right tools to stop us from depending on the wrong people. Self-confidence, independence and a stronger will to listen to our gut when it's pushing us to make better judgment calls.
2. "Love Galore"
Why you bother me when you know you don't want me?
The golden question of 2017. None of us like our time wasted, and on "Love Galore," she packages all the confusion you get from mixed signals into one very important question.
3. "Drew Barrymore"
I get so lonely, I forget what I'm worth
We get so lonely, we pretend that this works
I'm so ashamed of myself think I need therapy-y-y-y
When we get caught up in the potential of what someone else can offer us, we sometimes lose all of who we are in the process. At the top of verse two in "Drew Barrymore," SZA is all of us during reflective moments of loneliness.
4. "Prom"
Fearin' not growin' up
Keepin' me up at night
Am I doin' enough?
Feel like I'm wastin' time
Adolescence is tethering—having little to no responsibilities and more time to focus on the things that make you happy. Watching everyone around you grow and mature can be frightening, as SZA covers on "Prom."
5. "Garden (Say It Like Dat)"
Open your heart up
Hoping I'll never find out that you're anyone else
'Cause I love you just how you are
Hope you never find out who I really am
'Cause you'll never love me, you'll never love me, you'll never love me
On "Garden (Say It Like Dat)," the hook is as enchanting as it is emotional. Sometimes when a love is everything you wanted, or everything you didn't know you needed, you wonder if it's too good to be true. There's also hopes that our flaws don't deem us undesirable or unworthy of said love.
6. "Normal Girl"
This time next year I'll be livin' so good
Won't remember no pain, I swear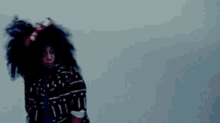 "Normal Girl" is for the outcast—the one who isn't polished or paraded proudly like a trophy, but dreams to one day be just that. At the end of the song is a bit of self-reassurance, something we could all use a bit more. SZA's lets us know that there are brighter times to look forward to.
7. "20 Something"
How could it be?
20 something, all alone still
Not a phone in my name
Ain't got nothin', runnin' from love
Only know fear
As a 20 something, you're often reflecting on all the things you have accomplished, as well as what you have yet to. The last song on the album ties together the uncertainty you're bound to endure in your twenties. Though these years aren't all bad, life has an interesting way of helping us discover who we are.
What are some of SZA's CTRL lyrics that speak to you?