When high school senior, Anna Hayes, posted pictures from prom she had no idea the reaction she'd receive. The Arkansas teen posted pictures with her friend and date, Philip Freeman, on social media and shortly after received a series of berating text messages from her very own father.
According to an interview with Buzzfeed News, "He had always been openly racist around me when I was growing up in his household, but it never really occurred to me what it exactly meant to be racist, when you're a child you look at the world completely different," Anna shared.
In the text messages, Hayes' father said he was officially cutting her off calling her a "whore" and stating that since she wanted to "mingle with Subhumans," he'd treat her "accordingly." The messages from Haye's dad gained attention after she sent them to Freeman and he posted it on his Facebook.
Wow. Right here in good ole Arkansas ????????‍♂️ pic.twitter.com/kLqwvMaLIy

— Reg (@Og__Regg) May 2, 2017
After her family received threats, the Arkansas teen took to her Twitter to clear up her intentions in posting the pictures. "There is a peaceful and classy way to fight for what you believe in," she wrote. "Threatening someone and calling them all sorts of terrible things makes you just as wrong as my father was."
At the end of the day, she's glad the text messages got exposed, believing that "it's important for people to see that racism is very much alive."
"This just hurt more because I can not believe how anyone can hate someone they don't even know because of their skin color," Anna said.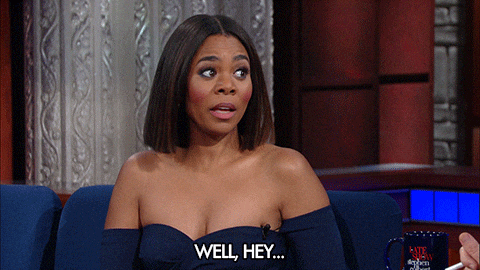 Photo: Giphy
Welcome to the real world, Anna. Hopefully, these two teens will use this situation as a reason to fight the good fight and make a difference in the world.