There are some things you don't know you need until you get them.
There are many reasons to love The Carters' "Apes**t" video, with one of them being able to see Black folks look like works of art in front of actual artwork.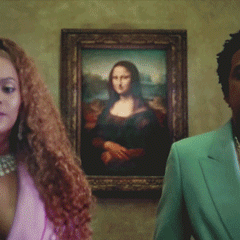 The couple brought Paris' Louvre Museum to the culture.
What could get better than that? Seeing a bunch of everyday Black women standing in front of a famed painting during Black History Month, and journalist Darian Symoné Harvin did just that.
I want to start a thread: Black girls in front of the Mona Lisa. I'll start. pic.twitter.com/BBo1Hefs4H

— Darian Symoné Harvin (@dariansymone) February 13, 2019
Her followers delivered and blessed the internet with their shots. In all honesty, Mona Lisa should feel honored.
me ft my top knot pic.twitter.com/9VTnmWTses

— qich (@kishellle) February 13, 2019
???? pic.twitter.com/xnMo489aNZ

— iyoncé???? (@_honestlyivana) February 13, 2019
We out here ???? pic.twitter.com/i1roba45Tm

— J ???????? (@heirjordyn_) February 14, 2019
How cute is this?!
Me and Mini circa late 2016. pic.twitter.com/uGKpGsvw0J

— A Jillian to One (@jillibeans21) February 14, 2019
This shot embodies squad goals.
— temptation (@kimkash__) February 14, 2019
Mama is the one who should be framed.
That's my momma living her best life when I took her to Paris last year. She immigrated from Haiti, raised 6 kids and sent us all to college. A BOSS. pic.twitter.com/9Gv2kK9QPo

— Johanne Sterling (@elektricclady) February 14, 2019
This definitely counts.
Sis, Does this count? ???? Mona is made of thousands of pieces of candy. ????????‍♀️ lmk. K, bye. pic.twitter.com/FXFjfiE69m

— Nakia Stephens (@screenwriteHER_) February 14, 2019
We stan an art enthusiast.
@Normani
pic.twitter.com/834OytDywQ

— britt (@giftedkordei) February 14, 2019
Go best friend!
My Bestfriend doesn't have a Twitter but she deserves to be here… pic.twitter.com/i3X8Gyj8MC

— YWnF✨ (@KidBlnco) February 14, 2019
Some of them didn't make it in, but they're just as fly.
Didn't make it in but we were there! pic.twitter.com/bnWGeFrwW9

— DEUCE DE LUESH (@_NurseRatchet) February 14, 2019
They were closed when I went but this is as close as I could get pic.twitter.com/t27FLPv6Br

— Alex Tribble (@thealextribble) February 14, 2019
Yassss full body shot!
I'm just sayin', hey, Mona Lisa
Come home, you know you can't roam without Caesar. #lourve
pic.twitter.com/3DopHovV9k

— Candace Chanel (@CandaceOverall) February 14, 2019
We believe the following tweet summed it up quite nicely:
The Mona Lisa is overrated. Y'all are art.

— inkbot kowalski, MSc. (@inkbotkowalski) February 13, 2019
Black women have saved Black History Month.
Blavitize your inbox! Join our daily newsletter for fresh stories and breaking news.
Liking this story? Check these out:
Ava DuVernay Is Now The Co-Chair Of Prada's New Diversity And Inclusion Council
This Text Thread From Michelle Obama's Mom On Her Grammys Appearance Is Peak Black Mama Talk
Jussie Smollett Brought To Tears Discussing Alleged Racist, Homophobic Attack On 'GMA'