Beyoncé obliterated the internet, once again, when her feature on DJ Khaled's "Top Off," dropped on Friday.
Naturally, fans were thirsty to know the meaning behind every single line in her verse. One part, in particular, stood out for Black Twitter.
"If they tryna party with the queen they gotta sign a non disclosure!"
Now, if you remember correctly, Haddish recently dished the tea on how she got a much-desired selfie from Bey (the songstress stopped her from fighting), then spilled more details regarding Bey's brief interaction with an unnamed actress who attempted to flirt with JAY-Z.
Given that background, Black Twitter went into speculation mode and immediately concluded that Bey was talking about Haddish:
Tiffany Haddish really ran her mouth and now Beyoncé out here saying to party with me you gotta have a non disclosure agreement. making it even harder for me to ever mingle and kick it with Beyoncé. thanks a lot, bitch.— Richey Collazo (@RlCHEYY) March 2, 2018
i love tiffany haddish but like how did she think it was a smart idea to talk abt beyoncé and jay z like that? especially post lemonade and 4:44. like nvm that she's beyoncé but like it's a sensitive thing.— maria podesta (@NomondeTshomi) March 2, 2018
Tiffany Haddish listening to Beyoncé new verse on #Topoff after realizing that queen b was shading the fuck out of her ass.
pic.twitter.com/YQvIluAG5t— Chelley (@_michellejeann) March 2, 2018
We've never heard about Beyoncé at a party before the Tiffany Haddish story. All we've ever heard was "I met Beyoncé." Nothing more— Beyonće King. (@erica_simone_) March 2, 2018
Beyoncé actually says "Tiffany" in the background when she starts with "I took the top…"!— B (@KingBeyTea) March 2, 2018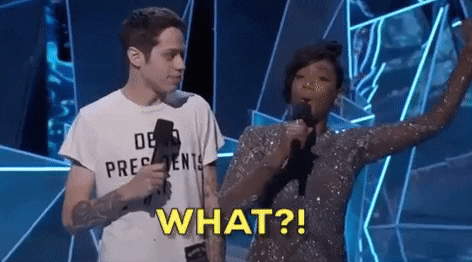 Never one to be meek, Haddish tweeted out her official response to Bey's song and yes, she addressed that particular line.
I Love Beyonce part! Everything she said rang so real to me. Just know I will sign A NDA any day For Beyoncé. DJ Khaled – Top Off (Ft. JAY Z, Future & Beyonce) https://t.co/9Ing2kNq14 via @YouTube— Tiffany Haddish (@TiffanyHaddish) March 2, 2018
But also know this I will fight for Beyoncé. I Love that woman she is a Gift from God.— Tiffany Haddish (@TiffanyHaddish) March 2, 2018
Looks like Haddish is here for the verse and Bey … forever.