The Spanish Immigration and Refugee Support Network has reported a hate crime to Madrid prosecutors in connection with an incident involving a white woman who attacked a black actor during a racist tirade, El País reports.
Marius Makon, also known as Elton Prince, claimed that he had approached a coffee establishment's counter when a 33-year-old El Salvadoran woman said, "I don't want black people in this place or in front of me." A man was reportedly with the woman at the time.
Makon recounted the story on his Facebook page, noting that he replied, "No miss, I will only be here for a moment and then I'm leaving. I don't have any interest in staying near you for long."
"I don't care, you black piece of sh*t, get out of here," she allegedly barked back.
"Calm down miss, I insist, we are in a public place and I don't understand your anger," he responded.
That's when things quickly escalated.
"Black piece of shit, I'm white. I can kill you and nothing will happen," the woman is said to have screamed before breaking a beer bottle over Makon's head.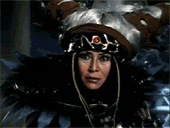 She struck him a second time with the bottle, which caused a cut on his head, as well as other injuries. Other patrons at the coffee shop helped him, and the establishment's owners called the police. The woman was released from detainment after providing a statement to the police.
Makon posted the result of the incident on Twitter.
Un ataque racista en un bar de Madrid por poco me deja sin ojo
El racismo nunca nos vencerá amor amor y amor pic.twitter.com/EbJfEUXCQa— Marius Makon (@EltonPrince) March 4, 2018
"A racist attack in a bar in Madrid that nearly left me without an eye. Racism will never defeat us, love, love and love," tweeted Makon, per the English translation.
"Now I am in my house and I look through these images [of my injuries] I do not feel any hate towards the woman," said Makon via Facebook. "I want to say that I am not angry with her and I don't know why. I am sad that she feels such hate, that she lives with hate. It saddens me that she does not enjoy life, that she doesn't leave a small space in her heart to love.
"What's funny is that before hitting me with the bottle she said to me, 'I'm white and we are in Spain. I can kill you and nothing will happen to me.' The truth is nothing has happened to her," he continued. "After being identified she has gone home, while I have gone to mine with seven stitches. Now the problem is in the hands of the law. The law will decide on the sentence."
The Spanish Immigration and Refugee Support Network is requesting an "immediate" sentence for the woman who they believe "was looking to provoke the victim and cause a reaction."
"We will not stop until these types of backward, intolerable and feudal-era assaults are stopped," the organization posted on its Facebook page.