News
White Women Assault Black Fans For Sitting During The National Anthem At Lakers Game
They were so proud of what they did... until it went viral.
Photo credit:Photo: Twitter
Over the weekend, a video of a white woman throwing a drink on a fan at a Los Angeles pre-season went viral. The video, uploaded to Twitter by Savannah Sugg, shows her schoolmate, Haley Perea, throwing a drink on a man who decided to sit during the national anthem.
Perea can be heard saying "This is for the national anthem, you pieces of sh*t," as she tossed the drink. When Sugg posted the video to her Twitter account, she captioned it with: "Take a kneel for the land of the slaves. Disrespect our flag and our country and that's how we'll react."
Like what you're reading?
Get more in your inbox.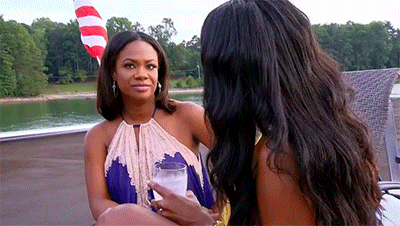 Naturally, TBI (Twitter Bureau of Investigation) did not rest until they found more info of these two women. Here's what we know:

The two attend California Baptist University in Riverside, California, a school that says its mission is to provide students with "a Christ-centered educational experience that integrates academics with spiritual and social development opportunities."

The two are supporters of (wait for it...) No. 45.

They both played for CBU's volleyball team.

The Tab shows at least 14 times where Perea used the word n***a on Twitter, including one tweet that said: "I love calling my roommate 'n***a.' She freaks out every time [monkey emoji, laughing emoji]!"

They've participated in a racial stereotype party.
This is Savannah Sugg & Haley Parea at a racist party. pic.twitter.com/KklIrpUMKj

— Ro Jo (@norjohnston06) October 7, 2017'
A friend of the two guys involved, 20-year-old Matthew Brady and 21-year-old Jiahn Talebi, told The Tab about what happened that night:

"They didn't stand during the national anthem, and during the fourth quarter is when the girls threw the beer on them. They tried to chase after them to make sure they were caught, but a little bit later they were assaulted by this other white guy. I guess the girl went up to the students and so he came up to my friend. He ended up putting up my hand around my black friend's neck, and said: 'boy, you need to be put in your place.'

"The police came, and after two minutes of questioning, they let that guy go. They were upset, they were bewildered. They couldn't believe what happened to them. They really did nothing wrong. Those girls can't just get away with this, or they'll keep thinking it's OK."

The Root reports Brady and Talebi, also spoke out about that night:

"We're joking around and talking," Talebi said. "We don't want to show respect for the national anthem. I sing out, 'Home of the slave,' because that's what it should say."

In response to the public's demand for a call to action, California Baptist University issued a statement:

"On Wednesday, October 4, 2017, an incident occurred at a pre-season NBA basketball game at the Ontario Citizens Business Bank Arena. While this was not an event affiliated with California Baptist University, two current CBU students were involved.

On Thursday morning, October 5, 2017, CBU learned of this incident and initiated an investigation and plans to take appropriate action. CBU does not condone or support the behavior depicted in the recording of the incident.

CBU takes this matter very seriously and is cooperating with law enforcement and arena management."
---
Sponsored Content
How Interior Designer Ajia Monet Was Able To Defy The Odds And Create A Successful Business Out Of Her Passion