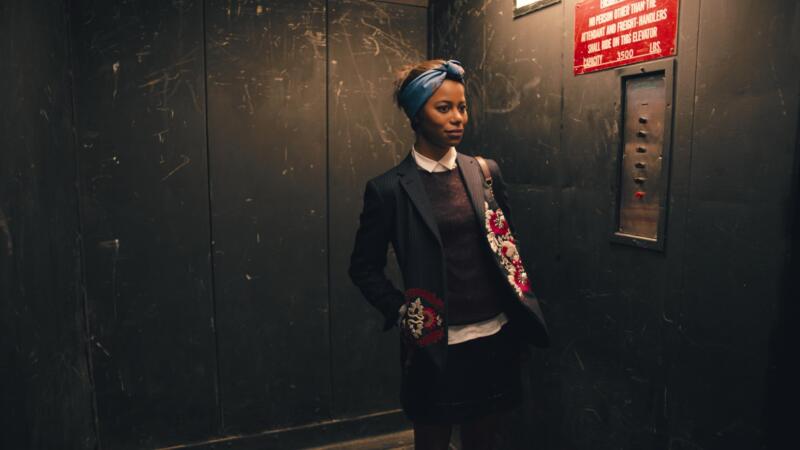 When the estranged family patriarch dies on their doorstep, skeletons of a Jamaican-American family come pouring out of the closets, and long-kept secrets are revealed, as Jean (played by Taylour Paige), despite her life being in a state of upheaval, pulls the unraveling strings behind the scenes, as more and more family secrets are uncovered. And once she gets started, she cannot stop. The paramedic who arrives at the door complicates the already gray area concerning Jean's tenuous relationship with the boyfriend from whom she's recently, reluctantly separated. "Planning a funeral is cathartic," she tells her Aunt Anne. Anne replies, "What is that, like some writer term I'm supposed to know?" Like any true and talented writer, Jean is often standing in the place of the observer and almost always knows more than, and about the people around her think she does, and sometimes knows more than she herself believes she does.
On a brief personal note: I have not resonated more with any character I have ever seen on screen. Nor have I felt as excited and passionate about a film since perhaps "Imperial Dreams," starring John Boyega, which played at Sundance nearly three years ago. My daughter, who screened the film with me, looked up at one point and said, "Mom, you look like Jean." Despite the uncanny physical similarities, Jean is also a tortured writer, who regularly vacillates between self-loathing and pompous elitism. She is a deeply insecure, highly educated, rabble rouser— someone with so many inside jokes with herself that laughter often comes spilling out at inappropriate times, causing her to seem distant and flighty. Her Aunt Anne (who seems more like an older sister) tells her "what's pathetic is that everything you own fits in your trunk!" At 25 years old, Jean is a bestselling novelist but is regularly framed by her family, as an irresponsible pain in the ass. Despite her endless amounts of style (an effortless and eclectic mix of textures, patterns and accessories, courtesy of costume designer, Avery Plewes) and impossible cuteness, she is constantly reminded by her outspoken and hypercritical grandmother, played by Michelle Hurst, aunts (Gloria Reuben and Erica Ash), and mother (Sherri Shepherd), that she is just Jean–the difficult "spindrift," baby of the family (I won't spoil the funny scene involving the word, "spindrift".) Despite the exaggerated elements for comedic effect, Meghie paints a realistic portrait of the intergenerational layers of wounds that can occur through the unresolved presence of painful secrets and lingering resentments. None of the women are willing to openly admit that even as Jean attempts to sort through the confusion and stagnation of her own life, she plays an integral role in their ability to face their own issues and ultimately move towards healing.




Truth be told, Meghie's film education is showing. "Jean of the Joneses" (JOTJ) is urbane and sharp black comedy, a film that tends to call more attention to it's creation, production, technique, directorial choices and execution than the actually story (perhaps indicative of its development at Nantucket Film Festival Labs), though the story is a very strong one. JOTJ is a filmmaker's film with the perfect blend of casting and sophisticated dialogue the actors could really sink their teeth into and bring to life. Writer, director and producer Meghie writes with complexity here, mining a hodgepodge of her own personal experiences in a Jamaican family; the depth and layers in her dialogue are mirrored by the multigenerational family of strong female characters.
Despite it's 17 day shoot, with just a couple of those days in NYC (the rest in Meghie's native Canada), Meghie treats the city lovingly like Spike Lee does in "Mo' Betta Blues," or the way Woody Allen does in "Manhattan." The slow panning across the cityscape, the frame, often full of light and the rustic colors of fall, the soothing and warm yet melancholy jazz music played over the scene which, despite the family's consistent dysfunction, often seem romantic. The similarities are striking and communicate an adoration that is fully inspired by what she knows and loves about films and filmmakers, and are in no way, derivative.
Stella Meghie told IndieWire earlier this year that the biggest misconception about her work is that she is not telling a universal story. We see this same frustration play out in a scene from JOTJ. Jean a successful writer described by the New Yorker as a "Multicultural Wunderkind," goes to her weekly writing group and openly shows boredom and annoyance at the other writers' focus on what she clearly sees as tired and trite themes among Black writers. "Does everything have to be about poverty, slavery, or a man in a dress?" Similar to Spike Lee, one of our pioneers of Black independent cinema, Meghie seems to place her strong opinions into the mouths of her characters. At the meeting, Jean is undeterred by the fact that the other members of the group are male, as if all the converging channels of upheaval in her life have imbued her with a brazen "What do I have to lose?" attitude. Jean upends the writing group when she criticizes their repetitive themes. Meghie is able to make a broader commentary on the state of black literature and film through this scene, and also earlier when we see a poster of "La Dolce Vita," a Federico Fellini film, on the wall of of Jean's ex-boyfriend. Meghie is letting her audience know from set design, costume design, to themes of family dysfunction, death, secrets, that her storytelling is indeed, universal.
In a scene where Jean accompanies her grandmother to church, her grandmother sulks and complains at being late and having to sit in the balcony and looks disgustedly at a group of casually dressed white people in the row behind her, whom she refers to as "tourists." "Do they dress like that when they go to the Vatican? They've come to watch us, like we are animals." The scene is so well-written and hilarious that the embedded social commentary on the gentrification of Black neighborhoods is digestible and unmistakable.
"Jean of the Joneses" is a fine debut – one that wears the fact that it has been lovingly crafted for six years, and Ms. Meghie shows no signs of stepping out of the momentum of this triumphant moment in her career. She has a pilot in development with John Wells Productions, a comedy series in the works with BET, and a deal to write a feature film script for VH1. She recently wrapped principal photography on MGM's film adaptation of Nicola Yoon's debut novel, "Everything, Everything," which stars Amandla Stenberg.
"Jean of the Joneses" premiered on TV One last night, October 23, 2016. Check the network's website for future screenings of the film.
A trailer for the film is embedded below:



---
Nella Fitzgerald has her Master's Degree in Cinema and Media Studies from UCLA. She is an Independent Film Curator and Festival Programming Consultant. Her 10 year old daughter's favorite film is "Citizen Kane." She has spent the last year teaching Visual Analysis and yoga to elementary students at Roses in Concrete Community School in Oakland, CA. Find her on Twitter @Nellafitzz or read her blog at: Nelledejour.blogspot.com.