The holiday season can be met with equal parts excitement and anxiety. Each year around this time, we stress ourselves gray with questions of what to get for our loved ones. Do we brave the incredulous crowds at our local shopping centers? Do we abuse our Amazon Prime benefits and scroll for hours through those generic "suggested for you" lists?
There's no fun in that.
Switch the style up this year and revamp your shopping experience by supporting some phenomenal black-owned businesses. We've always been Team BOB, loving the impact they have on our community and the level of creativity that goes toward every product. Not to mention, they're super cute and affordable. We're sure your friends and family will be on board (if they aren't already) after you slip a few of these into their stockings.
For the Culture
Photo: Pin Living Color
Our culture transcends time and space. That's a given. Help your loved ones make a bold statement at their local brunch, day party, and bar move with these fun, innovative pieces.
This lapel pin line with offerings like 'Black Lives Matter' and legendary black movers and shakers is sure to excite.
Another phenomenal pin line that fuses 90s flavor with black pop culture.
Based in North Carolina, this unique brand makes stylish wood watches for the masses.
With adorable graphic tees and accessories, this online clothing store is the intersection of femininity, blackness, and anime.
A popular style this season, Coloring Pins offers some womanist-inspired pins for your fave jacket or blazer.
Quippy one-liners on tees that are sure to start up colorful conversation.
For the Woke
Photo: Legendary Rootz
The emotional climate we've been living under has been brutal. What better way to bring some holiday cheer to your loved ones than to gift them with something that is so unapologetically black and deeply rooted in the cause?
A vet in this jewelry game, acclaimed artist Rachel Stewart creates items that bring new meaning to extraordinary craftsmanship.
Unapologetically black in every size and for every generation.
Tanks, tees, totes, and more … all dripping with black pride.
Awe-inducing jewelry and accessories, available ready-to-wear and customized!
Quotes from some of black history's heavy-hitters, such as Rosa Parks and Harriet Tubman sprawled across a tee or sweatshirt? Yes, please!
With a simple color and font, the strong BLM message reads loud and clear.
For the Grown Folks
Photo: Belle Butters
Market tested, bae approved.
Known for their homage to HBCUs and the Divine 9, Gentlemen's Club Kollection offers comfy socks and bowties for the stylish folk.
Keep your loved one's skin hydrated and poppin' with these handmade lotions and body sprays from Belle Butters.
For the subscription-lover in your life that loves a fresh line-up and shaving kits more than life itself.
Socially responsible, soothing shea butters to give your loved one's skin life.
Sexy and size-friendly sleepwear and lingerie that will spice WYD hours up right.
A night-out on the town never looked so good and so fancy.
For the Slay
Photo: Zelie for She
We all have one member of our circle that turned "do it for the 'gram" into a lifestyle. In an attempt to preserve their peak levels of "yes", spoil those folks with a few items from these vendors.
Another phenomenal subscription service that caters to quality menswear accessories with vibrant patterns.
Keep your loved one's facial hair and scalp smelling and looking good with help from Scotch Porter's amazing product.
A family-owned business that caters to the art of the dressing (read: cleaning up) like a champion.
The curvy fashionistas in your life will love these figure-framing pieces that turn heads.
Jewelry inspired by the groundbreaking, legendary black queens we've come to love, Lost Queens gives your accessory game a face-lift.
Premium leather clutches, totes, and more that bring new meaning to "just throw it in the bag".
For the Fitspirations
Photo: Sir and Madame
Gym. Juice. Snapchat. Repeat. Amongst every crew, there's always an individual or two that embodies "health goals" in all they say and do. Let your fitspirations know you stand with them in solidarity and wellness with gifts like these!
Super green and beautifully black. Can't go wrong with that.
The New-York based fashion label links up with FitBit to produce a sleek, fashionable, footstep-counting piece!
Delicious and healthy meal prep and replacement options for the health-conscious crew.
A Chicago-based brand that specializes in clothing, footwear, and healing apothecary products.
Fit Life Creative Fitness Planner
Help organize your loved one's personal, social, and health life with this cute and compact planner.
Keep your squad hydrated with these adorable water bottles, equipped with infusers.
For the Homeowners
Photo: Art By Su
Combine home decor with melanin to create an aesthetically-pleasing aura in your loved one's home!
You've seen her flawless (see what I did there?) work all over the blogs and your television. Bless your faves' home with some of Kashmir's artwork.
Artistic pillows and stools to give one's living area a taste of the Motherland.
Some of your favorite artists like Sadé and Kendrick Lamar brought to life by Su's majestic paintbrushes.
Smells on fleek, aura on a hundred! Gettin' lit never smelled so bomb.
Southern-fried artist Xavier Payne breathes new life into some of black's pop culture's favorite moments.
For the Kinfolk
Photo: The Kitchenista
"There's no way I can pay you back but my plan is to show you that I understand. You are appreciated." Couldn't have said it better ourselves, 'Pac.
Your favorite's favorite HBCU.
For the family member who keeps their wrist game so proper, it hurts.
This fmaily-owned business prioritizes quality skin-care and relaxation with handcrafted products like oils, butters, and candles.
From head-wraps to artisan jewelry, Fanm Djanm is the perfect place for "mood-lifting" accessories.
Bomb eyewear created by twin sisters that is sure to make everyone stop and stare? Yeah, we'd want a pair, too.
The Kitchenista Diaries Cookbook
Salivating and savory recipes by the culinary superstar herself, Angela Davis, available at the swipe of your screen.
For the Young'ns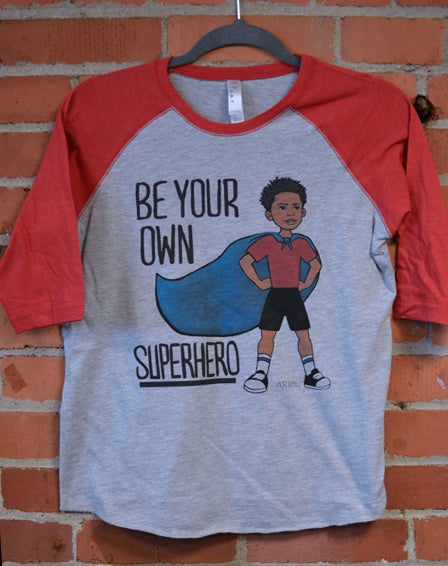 Photo: Ariel Brand
Cue Whitney's "Greatest Love of All" and start 'em off right.
Empowering messages of hope, pride, and acceptance for the youth closest to you.
Start 'em off young with alphabet flashcards featuring cultural influences and images.
Representation matters and exposing your child to beautiful imagery and toys that look just like them is the mission behind the Brown Toy Box!
What BOBs will you frequent this holiday season? Comment below!
---
Never miss a headline! Sign up for Blavity's daily newsletter.