7 Black Attorney General Candidates You Should Get Familiar With
Vote! Vote! Vote!
November 02, 2018 at 8:10 pm
Widely known as "the people's lawyer," the attorney general is considered the lawyer of all lawyers.The best thing about this position is that the role is not appointed, but voted on — the community gets to decide who fights for justice on their behalf.
While this position is important to all people, having a Black attorney general is especially important to Black people, because the shared Black experience can enable them to effectively advocate on behalf of the community's needs. So if you're not familiar with who is running for this coveted position in your home state, it's time to get acquainted with these seven brilliant Black candidates:
1. Sean Shaw (D-FL)
An attorney and state representative for the Sunshine State, Rep. Shaw's priorities for the people include gun reform, opioid treatment and prevention, and attacking discriminatory practices in the workplace head-on.
I am a fighter who will stand up to the gun lobby and sexual predators. In contrast, my opponent Ashley Moody wants to take away health care for Floridians with pre-existing conditions - like cancer or diabetes. I am on your side. #ShawforFlorida pic.twitter.com/GptEW2hevI— Sean Shaw (@SShawFL) October 3, 2018
For more details about Sean Shaw and his campaign, visit seanshaw.com.


2. Kwame Raoul (D-IL)
Chicago native Kwame Raoul is a member of the Illinois Senate. After Barack Obama was appointed to the U.S. Senate, Raoul was appointed to take over his seat in the state Senate. In his personal life, he has overcome prostate cancer, and this fight has fueled his strong concern for affordable health care in Illinois.
I lost my father and both grandfathers to prostate cancer before I was diagnosed myself a few years ago. Access to healthcare saved my life, so you can count on me to fight back against Trump or anyone who tries to take that away from us! #ProstateCancerAwarenessMonth pic.twitter.com/PN7Q6PwthV— Sen. Kwame Raoul (@KwameRaoul) September 1, 2018
To learn more about Kwame Raoul and his campaign, check out kwameraoul.com.


3. Keith Ellison (D-MN)
Keith Ellison is a Minnesota congressman, who also currently serves as deputy chair of the Democratic National Committee (DNC). His campaign platform for attorney general promotes affordable health care, a fair economy, and opportunity for all.
My opponent sides with Republican Attorneys General working to strip health care protections from 2.3 million Minnesotans with pre-existing conditions.

As your Attorney General, I will fight for affordable health care for all. #Keith4AG pic.twitter.com/iq1MtPjRQn— Keith for Attorney General (@EllisonCampaign) September 24, 2018
Despite being accused of abuse by an ex-girlfriend, he reportedly still may snag the win over his Republican opponent.
Find out more about Keith Ellison's campaign at keithellison.org.


4. Aaron Ford (D-NV)
Originally from Texas, Aaron Ford is an attorney and Nevada state senator since 2012, and became the Nevada State Senate Majority Leader in 2016. During his tenure, Ford has led plans to reduce mass incarceration and transform Nevada's criminal justice system with education initiatives, as well as mental health and substance abuse programs.
Now running for attorney general of Nevada, Ford's campaign platform is primarily driven by a family-first agenda.
"Our country is facing a more uncertain political climate than we've seen in decades. Partisan polarization has created an environment that lacks civil discourse and amplifies divisions. That's why it's more important than ever to have an Attorney General who will put politics aside and focus on using all the legal tools necessary to protect Nevada's families — many of whom rightly feel like the system is rigged against them," Ford said, in a statement addressed to the citizens of Nevada.
As a kid, college seemed out of reach. After I had a child, I was determined to be the first in my family to graduate college and be a role model for my son.

With hard work and help, I made it. Every Nevada family should have a chance to succeed. As #NVAG, I will fight for you. pic.twitter.com/5WFD2EjVJh

— Sen. Aaron D. Ford (@AaronDFordNV) September 24, 2018
Familiarize yourself with Aaron Ford's campaign at FordForNevada.com.


5. Letitia 'Tish' James (D-NY)
Public Advocate Letitia "Tish" James is the embodiment of #BlackGirlMagic, as "the first woman of color to hold for citywide office in the state of New York." A true supporter of upholding the people's constitutional rights, James is ready to proudly advocate for women's rights, standing with the #MeToo and #TimesUp movements. One aspect of her campaign platform includes a comprehensive strategy to ensure women's reproductive rights are well protected, and that they have consistent access to related healthcare needs.
"With Roe v. Wade hanging in the balance...we need Tish James to stand up to Washington's attacks on our equality, health, rights, and well-being."- Robin Chappelle Golston, President @PPESVotesPAC.

Honored to earn your support. As AG of NY, I'll always fight for women's rights. pic.twitter.com/VqWtXqNnj1— Tish James (@TishJames) September 24, 2018
James' campaign platform also includes plans of action regarding environmental conservation and protection, immigrants' rights and gun law reform.

To find out more about Letitia James and her campaign platform, go to tishjames2018.com.


6. Mark Myles (D-OK)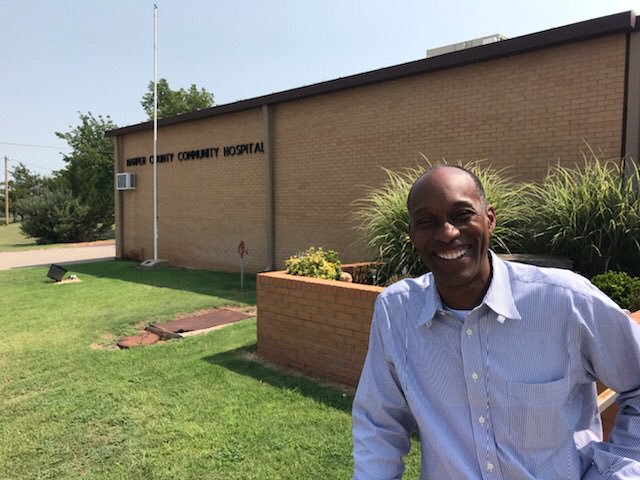 The son of an Army major, Mark Myles spent many of his formative years moving from city to city, before his family officially set down roots in Oklahoma. A graduate of OU College of Law, the tenants of his campaign for attorney general of Oklahoma addresses public health and public safety, with emphasis on confronting drug addiction and the prevalence of pill mills as well as criminal justice reform.
"I will advocate for alternative measures to handle non-violent offenders among other reforms. I anticipate discussing potential policy changes further to achieve better outcomes as we move forward."#CriminalJusticeReform #PublicSafety #ElectMarkMyles #ThePeoplesAttorney #MM4AG pic.twitter.com/hc9WmdPj3u— Mark Myles for AG (@ElectMarkMyles) September 7, 2018
Get familiar with Mark Myles campaign by visiting electmarkmyles.com.


7. Karl Racine (D-Washington, D.C.)
The first-ever attorney general for the District of Columbia, Karl Racine is running for re-election. The Haitian-born attorney's campaign platform includes reforming the juvenile justice system, combating gentrification and fighting for fair pay for all.
Today is #WorkingParentsDay. As AG, I work every day to protect DC's working families and ensure that no one is taken advantage of by an employer or deprived of their full and fair wages.

Working Parents do so much. They deserve someone on their side, fighting for them.— Karl Racine (@KarlRacineDC) September 16, 2018
Learn more about Karl Racine's campaign by visiting karlracine.com.

Like this content? Check these out:
EXCLUSIVE: Michelle Obama Introduces #VotingSquad Campaign To Ensure Your Clique Casts Their Ballots
The Midterms Are About More Than Voting For Candidates: Here Are Other Reasons Why You Should Vote
Meet The 3 Black Candidates For Secretary Of State
Make sure you're following Blavity Politics on
Instagram
and
join our daily newsletter
to stay engaged and informed.
Do you prefer 'The Temptations' or 'The Five Heartbeats'? Is Jamie Foxx in 'Ray' one of your favorite performances of all time? Do you watch BET all day when 'The Jacksons: An American Dream' comes on? If you can answer any of these questions, vote in our Black Music Bracket here! You won't be disappointed.