9 Hysterical Reactions To Nicki Minaj's Seeming Beef With Baby Stormi
No one baby should have all that power.
August 20, 2018 at 1:31 pm
Nicki Minaj's latest album Queen debuted at No. 2 behind Travis Scott's Astroworld, and according to the Barbie, his baby daughter, Stormi, is somewhat to blame.
No, no. "A six-month-old has no such power," you might say. Unfortunately, the"Barbie Dreams" rapper explained her theory through a series of tweets.
Travis sold over 50K of these. With no requirement of redeeming the album! With no dates for a tour, etc. I spoke to him. He knows he doesn't have the #1 album this week. I love my fans for the #1 album in AMERICA! I'll explain on #QueenRadio 4 albums in, #1 in 86 countries ♥️ pic.twitter.com/CiYEuczgm3

— QUEEN (@NICKIMINAJ) August 19, 2018
According to Minaj, Scott wasn't playing fair by having his baby mama post about her and their daughter's excitement for his upcoming tour as a means to sell merch.
"Me and storm ready for tour. shop.travisscott.com," Jenner wrote in an Instagram post, which Minaj claims spiked Scott's sales by 50,000 units.
I put my blood sweat & tears in writing a dope album only for Travis Scott to have Kylie Jenner post a tour pass telling ppl to come see her & Stormi. lol. Im actually laughing. #Queen broke the record of being number 1 in 86 countries. Thank Jesus & thank you to my fans.

— QUEEN (@NICKIMINAJ) August 19, 2018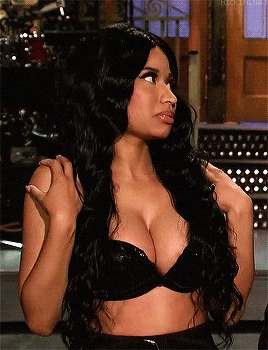 The Queens-bred rapper took to Twitter once again to claim she's only joking, but not before people called her out for beefing with a baby:
People are calling me thinking I'm huffing & puffing. Omg y'all this is sarcasm/dry humor. Yikes. I'm having the most iconNIC time. Come let me kiss you. ???????????????? Who's coming to the secret show? When people call me & hear me crackin up laughing they seem so puzzled. Loosen up ????

— QUEEN (@NICKIMINAJ) August 19, 2018
Sarcasm infamously doesn't translate well via text. However, Queen Nicki stands by what she said as merely being dry humor. The response to her alleged "dry humor" is where the real hysterics lie.
Stormi got her first beef with a rapper before the tender age of 1.

— LISTEN TO MY PODCAST EXTRA GRAVY SHOW (@ThatDudeMCFLY) August 19, 2018
Stormi bout to call Blue Ivy for a feature on the diss track Ashad's producing.

— LISTEN TO MY PODCAST EXTRA GRAVY SHOW (@ThatDudeMCFLY) August 19, 2018
People to blame (from Nicki's list):

– Cardi B
– Dj Self
– Safaree
– Travis
– Kylie
– Stormi
Who's next ? pic.twitter.com/BU0d4eo7iR
— La Belle (@thallya__ah) August 19, 2018
Nicki Minaj is going to sit in front of Travis Scott & Kylie Jenner tomorrow at the Vmas. This is her when she sees baby Stormi pic.twitter.com/SEzLxgmiwL

— c (@chuuzus) August 19, 2018
Stormi: Goo g-
Nicki Minaj: maybe if you had a fucking business that you were passionate about then you would know what it takes to run a fucking business BUT U DONT pic.twitter.com/FlHQi5Biar

— tatbilb spoilers (@shiningstar324) August 19, 2018
Nicki Minaj talking about Kylie Jenner and her baby Stormi held her back from being number one ???????? What the hell an instagram post and a baby got to do with your album sales pic.twitter.com/sRJL1Gx6x3

— Christian Hall (@SpazzLion) August 19, 2018
nicki vs stormi before the vmas red carpet pic.twitter.com/YoPC15Jex2

— ???? (@newrules) August 19, 2018
ma'am this is a mcdonald's https://t.co/c52Ta0qqcO

— A-M (@AmirMd_) August 19, 2018
Y'all, just buy her album. I'm afraid of what might come next.

— LoveYourself (@ScottieBeam) August 19, 2018
What Scottie said.
Liking this content? Now, check these out:

Nicki Minaj Declares A Whole Mood While Discussing Being Single For The First Time Since She Was 15 Years Old
Aretha Franklin's Four-Word Description Of Taylor Swift Proves She Was The Queen Of Soul AND Shade
Travis Scott Gives Away $100,000 To Fans Through CashApp: 'I Know It's Hard For The Kids'