Black Artist Unveils Sculpture At Site Of Princeton University Slave Auction
This campus-wide public arts project confronts Princeton's ties to slavery.
November 15, 2017 at 3:32 pm
As the country reckons with its vile history of racial injustice, the question remains of what to do with the monuments, statues and flags that commemorate elements of the nation's ugly past.
Many politicians and ordinary citizens are calling for Confederate monuments to come down.
Others still have pledged that they will do anything to ensure these monuments stay standing.
And still others have taken matters into their own hands, defacing, and even destroying, monuments they feel are racist.
As the debate rages about statues coming down, Princeton University has decided to put a new monument up, The Atlantic reports.
As part of a campus-wide initiative confronting its past ties to slavery, the university unveiled a sculpture called Impressions of Liberty by the African American artist Titus Kaphar.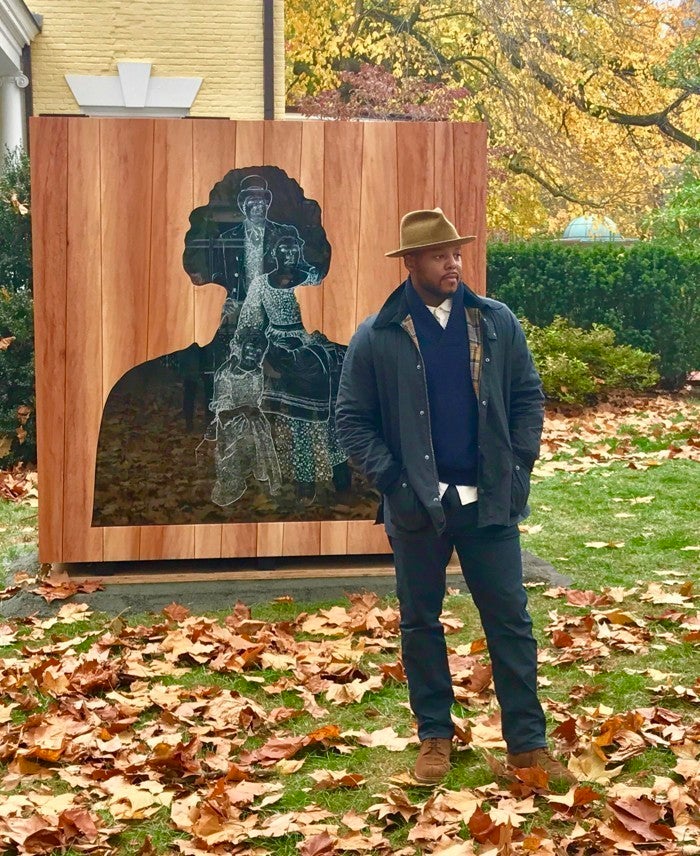 As part of a larger public-art project beginning this fall, Kaphar's art concentrates on the way history is remembered, highlighting the moments and figures who are "habitually … written out of grand historical narratives," according to Art in America.
Founded as the College of New Jersey in 1746, Princeton exemplifies the central paradox of American history. The Princeton and Slavery Project excavates the university's historical ties to the institution of slavery through hundreds of articles and documents about slavery, racism and the oxymoronic intersection between liberty and slavery.
One of the project's leaders, Princeton history professor Martha Sandweiss, has found that although Princeton supported America's independence, it has had a very spotty record when it comes to slavery.
Not only did all nine of the school's first presidents own slaves, but so did all of the early members of the school's board. In the run up to the Civil War, the school has a strong anti-abolitionist population in its student body, so much so that the school's 1850 commencement address was a well-received pro-slavery speech.
Kaphar's new piece touches on all of that history, and zeroes in on one of Princeton's early presidents, Reverend Samuel Finley.
His sculpture sits on the lawn of a house that Finley lived in, a house and grounds tended to by Finley's slaves. The piece Kaphar has created acknowledges the lives of Finley and his slaves by featuring photographs of the reverend alongside pictures of black actors dressed in period costumes. These photos are etched in glass; near them is a portrait of Finley coated in graphite and encased in Sycamore wood, meant as a reference to Princeton's "liberty trees," planted on campus in commemoration of the struggle against the Stamp Act.
In a similar vein, the piece Kaphar has sculpted for Princeton features layered photographs, etched in glass, of Finley and black actors dressed in period costumes to represent the slaves the former university president held in his campus residence. Kaphar created a composite bust in negative relief of Finley, coating it with graphite and encasing it in Sycamore wood to echo the campus's "liberty trees" nearby, which were, according to Princeton legend, planted to commemorate the repeal of the Stamp Act.
"I'm trying to create a literal space for anyone who passes this sculpture to begin thinking about iconic leaders in history, how glorified images of the past affect the world we live in today," Finley said of the work, adding that he hopes it will help viewers to "confront the unspoken truth."
Above all, though, Kaphar wants people to take away from the work what they will. "Art should never tell anyone what conversation to have. It's not a didactic sculpture. I want people to sit with the idea that Finley doesn't represent good or bad."
Still, the fact that his work sits where Finley auctioned off his slaves is no accident. "There is always a narrative coded in painting and sculpture," Kaphar said. "When you look at something, ask yourself, 'Who is represented and who is invisible?'"