2016 was a trying year y'all, but nonetheless we made it. One of the reasons why we have been able to make it out of our struggles have been through our entertainment. 2016 brought us not only some of the best television we've seen, but some of the blackest television we've seen, and boy, was it a year!
Some of Blavity's squad came together to nail down our picks and give commentary on our favorites shows from the year.
Here are our 20 top shows of 2016:
20. Empire
Photo: FOX
Lee Daniels' Empire is one of the most-watched shows on television. Is it perfect? No, but each week it dominates social media and delivers one water cooler moment after the other. Season 2 ended with a classic cliffhanger and Season 3 began with a death (Bye, Rhonda!). Cookie (Taraji P. Henson) tried her hand at love, while Luscious (Terrence Howard) continued his reign as the ultimate hater. Jamal (Jussie Smollett) battled PTSD and a pill habit, as Hakeem (Bryshere Gray) struggled to "vibe" with Empire's new artist. Yet the biggest Lyon in sheep's clothing is Andre (Trai Byers). No longer a willing pawn, he's gotten colder and more calculated. Andre's on a quest to steal his father's throne — by any means necessary. – Krystal Clark
19. Scandal
Photo: ABC
Olivia Pope (Kerry Washington) is a boss! From the very first episode of Scandal, her whip-smart, rapid-fire dialogue, designer handbags, and couture wardrobe had us all eating from the palm of her hands. Season 5 forces us to come to terms with the fact that even white hat wearing, gladiators have issues. Things get messy as Pope makes a tough personal decision while recklessly vacillating between her love for Fitz (Tony Goldwyn) and Jake (Scott Foley). All of this while handling Mellie's (Bellamy Young) presidential campaign and dousing the media firestorm caused by the outing of her affair with the President. With so many loose ends left untied, Season 6 is sure to be "must see tv!" – Ebony F.
18. Chewing Gum
Photo: The Sun
Six episodes just wasn't enough for this quirky, award-winning British comedy. Chewing Gum revolves around Tracey (Michaela Cohl), a naive twenty-something who is just looking to walk on the wild side after years of playing it safe and sheltered. Her household is a strict one, dripping with the conservatism of an evangelical mother and religious younger sister. Tracey decides to spice things up with her boyfriend of 5+ years, Ronald (John MacMillan), aiming to do away with her virginity once and for all. Sadly, it blows up in Tracey's face and ends with her beau getting hit by a car. Tides change and we find our heroine living her best life. She's finding solace in the arms of another (Robert Lonsdale). She's truly testing the sexual waters. She's experimenting with drugs (unbeknownst to her). She's evolving and screwing up as the process grows. As much as you want to turn away, you can't help but root for Tracey's ridiculous hijinks. She gets by with a little help from her best friend, Candice (Danielle Isaie), and her grandmother affectionately known as Nan. Honestly, it's one of this year's most underrated shows. Comedy never felt so good. – Bee Pollard
17. Quantico
Photo: ABC
Quantico is hands-down the most diverse show on television. If it's not, it's very close to it. However, the diversity is so subtle, while watching it, you'd never think for the extreme array of backgrounds that its main cast and characters come from. Led by its electric frontwoman and Bollywood superstar, Priyanka Chopra in her American television debut, the show will make you re-think homegrown terrorism, for better or worse. – Trey Mangum
16. Power
Photo: Starz
Power is How to Get Away with Murder meets New Jack City. Uninterrupted twists and turns in a nonstop cat and mouse game, you can't help but to root for the wicked ways of this fictional world. Courtney A. Kemp and her writing team do a fantastic job of transporting viewers into this crime-ridden lifestyle that is morally corrupt, yet feels somehow enjoyable to witness. A constant back and forth of where loyalties lie, you are forced to pick a side, even if it conflicts with your conscience. No matter how you spin it, there is never a right or wrong with Ghost, Tommy, Tasha, Angie and Kanan. The last 60 seconds of every episode is heartstopping. Power is the most carnally satisfying show on television right now. Period. – Girl Tyler
15. The Flash
Photo: The CW
Among The CW's roster of DC Comics adapted television shows, The Flash is the GOAT. This show is 2005 Tha Carter II Lil Wayne. Everybody else on the label is still there, but it's extremely clear who the company is about to hang their flag on. In this analogy that makes Arrow the Juvenile of the bunch. Just a year before Tha Carter Ii, the hit single "Slow Motion" ruled the airwaves. That was all well and good, but there's a new sheriff in town. What sets The Flash and it's predecessor apart is extremely simple – levity. The show is not afraid to turn very serious moments, especially where mortal danger is involved, and infuse some very well timed comic book humor. In a way, it's a very strong hearken back to many of our childhoods and even before where personalities burst off of the panels and dialogue was only a device for quick quips and insults to that issue's villain. The Flash is the perfect example of the comic book genre holding on to it's roots. It's great to see Supergirl following that example, too. No one is happier than me that these franchises are being taken more seriously, but that doesn't mean they always have to take themselves more seriously too. The ensemble cast is great. The stories are surprisingly complex, and the light hearted mixed with the explosive action seals the deal. – Ira Hobbs Jr.
14. The Carmichael Show
Photo: NBC
The Carmichael Show takes us back to the history of black sitcoms. In the fictitious story, the series protagonist Jerrod Carmichael deals with the crazy shenanigans of life with his girlfriend Maxine (Amber Stevens West), his parents Cynthia and Joe (Loretta Devine and David Alan Grier), his brother Bobby (Lil Rel Howery) and Bobby's ex-wife Nekeisha (Tiffany Haddish). It's reminiscent of the Norman Lear comedies of the 1970s, in the fashion of The Jeffersons, Good Times and 227. Like these shows, Carmichael uses a laugh track (which is rare these days), a multiple-camera format, and it embraces today's societal issues, particularly those faced by black millennials. 'Carmichael' is surely a breath of fresh air and should be appreciated . – Trey Mangum
13. Luke Cage
Photo: Netflix
Marvel's Luke Cage on Netflix is what happens when a medium is perfected. For the last decade, the rebirth of the comic book television series has been a steady, rising crescendo, and this show is without a doubt, the loudest the song has played so far. Dripping in culture that feels insanely real, Luke Cage never has to fake the funk, or shuck and jive to keep us entertained. But the score and soundtrack are fire, though. The story of Carl Lucas, a wrongfully imprisoned escapee turned neighborhood hero in Harlem, NY has a brand new look, and it's a good one. The cast is perfect. The town shines under the lens of showrunner Cheo Hodari Coker's vision. And for the fans that are just about that action, you can believe there's plenty of it – set to some of the illest hip-hop classics of all time. If that wasn't enough, Marvel's finest even make time for some romance in the mix, the kind you get uncomfortable watching with your parents. What more can I say? If you haven't, please binge immediately. Season 2 has already been announced, and you don't want to be that one friends who has to catch up when it's too late. – Ira Hobbs Jr.
12. The Night Of
Photo: HBO
Honestly, truly, HBO killed it this year, and The Night Of was one of its more impressive offerings. Giving a unique commentary on race in the United States, as well as our nation's prison and justice systems, we saw an inside look at a murder case without actually knowing what the heck went down. Gritty, raw and real, we met Riz Ahmed as Naz Khan, the incomparable John Tuterro as down-on-his-luck legal eagle John Stone and the always extraordinary Michael K. Williams as prison maverick Freddy Knight, we became invested in their actions. Can The Night Of return in a second season in an anthology series format? I hope so. – Trey Mangum
11. This is Us
Photo: NBC
Before This is Us debuted, talks surrounding it were vague. It was advertised as a drama about life and how everyone is connected — a description that could fit a lot of shows. But when the pilot premiered and exactly how the main characters were connected, it blew viewers' minds. The show centers around a family and dissects not only who they are today, but who they've been and how they've evolved and interacted throughout their lives. It touches on hard-hitting topics including race, adoption, addiction, insecurity, health issues and what it means to love someone amongst all of those things. There's a nuance throughout that forces viewers to confront the gray area that exists between the many sides of every story. My only advice for getting through this show? Keep a box of tissues on hand and share this with your family. Whoever that is for you. – Christine Cauthen
10. Pitch
Photo: FOX
A show for every 20-something trying to make it. Forget the MLB, ditch the idea of athleticism, Pitch is about truly catching whatever life throws at you and just running with it to the best of your ability. If you're ambitious, watch Pitch. If you've ever felt pressure, watch Pitch. If you've ever felt lonely at the top, watch Pitch. If you don't know what the hell you want you want out of life, watch Pitch. The main character Ginny is the first woman ever to play in the major leagues, not to mention she's black. Actually, the show doesn't mention her race which isn't necessarily a bad thing. She's just a young woman tossed into a world she's trained all of her life for, yet was never really prepared to be thrust into the limelight. The joys of wanting to be unfamous. We side the side of celebrities that is often untold. Believe it or not, there are famous people who just want to work and could care less about the fame. When she hits her breaking point and experiences the meltdown that we've all felt in our early twenties, you can't help but to be compassionate for Ginny, even if it seems as though she has it all. From the looks of things, the series isn't doing too well in the ratings department. What the hell are you people thinking!??! You're missing the best thing on TV. WATCH PITCH. Granted, placing Pitch in the same slot as Shonda Rhimes on the one night that she owns the word (Thursday), wasn't the best idea. I pray the network bets on Pitch and can pull out a doubleheader for a second season. Besides, you can't lose watching an adult Zach Morris. – Girl Tyler
9. black-ish
Photo: ABC
"If you've shied away from black-ish because of the title, you've missed out on three seasons of greatness. Believe it or not, the show is less about being black and more about a man caught in a generational divide with his four kids. Dre is George Jefferson, Archie Bunkers and Uncle Phil rolled into one. What makes his close-mindedness and prejudices work? Bow. She carries him. Dre is the "black", Bow is the "ish". Pun intended. While Dre is an 80's kid raised by the firm Civil Rights teachings of his dysfunctional parents, Ruby and Pop, he is often mangled into his childhood ideologies that just don't work in 2016. Parenting with Bow is often a challenge for Dre as she is biracial and often has to remind him that, "I'm black too, you know?". Dre sees everything in black and white, while Bow and the kids are his gray area. This new age TV dad perfectly executes the angry black man who has difficulties with the new ways of the world. In the end, he always caves when the full circle moments are made apparent. black-ish is about balance. Remain true to what you know, but also be open to ways that differ from your own. Now to the kids. The beauty of the Johnson children are their blatant differences. All intellectuals in their own right (poor Junior), the kids breathe new life into Dre with their own individual quirks. And, no matter how many soap opera catfights you've watched or brawls that have broken out on Jerry Springer's stage, nothing compares to the rivalry of Diane and Charlie. Nothing." – Girl Tyler
8. Queen Sugar
Photo: OWN
Together, Ava DuVernay and Oprah can do no wrong. Queen Sugar features a small town black family tied to their deep southern traditions. Finally, a story about those of us who grew up on farmland and currently living out the way of life derived from our grandparents' grandparents. The Bordelons are rich in land, still remains as a determining factor of wealth and "old money" in the South. Queen Sugar will saturate your sweet tooth with passion, jealousy, infidelity, corruption and family secrets. Don't think you're dealing with a family of country bumpkins. The Bordelon siblings will come for you to protect their father's legacy at any cost. Charley is ruthless. Nova is electrifying. Ralph Angel is bae. Yes, his flawed character has wonderful attributes just like his older siblings, but it's difficult not to lust over the talented Kofi Siriboe. Back to the story. Aunt Vi is the glue that bonds them all together. What is key about this story is their quest to learn about the family history and carry out the wishes of their father. Alex Haley would approve. Queen Sugar is a reminder that black people will always prevail at sustainability. We make a way when there isn't one and that's exactly what this family does." – Girl Tyler
7. How to Get Away with Murder
Photo: ABC
How to Get Away with Murder didn't miss a beat in 2016. Annalise Keating (Viola Davis) was at her messiest and the Keating Five decided to match her and become even messier, all serving as the most tragic of heroes and heroines. Spectacular performances from Davis, as well as an important storyline for Michaela (Aja Naomi King) were stellar, and we had the wool pulled over our eyes as arguably the second-most important character on the show, Wes Gibbins (Alfred Enoch) was unremorsefully killed-off by Shondaland. This is sure to drive more amazing story for the show in 2017. – Trey Mangum
6. American Crime
Photo: ABC
If you thought the first season of American Crime was powerful, the show upped the ante in the second season of the ABC anthology series. In a well-told story of how race, social status and sexuality can weave into an elite community, Regina King gave a second tour de force performance. Toss in Trevor Jackson and Andre 3000 to round out her family, and you've got a master class of a black family, tormented by the intersection of race and elitism. The show's major arc of bullying and homophobia is truly a startling look into our society as well. – Trey Mangum
5. Stranger Things
Photo: Netflix
What can be more entertaining than Winona Ryder's triumphant return to television, a eccentric waffle-loving child, a demogorgon and a stranger alternate dimension known as the upside-down? Nothing, I'll tell you that! Forget pretty much any Netflix series you thought was it's best and exchange it with Stranger Things. 2016 has seen a welcome obsession with period-based entertainment, and Stranger Things captured the magic of the 80s with ease. We got ourselves a blerd hero and can't wait to see what's in store for Eleven & the boys in the show's second go-round – Trey Mangum
4. Insecure
Photo: HBO
Imagine pouring yourself a tall glass of wine, grabbing your favorite snack, and curling up in front of the television to see your life play out before millions of viewers. That was exactly what happened when Insecure came into our lives this year. Created by YouTube sensation (Awkward Black Girl) and writer, Issa Rae, the 30-minute long HBO series truly captivated audience and left us wanting more every Sunday. The show follows Issa and her best friend Molly (Yvonne Orji) as they maneuver through the many intricacies that come with being a young, black twenty-something. Issa struggles with the monotony of her life from her relationship with longtime boyfriend, Lawrence (Jay Ellis) to her career in community outreach with We Got Y'all. Meanwhile, Molly is trying to digest why her love life is in shambles especially when everything about her looks so great on paper. An esteemed lawyer, Molly is on the quest for the one but always ends up in cringeworthy situations with a league of extraordinarily fine gentlemen. The twosome brought light and a sense of healing every moment they dance across the screen. It's raw AF (thought-provoking conversations arising at the end of every episode). It's funny AF (like, tear-inducing hilarity). It's acclaimed AF (nominations and a big-up from our POTUS). But above all, it's relatable and has us all on the edges of our seats, anxiously waiting for Season 2. Did we mention how ill the soundtrack is? Because. Yes. – Bee Pollard
3. Underground
Photo: WGN
Our ancestors portrayed as heroes. What a concept. Rosa Lee, Noah, and Cato (even with his self-serving ways) are a dream team. Another Anthony Hemingway masterpiece. This story is about surviving, but not everyone is equipped to run or fight. The unexpected plot twists will leave you speechless each and every time. I must admit, some parts are difficult to watch and downright gut wrenching, but every scene is necessary. One episode in particular will truly put this slave narrative into perspective. No spoilers here, but imagine preparing a small child for bondage. We see a pep talk about staying alive in a system designed to brutalize bodies because of color and cultural differences. This message is vastly similar to the speech many parents are forced to give their black sons before going out into the world. American history is covered in blemishes and Underground rips the band aid right off the sore. Storytelling at its finest. In the grand scheme of things, we are derived from the souls forced to endure slavery. If they survived or at least fought to do so, there is nothing in this lifetime too unbearable or impossible to accomplish. Perspective. Don't write Underground off as just another one of those "slave stories." You're wrong. Don't argue with me. – Girl Tyler
2. American Crime Story: The People vs. O.J. Simpson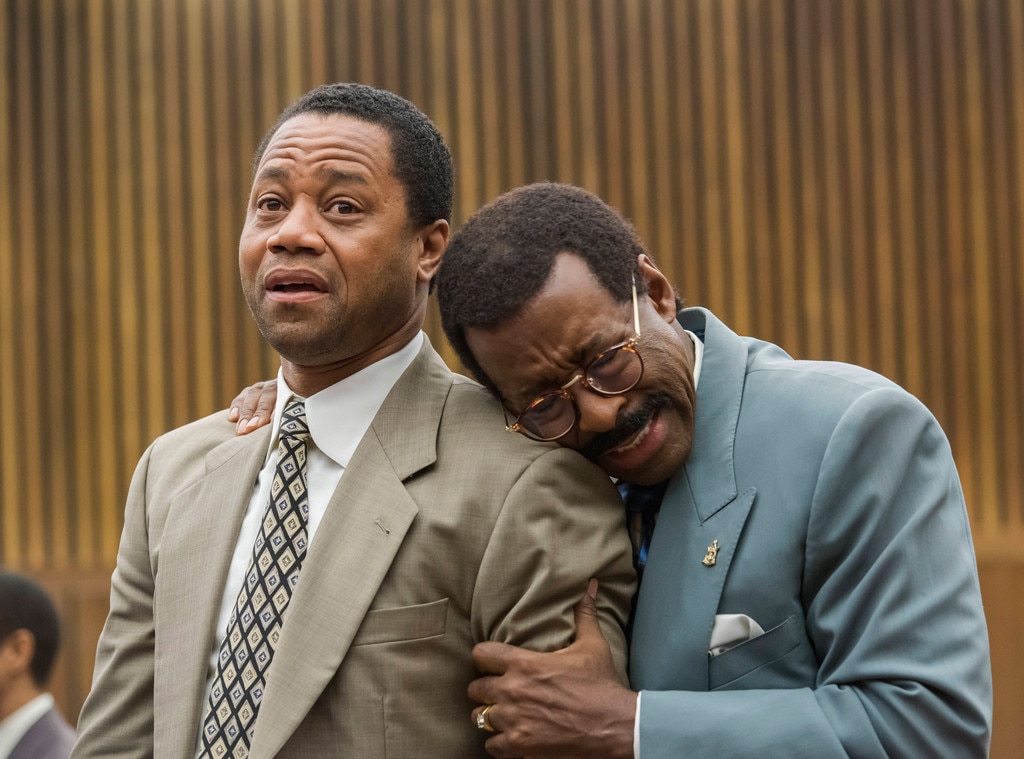 Photo: FX
Forget the live Bronco chase and countless courtroom coverage you think you remember from back in the day. FX's American Crime Story:The People v. O.J. Simpson has it all. A humanization of America's most watched and to this day, heavily debated trial. While the obvious story is the acquittal of O.J., and Cuba Gooding Jr.'s performance was exceptional, one can't help but to focus attention elsewhere. The eerily similar resemblances of the principle cast to the real-life figures, down to their mannerism is impressive. The casting department deserves all the praise. Courtney B. Vance was born to play Johnnie Cochran. His audacity, swagger and ego stole the show. David Schwimmer pulls on your heartstrings as Robert Kardashian. Sarah Paulson's depiction of Marcia Clark, notoriously known as the "bitchy" prosecutor, is just a mom wanting justice for another mother. Sterling K. Brown's performance as Christopher Darden shows his gradual progression from wanting to win the case to realizing he's just a black face for the prosecution. His inner conflict reared an ugly head over the series, and as a viewer you really didn't know how to feel about him. The People v. OJ Simpson gives you a fresh perspective on the case, be it guilty or not guilty, despite the real-life outcome. The pulse, the beat, the realness..the show's director, Anthony Hemingway is greatness. Get into him. – Girl Tyler
1. Atlanta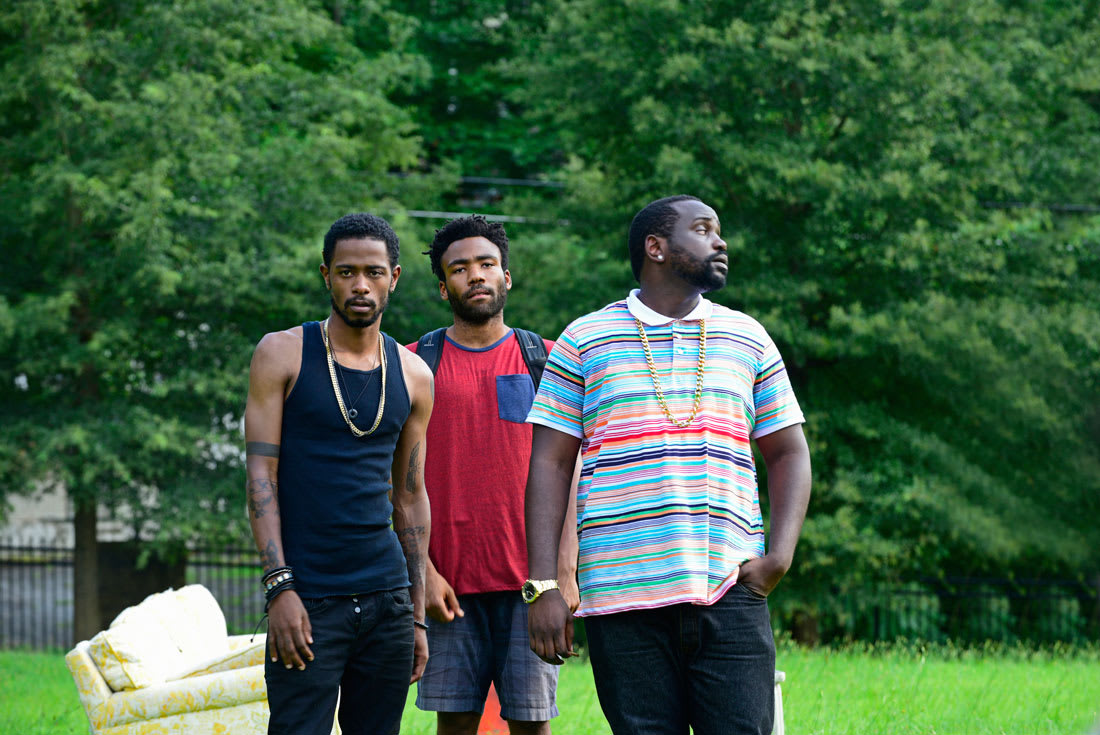 Photo: Atlanta
It seems like years we waited for this show from the mind of Donald Glover, and in Fall 2016, it finally came. Atlanta more than exceeded expectations as the story of a down-on-his-luck Harvard dropout, his on & off girlfriend (Zazie Beetz), his rapper cousin (Brian Tyree Henry) and their stoner BFF (Lakeith Stanfield). We've got societal commentary mixed with healthy nods to pop culture, so don't think you're going to go through any episode of this show and not be entertained. Not focusing solely on Glover's character of Earn, each actor delivers show-stopping performances from all involved. The overarching storyline of Earn trying to create a better life for him & his hybrid family is seamlessly is infused to the episode-by-episode shenanigans of the group, resulting in the purest quality of television we've seen in a while – Trey Mangum
---
Never miss a headline! Sign up for Blavity's daily newsletter.