Cardi B returned to Twitter this past Sunday, according to Billboard, and she didn't hold anything back as to the reasons behind her absence:
Reason why i took a break from twitter is cause people are so negative and disgusting here .I had to log off,to much negativity is not good for the soul. It be people that don't fuck with me to be the first ones under my tweets LIKE WHO SEND YOU?— iamcardib (@iamcardib) March 20, 2018
I hate when people be like i only reply to negative comments .I reply to good ones aswell ,blogs are just not going to post about that .I also talk too a lot of my fans thru DMs .I don't even be knowing how they look i just vibe good with them ????????— iamcardib (@iamcardib) March 22, 2018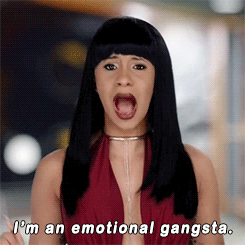 Cardi has faced much derision on Twitter; users have had unkind things to say about everything from rumors of her fiancé Offset cheating, to her past as a stripper.
Recently, at the iHeart Radio Music Awards, Cardi saluted these haters as she accepted her Best New Artist trophy, saying, "I wanna thank my haters too because they've been downloading my stuff so they can hear it and talk crap about it, but it benefits me!"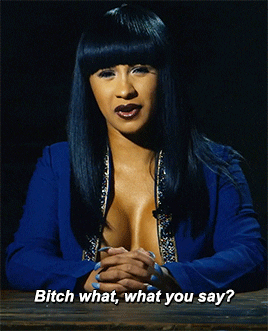 Cardi isn't the only woman to face an onslaught of cruelty and hatred according to a new report from Amnesty International called "#ToxicTwitter: A Toxic Place For Women."
In a rigorous study lasting 14 months, 86 subjects shared details of the threats, hate speech and violence they experienced as Twitter users. The report's authors found that women on the platform face a pattern of violence and abuse, and write that Twitter does little to nothing to protect this segment of its users.
"The violence and abuse many women experience on Twitter has a detrimental effect on their right to express themselves equally, freely and without fear," read the study. "Instead of strengthening women's voices, the violence and abuse many women experience on the platform leads women to self-censor what they post, limit their interactions, and even drives women off Twitter completely."
That is exactly what Cardi says happened to her.
In the eight countries covered by the research, 23 percent of women confirmed they faced "online abuse or harassment at least once."
"I get harassment as a woman and I get the extra harassment because of race and being a black woman," journalist, Imani Gandy said. "They will call white women a 'c*nt' and they'll call me a 'n*gger c*nt'. Whatever identity they can pick they will pick it and use it against you."
In order to combat this behavior, Amnesty International compiled a list of possible solutions Twitter could implement. These include the social media platform releasing data of violent occurrences on its platform, a more "consistent application and better response to complaints of violence and abuse" and Twitter having a more engaged role in teaching users how to use its existing privacy and safety features such as muting, blocking and keyword filtering.
A Twitter spokesperson released a statement following the report, noting that the platform "agree[s] with many of the recommendations" within the report.
"A number of the proposals represent work already completed or underway at Twitter. Abuse and hateful conduct directed at women are prohibited on our platform," read the statement. "We have made more than 30 individual changes to our product, policies and operations in the past 16 months. We have increased our action rates ten-fold. We have made significant changes to our reporting tools and continue to improve them as well working to communicate more clearly with our users on reports and how we draft policy. We continue to expand our Transparency Report to include relevant and meaningful data."
The spokesperson added, "We are committed to understanding how we can better combat the hatred and prejudice within society that gives rise to online abuse and how we can encourage a healthier public conversation. We are an open platform and hold a mirror up to human behaviors — both the good and the bad."