News
French Open President Attempts To Quiet Black Glory By Banning Serena Williams' 'Black Panther' Style Catsuit From Future Tournaments
Too late. We seent it and all its black glory.
In what feels like another attempt to police the G.O.A.T. that is Serena Williams, French Open President Bernard Giudicelli has said that Williams needs to be more conservative at matches.
Like what you're reading?
Get more in your inbox.
While the comment was not only directed at Williams, but all players, Giudicelli chose to use Williams' Black Panther style catsuit as an example.
"It's a bit late because the collections are already designed, but we are going to nonetheless ask the manufacturers to let us know what is coming," Giudicelli told Tennis Magazine. "I believe we have sometimes gone too far. Serena's outfit this year, for example, would no longer be accepted. You have to respect the game and the place."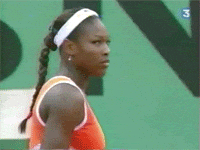 Respect for the game has never seemed an issue for Williams as she's won the French Open three times. However, the call is clearly a push for conservatism. While Williams has admitted the catsuit makes her "feel like a superhero," it's much more than a fashion statement. The full-length, skin-tight suit is designed to protect against bloodclots.
She wore the outfit at Roland Garros in May, nine months after giving birth to her daughter and almost losing her life.
"I almost died after giving birth to my daughter Olympia," Williams said. "First, my C-section wound popped open due to the intense coughing I endured as a result of the embolism. I returned to surgery, where the doctors found a large hematoma, a swelling of clotted blood, in my abdomen. And then I returned to the operating room for a procedure that prevents clots from traveling to my lungs."
Although designed long before Marvel's Black Panther hit theaters, Williams said the suit reminded her of the movie, but also made her feel like a "Warrior Princess."
Following her return to grand slam tennis after having her baby girl, Serena Williams wears a full, skintight bodysuit & braids in her first match at the French Open. You can't tell me she ain't the GOAT #RG18 pic.twitter.com/YjJmEkcjz6

— Troy (@Troy_Official) May 29, 2018
The mommy of one has yet to respond to Giudicelli's commentary, but fans have definitely been in her corner.
Shouldn't the focus be on the incredible talent that she i and not what she wears..... if only men in sport faced the same bullshit.

— Jade Ashton Mills (@jadeashtonmills) August 24, 2018
No matter what she wears, her light cannot be dimmed and her crown can't be taken.