This County In Georgia Swears In Its First Elected Black Judge
Ronda Colvin-Leary will be the county's first black state court judge.
September 29, 2018 at 6:09 pm
It is bittersweet to find out black people are making history for things that should have been opened to us in the past.
In one of Georgia's largest counties, a black judge will make history as the first elected African-American to rule in cases.
Ronda Colvin-Leary is not the first black judge in the county. Others have been appointed to the magistrate, juvenile and recorders courts, according to the Atlanta Journal-Consitution. She is, however, the first black person to win an election to the state court. Colvin-Leary beat out her competition in May, but was sworn in Thursday, September 27.
"I love State Court because, for me, I like to think that … if you come to State Court we can try to address it before something else major happens and you wind up in Superior Court for a more serious offense," Colvin-Leary said.
Her resume is quite impressive. For 17 years she has had a thriving career in law, serving as a solicitor for the city of Winder, Georgia, and running a personal law practice in Lawrenceville, Georgia for 10 years, reports CBS Atlanta.
She is a graduate of Auburn University in Alabama and she obtained her Juris Doctorate from Florida Coastal School of Law. Since 2001, she has been a member of the State Bar of Georgia.
As a State Court Judge, Colvin-Leary will more than likely deal with civil actions, misdemeanors and traffic violations by preventing these issues from escalating to more serious legal problems for offenders.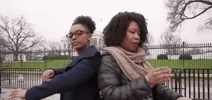 Liking this content? Now, check these out:
How Newark Mayor Ras Baraka Is Tackling Rapid Gentrification Head On
Malia Obama, Living Her Best College Life, Just Made Her First Appearance In A Music Video
Arizona Teen Will Be First In Her Family To Attend College Following Beyoncé and Jay Z's Surprise $100K Scholarship Gift