#JusticePourTheo: Protests Erupt In France After Young Black Man Sodomized By Police
Police brutality isn't an American problem, it's a problem period.
February 10, 2017 at 2:14 pm
Protests against police brutality and racism swept the streets of Paris earlier this week when French investigators confirmed that the police officers in Paris who sodomized a black youth worker with a baton was done so "accidentally" and the incident does not constitute rape.
Photo: Giphy
According to Huffington Post, Théo, 22-year-old youth worker, says a group of four police officers physically and sexually assaulted him after he confronted the officers when he witnessed them hit a young person during an identity check. He went on to say that the officers took him around the corner, sodomized him, spit on him and called him names, including "negro" and "bitch."
Last Sunday it was announced that each of the four officers was charged with aggravated assault, one with rape after video evidence was revealed with Théo suffering from severe anal and facial injuries during the incident. He was rushed to the hospital for an emergency surgery and is now in stable condition.
Here's the ultimate "wtf" moment.
Those same police officers claimed Théo's pants "slipped down on their own" and his wounds were an accident. France's national police force concluded that the incident was "very serious" but "not a rape" due to the "unintentional character" of the officer's action. Investigators acknowledged that Théo was indeed penetrated but can see that it was unintended.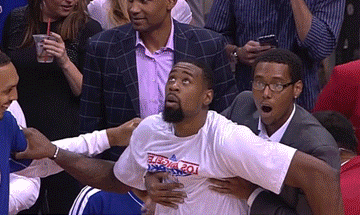 Photo: Giphy
Since the public found out about the investigators' decision, demonstrations against police brutality and racism have spread throughout Aulnay-sous-Bois, a suburb of Paris, and surrounding communities. Cars were set on fire and dozens of people were arrested in the streets after nightly altercations with law enforcement.
Théo told French news station BFMTV, "I would like to ask the residents of my neighborhood to calm down. I ask them to stop the hostilities because I love my city, and I want to find it the way I left it," he pleaded from his hospital bed. "Violence is not the way to support me. Justice will do its job."
Théo a réagi avec dignité et responsabilité. La justice a été saisie, il faut lui faire confiance. Elle ira jusqu'au bout. pic.twitter.com/YRlpdFXII6

— François Hollande (@fhollande) February 7, 2017
French President François Hollande visited Théo in the hospital earlier this week, tweeting this picture after his visit. He stated that Theo reacted with "dignity and responsibility" and that justice has been seized.
Citizens all over the world have been using the hashtag #JusticePourTheo to express their support and outrage.
Police brutality is not just an issue in the us, it doesn't know boundaries. Please do not ignore this horrible crime #JUSTICEFORTHEO

— sascha (@obviouslysascha) February 9, 2017
Just last year, the death of 24-year-old Adama Traoré while in police custody led to civil unrest in Beaumont-sur-Oise sparking Black Lives Matter protest throughout Paris.