In September 2017, Spelman College formally announced it would accept trans students, making history as the second women's only HBCU to do so, after Bennett College.
It's 2018 graduation season and we've certainly been blessed with an array of black excellence. In fact, you may have seen the now-viral beautiful photo of the first trans man to graduate from Spelman College.
The first *openly* trans man to graduate from Spelman College????????‍♂️ #7days #TransIsBeautiful pic.twitter.com/ooXxReZ3Ej— black bandit (@Saint_Keo) May 14, 2018
In a deeply honest interview with Blavity, the 21-year-old discussed the challenges he faced during his transition, how he felt about Spelman's historic announcement and his reaction to the virality of his graduation photo.
"The most challenging aspect would have to be getting misgendered," O'Neal mused. "Before I transitioned and before I 'passed,' it was hard to assert myself and tell people my pronouns or explain that I'm trans. It's hard to exist in a space where you feel invisible."
O'Neal enrolled in Spelman in 2014 before transferring to a PWI in his sophomore year and coming right on back to Spelman in his junior year. He hopes to become a history professor. He was accepted into a PhD program, but would like to take some time off to work with LGBTQIA+ nonprofits.
As one of the most well-known HBCUs, Spelman's announcement certainly made waves in the media and the general public. How does O'Neal personally feel about it?
"I love that Spelman is progressing and opening its doors to trans women but to me, it's a bit reactionary," noted O'Neal, who lovingly displays the term "SpelMan" in his Twitter bio. "Spelman isn't ready for such a great change to happen. Spelman should have agreed to the policy but put it off for another five years to really plan and decide what was to happen on campus to ensure the comfort and safety of trans and queer students. Spelman doesn't know how to handle the issues we are currently having with queer students; I'm not sure what will or if anything will change when trans women start attending."
Personally, O'Neal credits two specific people on Spelman's staff when it comes to helping him get through it all as a student.
"My two biggest supporters at school were Coach Makeba in the wellness center and dean of students, Dean Brown-McClure," he said. "These two have been mother figures to me and have fought and protected me when necessary. I couldn't have finished out these last two years without them."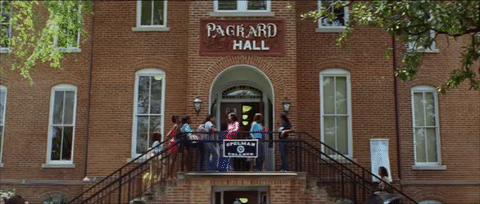 In Early May, reports of homophobic and transphobic notes circulating the campus surfaced, and of course we were curious whether or not O'Neal had any personal experience with those particular incidents.
"I was never targeted by the homophobic and transphobic notes," noted O'Neal. "I thought I would be after the first one surfaced, but nothing was ever directed towards me. I was shocked that it had even happened. It was so close to the end of the semester, and we had gone all year without an incident before this happened. I was also shocked at who they chose to target."
On a happier note, O'Neal said being a viral star has been a positive experience overall.
"I did not anticipate my story going viral at all. I thought it would circulate among the AUC and that's it," he said. "At first it was nice, but then I got overwhelmed and anxious as my tweet got more attention. I was worried about what people would say, but so far the good has outweighed the bad. One mom told me she was sharing my story with her son who was the first trans boy at his all girls middle school and that reminded me why I do what I do."
Ultimately, O'Neal hopes his graduation picture will serve as inspiration for someone hoping to transition and live in their truth.
"For someone following in my footsteps, I would tell them to be brave," he said. "Transitioning was one brave step now living in that truth takes even more bravery. It's not going to be easy but it will be worth it, just drown out the background noise."
Congrats Keo O'Neal! We salute you here at Blavity!