The kids from 'Black-ish' won the BET Awards after they sang along to Bryson Tiller
I think that last night's BET Awards were the best that I've seen from the telecast in a while. Although there were many great moments from the show, one that stood out in particular was when Marsai Martin and Miles Brown, Jack and Diane from Black-ish, were singing along during Bryson Tiller's performance.
Tiller, who won Best New Artist and Best Male Pop/R&B Artist, performed a mashup of his hit singles "Exchange" and "Don't." During the performance, the camera panned to Martin and Brown, they were straight vibing to the song. They were so into it, it seems like the camera people had to cut back to the stage quickly when the lyrics got a little two risque.
We were here for it!
WE SEE YOU @cailamarsai!!

— Xavier D'Leau (@XavierDLeau) June 27, 2016
Somebody make a high quality GIF of Blackish's Marsai Martin turning up to Bryson Tiller at the #BETAwards for the culture. Thanks.

— Beamer (@BeamerDoesMedia) June 27, 2016
Ladies & Gentleman The New "Pull Up" Gif pic.twitter.com/EoUlb8brBH

— IG & SC: SirAbiola (@SirAbiola) June 27, 2016
Diane and Jack was turnt. Bo and Dre let them listen to Tiller lmao

— Mr. Wilson (@_Doodster) June 27, 2016
In an interview with Complex, Marsai said she didn't even know cameras would be on her! "Sometimes the camera is directly in your face. So you can't help but know it's on you, but during Bryson Tiller's performance it was dark and I was just jammin," she said. Martin said that her favorite song by Tiller is "Let Em Know," and that she first started listening to his music on her commute to work. "I am a fan but like all the other music I listen to, my mom buys the edited versions so I get the 'watered down, more appropriate versions' of songs. I mostly like listening to the beats and hooks. I like to sing too and singing along to his songs is fun."
Miles and Marsai are for the culture!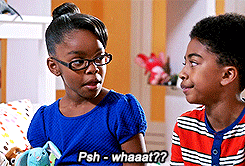 ---