Bennett College is no stranger to historic events. The Greensboro, North Carolina-based HBCU has the distinction of being among just two all-women HBCUs in America and has served as a focal point for some of the country's most important developments since its founding in 1873.
Students at the college have played pivotal roles in desegregation efforts in Greensboro going back as far as the 1930s. They were part of the successful sit-ins that brought significant changes to the state.
The school provided a haven, and stage, for Martin Luther King Jr. to speak in 1958 while also serving as one of the first places Shirley Chisholm went after she became the first Black candidate for a major party's U.S. presidential nomination and the first woman to run on the Democratic Party's ticket.
To learn more about some of the school's storied history, Blavity spoke to Bennett College junior class vice president Nzinga Muhammad, along with Dean Mary Anne Scarlett, a beloved school official who has spent more than 80 years on Bennett's campus.
"My parents worked at Bennett College and brought me here as an infant, so I've watched the college grow and it has helped to grow me. We're a small college in size but a big college when it comes to embracing the students and social justice," Scarlett said.
"The desire and need to establish a school in Greensboro area, in the Warnersville community, to meet the needs of the newly-freed slaves was an urgent matter and a movement began. So many of the first students saw themselves becoming servants in the community in some capacity," she added.
One of the ways in which students fulfilled their calling to serve was through Operation Door Knock.
For nearly 100 years, students at Bennett College have been involved in local drives to bring people out to vote in local and national elections. Hundreds of students over the years have participated in Operation Door Knock, a program that involves women from the school going door-to-door to help educate the public about elections and provide assistance to those who want to vote.
"We are the Bennett Belles but we are also called the Voting Belles. Even back in 1960, the focus was called Operation Door Knock and the whole college closed down so students could go out all over the Black community and get them to register to vote," Scarlett explained.
"Their initiative resulted in about 1,470 new Blacks being added to the rolls to vote," she said.
Muhammad added that women from the school set up carpools to help drive people to polling locations and would assist people seeking to register to vote.
"Every election, it's quite literally tradition to vote and to get out there and to promote the right to vote," Muhammad said.
Bennett College students were also integral to the planning and execution of several sit-ins throughout the 1930s, '40s and '50s that helped pave the way for desegregation efforts in North Carolina and the larger national movement using similar tactics.
Muhammad said that while male students from another nearby HBCU got praise for the now infamous Greensboro sit-ins, it was women from Bennett College who planned the protests and were planning to do their own sit-ins before concerns about violence forced them to hold off.
"It's kind of a forgotten history or history that people don't acknowledge as much when you talk about the Greensboro sit-ins. It was Bennett Belles who collaborated and organized a lot more behind it all," Muhammad said.
"Even faculty staff didn't want the Belles to get harmed or injured by people at the lunch counters. So students from North Carolina A&T went ahead and did it but it was Belles who were behind-the-scenes organizers," she noted.
In 1937, protests took to a local theater. The daughter of the school's president and dozens of students led a boycott of the over complaints that the theater was showing bigoted films and cutting out scenes from movies that depicted Black people positively, according to Scarlett.
"They protested, they had signs and they marched back and forth. They really put a dent in the income of that theater until they made whatever changes they were to make to the showing of that movie," Scarlett said.
Muhammad explained that students were incensed that the theater was repeatedly cutting out any scenes that had positive depictions of Black people or that showed Black people outside of subservient roles.
"They boycotted in their hats and gloves and purses because at the time it was custom to wear gloves and hats," Muhammad said.
But one of the most notable events in Bennett College's history was when Martin Luther King Jr. came to the school in 1958 after multiple spaces refused to let him speak.
"In 1958, he came to the school because no one else in Greensboro would allow him to speak. This was at a time where he was really taking a lot of hatred and backlash for what he was preaching about," Scarlett said.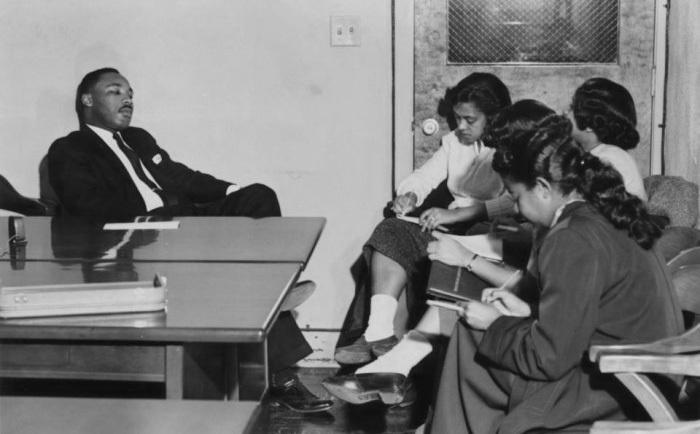 She added that the school's president at the time, Willa B. Player, made the bold decision to allow King Jr. to come to the school despite the local backlash.
"She said Bennett College is a liberal arts college where freedom rings, so Martin Luther King Jr. can speak here. He spoke at the local chapel, a lot of people came," Scarlett noted.
Muhammad added that hundreds of people from across Greensboro came to hear King Jr. speak, so many that an overflow room was needed.
"It really planted seeds of change and social activism that to this day stayed with the students and also led to the sit-ins two years later," Muhammad said.
But King wasn't the only iconic visitor to the school's campus.
In 1972, Chisholm made history with her run for the presidential nomination and one of her first campaign stops was at Bennett College, where students came out in droves to hear her speak.
"There's a picture of the Belles sitting on the yard and they're facing the chapel with a lot of signs saying 'Shirley For President,'" Muhammad said.
Scarlett said she personally can remember when Chisholm made her way to the campus.
"She had just announced that she was running for president and we just sat there in amazement. We were one of the first places that she visited," Scarlett said.
Thanks to Chisholm, Bennett is now a frequent stop for many modern first ladies and presidential candidates, including Bernie Sanders, who spoke on the campus during his run for president last year.
Scarlett said the traditions of ardent devotion to civil rights and social justice still run deep at Bennett, and many students participated in the global protests that took place last year following the police killing of George Floyd.
"I always tell people that Bennett students are responsible and resourceful, champions of social justice, glass-ceiling crackers. They are sensible people, have always been proud and are on a mission to prepare themselves for a constantly changing world of problems," Scarlett added.