NBA Player Gets Head Coach, Who Happens To Be His Father, Ejected From Game, Proves Ball Is Thicker Than Blood
It be your own family.
November 19, 2019 at 7:21 pm
During last Wednesday night's match-up between the Houston Rockets and Los Angeles Clippers, the latter team's head coach Doc Rivers quickly found out that the game is clearly thicker than blood.
As the teams faced off against each other, the intensity of the game got the best of the head coach during the final minutes of the game where he squared up against the game's referees, reports CBS Sports.
According to Sports Illustrated, Doc got into a disagreement with referee Tony Brothers over how many timeouts his team had left.
Using the moment to his advantage, Doc's son, Austin, sided with the refs and repeatedly insisted that his dad receive a technical foul.
And with the swiftness, Doc was ejected from the game.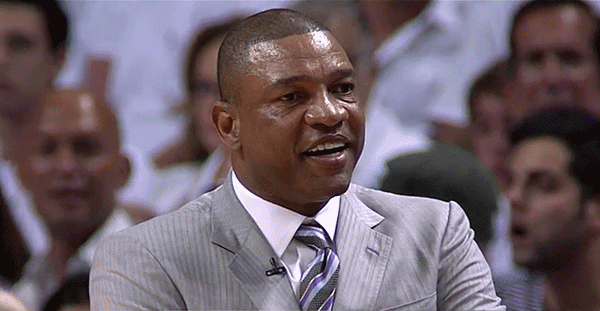 Doc received two technical fouls before being sent to the locker room before the end of the game.
According to the Houston Chronicle, it's still all love between the father-son duo. As Doc left the court, Austin flashed a signal to his dad to give him a call after the game.
"He actually is sensitive with stuff like that so we'll see what happens," Austin told the Houston Chronicle after the game. "I love him, but it was a really good moment that I enjoyed a lot … I really enjoyed that. It was fun."
Folks on social media naturally had a lot to say after this priceless family moment on the court.
Doc looking at his son like pic.twitter.com/gFMF1kUpD4

— #0urMVP🚀(HOU|NETS|NYG) (@EliteTheKing_) November 14, 2019
Doc after the game pic.twitter.com/xzzc0U6FxT

— Michael Gathers (@MG_203) November 14, 2019
Now THIS is totally hilarious. What betrayal on the part of Austin Rivers. And I love it! pic.twitter.com/QSHmr7Rlny

— Stephen A Smith (@stephenasmith) November 14, 2019
Kawhi trying to break up the Rivers family fight pic.twitter.com/TYygiXPmIo

— HoustonHorn (@ndnpro64) November 14, 2019
Some were quick to point out the rising loom of an awkward moment between the two during Thanksgiving.
Doc Rivers when Austin comes over for thanksgiving pic.twitter.com/54LD7w4qdt

— ☘Boston Draftpics☘ (@KGTwoThree) November 14, 2019
Mama Rivers gonna have to break up a scrap at Thanksgiving lol

— Andrew Prevett (@prevett_andrew) November 14, 2019
Doc Rivers and Austin Rivers this year thanksgiving pic.twitter.com/Ii5l0A9Si0

— noah 🧃 (@SomeLakerFan) November 14, 2019
Before being traded in 2018, Austin and Doc were both a part of the Clippers franchise. During an interview with ESPN in 2018, Austin set the record straight of being known as Doc's entitled child.
"People can say whatever they want about me and my father," he said. "I get it. I can even put my ego aside and understand why people don't like the situation. When I was growing up and I'd see the coach's son, you'd be like, 'He sucks. He's only on the team because of his dad.' So I get it."
Austin and Doc aren't the only father-son duo in the NBA. Before there was a Kobe Bryant, there was his dad, Joe "Jellybean" Bryant, who played for the Philadelphia 76ers and San Diego Clippers. Joe also served as the head coach of the WNBA Los Angeles Sparks.
Most notably, Dell and Stephen Curry share the same love of basketball. Dell played for multiple NBA teams during his career including the Charlotte Hornets. While technically the two never shared the court during their professional careers, a young Steph could be seen courtside as his dad warmed up before his games.
Klay Thompson and his dad Mychal are another NBA father-son duo.