Nicki Minaj has rescheduled the North American leg of her tour.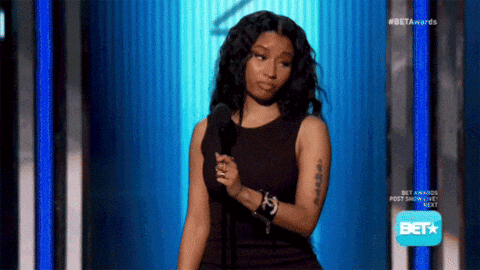 Rolling Stone reports Minaj moved the dates to "reevaluate elements of production." Future, her partner on the tour, will not appear solo due to "scheduling conflicts." Initially slated to begin in September, her North American tour will begin in May 2019.
"Nicki has decided to contribute more time to rehearsal ahead of the tour's launch to make certain her fans get the absolute best quality show that they deserve," read the media release, obtained by Billboard.
Minaj posted a video on Twitter, explaining the situation to her fans.
My darlings: ???????? pic.twitter.com/nBmsE2p9SI

— QUEEN (@NICKIMINAJ) August 22, 2018
"This is all happening because I pushed my album back two months," Minaj said. "I just finished writing and recording literally hours before the album came out. So now I just simply don't have the time to rehearse and be on the road in time to give you guys the level of a show I need to give."
She also confirmed she'll have to find another artist to join her due to Future's exit.
I promise it will be! Love you guys. Thank you ???????? https://t.co/j4pBy7r3J7

— QUEEN (@NICKIMINAJ) August 22, 2018
Thank you guys. I can't wait for you to see what I have in store! Next level! I'm so proud of what we're working on & cant wait to give you the show you deserve! It simply can't be up & running in a month. I also have TV spots, videos shoots, + Made In America Festival coming up. https://t.co/LAYcUmHtgM

— QUEEN (@NICKIMINAJ) August 22, 2018
On Wednesday, Minaj took to Instagram to add some clarity after multiple outlets reported the tour was cancelled.
Minaj's European tour leg will begin February 21. Refunds will be provided for North American ticket sales at the point of purchase.
Liking this content? Check these out:
Nicki Minaj Claims 'I Am Harriet Tubman,' Twitter Collectively Asks 'You Good?'
9 Hysterical Reactions To Nicki Minaj's Seeming Beef With Baby Stormi
The Bromance Between Future And Young Thug Runs So Deep, They Tatted Their Names On Each Other