Rapper CupcakKe Hospitalized After Suicidal Tweet
Get well soon, sis.
January 08, 2019 at 3:24 pm
Rapper CupcakKe was rushed to the hospital after she posted suicidal messages on her social media pages.
On Monday, CupcakKe, born Elizabeth Harris, tweeted she intended to commit suicide and reposted a screenshot of the tweet on her Instagram page, reports NME.
"Thank you for everything y'all have done for me, I really appreciate it," she wrote.
The posts worried her followers, and the police were dispatched to her Chicago home. Her friend, comedian Elijah Daniel, later announced she was safe.
UPDATE: Chicago Police got to Elizabeth's place and she has been taken to a hospital. I don't have any further information beyond that, but will update when i do.

— elijah daniel (@elijahdaniel) January 8, 2019
The Chicago Police Department told a local radio station they were able to contact CupcakKe, according to the BBC.
"Officers went out a few times to check on Elizabeth," the department said. "Once they got in touch with her, they took her to hospital - not for her injuries - but for a mental evaluation."
Fans and other celebrities flooded social media with supportive messages for the 21-year-old rapper.
I hope you are okay CupcakKe :( I'm praying for you https://t.co/jPuSZMi3U5

— Skai Jackson ♡ (@skaijackson) January 8, 2019
my heart is literally breaking. cupcakke isn't just a rapper for girls to hoe out to, she's an inspiration & advocate for the lgbt community, she's honest and open about her struggles with racial inequality, and has always been open about her being a survivor. we can't lose her.

— 𝔧𝔞𝔠𝔬𝔟 (@lovemelipa) January 8, 2019
I'm so glad @CupcakKe_rapper is okay - such a force, such a sweetie and a talented person who deserves everything. From the bottom of my heart and soul - I am very happy you're okay and sending beautiful healing vibes your way! Sometimes shit gets tough, but you're strong af! 💪🏽

— AJA (@ajaqueen) January 8, 2019
dear @CupcakKe_rapper please read this. pic.twitter.com/IrqObEpqlk

— CHARLI XCX (@charli_xcx) January 8, 2019
Sending love to @CupcakKe_rapper ❤️

I understand how hopeless and overwhelmed with negativity we can sometimes feel.
I hope you'll take some time with those that really know YOU best;
then when you're ready come back stronger than ever!

— IGGY AZALEA (@IGGYAZALEA) January 8, 2019
I'm praying for @CupcakKe_rapper 🙏🏼 If you see this just know that you deserve to live.

— Blair Imani (@BlairImani) January 8, 2019
CupcakKe is known for her explicitly feminist and sex-positive music. Many listeners would consider it raunchy, but her openness about sex and other topics endear her to fans.
Her dedication to her fans is another part of her charm. The outspoken LGBTQ advocate helped a fan obtain shelter when he was kicked out of his family's home for coming out in February 2017. She also made a song dedicated to her queer and trans fans titled "LGBT."
She's a straight woman, but she has a special bond with her LGBTQ fans.
"I'm an open book. People seem to like people that are very open — accepting, and not rude. I understand your story because I have a story too," she told The Fader in August. "I'm not a part of the LGBT community, but I feel as though I am, because when someone tells me their story about what they've been through, I tell them my story. Even though it's not an LGBT story, it's still a story."
CupcakKe has addressed her demons in songs like "Self Interview."
"Been walked over so much/Now when I meet someone I act rude/They always ask if my tats hurt/But the hurt why I got tattoos/ Always tell myself it's a big difference in being alive than living," she raps.
She grew up across the street from one of Chicago's most notorious projects. Music was a way for her to cope.
"I think everything that played a part in my life growing up is in my music," she told Dazed. "Being homeless, living in shelters, dealing with over-aged, older men that hit on me… all that is in the music. Because I'm not the only one who should know this. The world should know this. The world should know it so that the next girl will know how to deal with it when the situation comes to her. I'm not the only one who has to deal with that situation; I know it's many, many girls. Your voice is very powerful, and I try to use (mine) very wisely."
Get well soon, CupcakKe.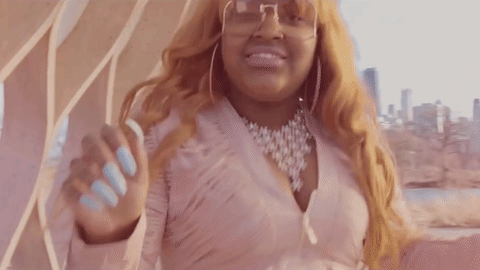 If you are struggling with suicidal thoughts, please call The National Suicide Prevention hotline at 1-800-273-8255. If you prefer text messages, you can hit up The Crisis Text Line by texting TWT to 741-741.
Blavitize your inbox! Join our daily newsletter for fresh stories and breaking news.
Now, check these out:
Dear Black Girl: You Aren't Fast, The World Is Just Moving Slow
Nearly Half of the HIV-Positive Population at Fulton County Jail Are Reportedly Not Receiving HIV Medication
Three Heroic North Carolina Inmates Receive Life Saving Award For Aiding Ill Supervisor
Do you prefer 'The Temptations' or 'The Five Heartbeats'? Is Jamie Foxx in 'Ray' one of your favorite performances of all time? Do you watch BET all day when 'The Jacksons: An American Dream' comes on? If you can answer any of these questions, vote in our Black Music Bracket here! You won't be disappointed.