Late this week, President Trump turned his Twitter attention again to Puerto Rico.
In the series of three tweets, the president randomly quoted journalist Sharyl Attkisson (presumably in defense of his statements on the state of Puerto Rico's economic health) and said the government cannot keep FEMA, the military and first responders on the U.S. territory forever.
"Puerto Rico survived the Hurricanes, now a financial crisis looms largely of their own making." says Sharyl Attkisson. A total lack of.....

— Donald J. Trump (@realDonaldTrump) October 12, 2017
...accountability say the Governor. Electric and all infrastructure was disaster before hurricanes. Congress to decide how much to spend....

— Donald J. Trump (@realDonaldTrump) October 12, 2017
...We cannot keep FEMA, the Military & the First Responders, who have been amazing (under the most difficult circumstances) in P.R. forever!

— Donald J. Trump (@realDonaldTrump) October 12, 2017
A few hours after sending out these tweets, Puerto Rico's governor, Ricardo Rosselló responded to the president via Twitter, "The U.S. citizens in Puerto Rico are requesting the support that any of our fellow citizens would receive across our nation."


Los ciudadanos americanos en Puerto Rico reclamamos la ayuda y los derechos que le corresponden a los ciudadanos de nuestra Nación.

— Ricardo Rossello (@ricardorossello) October 12, 2017
As the 3.4 million America citizens who live on the U.S. territory struggle to put their lives back together, Housing and Urban Development Secretary Ben Carson met with the House Financial Services Committee, The Hill reports.
Representative Maxine Waters (D-CA) is on that committee.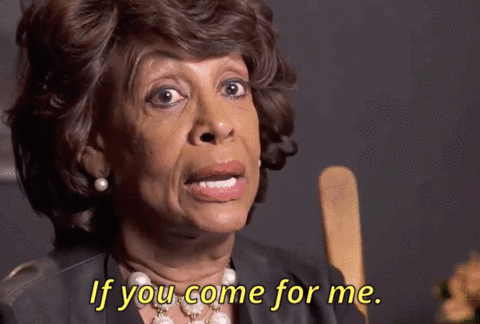 So you already know answers were demanded, and Carson was held accountable.
Waters wanted to know what Carson, whose department will likely play a role in the revitalization of Puerto Rico, thought about his boss' tweets about the island.

"This morning, Trump threatened to abandon Puerto Rico recovery efforts," Waters said. "President Trump served notice Thursday that he may pull back federal relief workers, effectively threatening to abandon the U.S territory amidst a staggering humanitarian crisis in the aftermath of Hurricane Maria."
"Do you agree with the president?" Waters asked Carson.
Carson tried to dodge the question, sleepily beginning a monologue about Puerto Rico.
Waters wasn't there for it.
The Congresswoman pressed Carson for an answer; he again tried to dodge the question.
"I have no intention of abandoning Puerto Rico. They are a very important part of who we are," Carson replied. "The people from Puerto Rico have contributed greatly to the culture of America."
Maxine and Ben. 2017. pic.twitter.com/MmqGahvfZu

— deray mckesson (@deray) October 12, 2017
Waters wanted to know what Carson thought about the president's stance, however. She asked if Carson agreed with the president that aid be shipped out of the territory.

"I think that our job is to make sure that we take care of the disaster that has occurred," Carson said.

Waters then asked whether Puerto Rico should be "shamed for its own plight," referencing Trump's continued comments about the territory's economic woes.

"I don't think it is beneficial to go around shaming people in general," he responded.

"I am glad to hear you don't agree with the president," Waters said.

As of today, only 16 percent of the island has working electricity, according to ABC News. This morning, Governor Ricardo Rosselló tweeted that utility workers working to restore power in the city of Caguas.
.@AEEONLINE Región Caguas trabaja en la reconstrucción de líneas de 38,000 voltios y 13,000 voltio en sectores de Caguas. #PRSeLevanta pic.twitter.com/aYEacVGSXf

— Ricardo Rossello (@ricardorossello) October 12, 2017