Kylie Jenner is on the cover of Forbes, and the business magazine reported she's on tap to become the youngest self-made billionaire.
thank you @Forbes for this article and the recognition. I'm so blessed to do what i love everyday. #KylieCosmetics pic.twitter.com/CRBwlBByk9

— Kylie Jenner (@KylieJenner) July 11, 2018
Well, the internet has a lot to say about that considering she grew up in the lap of luxury.
People are not hating on Kylie Jenner, they're rightly annoyed at how the culture pretends that economic inequality doesn't exist. And wrongly focusing on the term self-made, because social media

— Minna Salami (@MsAfropolitan) July 11, 2018
Can they calculate, in actual dollars, how much cultural appropriation added to Kylie Jenner's self made millions. I just want to see how much profiting off of black culture pays off for white people.

— Black Women are Godly (@EyakwaZulu) July 12, 2018
I respect Kylie Jenner's hustle but when u born into money if u smart with it its easier to become richer compared to somebody coming from nothing working their way up

— black bonnie (@bunnnndy) July 12, 2018
I'm not hating on Kylie Jenner but it's much easier to climb to the top when you already have a ladder...

— BigKyla. (@KylaKeaunza) July 11, 2018
kylie jenner's "self-made" empire is almost as funny as donald trump's "small loan of 1 million dollars"

— james (@phan1om_) July 11, 2018
The debate has become so heated that the dictionary got involved.
Self-made means having succeeded in life unaided.

Used in a sentence: Forbes says that Kylie Jenner is a self-made woman. https://t.co/sr8Ncd7s5A https://t.co/ehEL7Cf6KV

— Dictionary.com (@Dictionarycom) July 11, 2018
The rest of Twitter definitely caught the shade being thrown.
When the dictionary gets involved. I am weakkkkkkkk 😂😂😂 #kyliejenner #forbes #selfmade https://t.co/bYGAfNvke4

— Nola Marianna Ojomu (@NolaMarianna) July 11, 2018
Ha! Come through with the definitions. Words mean things people. https://t.co/I2PYCCwtGG

— Britteney M (@BeBeTooSweet) July 12, 2018
I see you... pic.twitter.com/0YzjzftBCD

— 🦄 Melissa Osareniye (@melosare) July 11, 2018
It is not shade to point out that Kylie Jenner isn't self-made. She grew up in a wealthy, famous family. Her success is commendable but it comes by virtue of her privilege. Words have meanings and it behooves a dictionary to remind us of that. https://t.co/2HzIJbLb8q

— roxane gay (@rgay) July 11, 2018
Franchesca Ramsey started a thread that summed it up:
erm. being born into extreme wealth & instant fame is the exact opposite of "self made" https://t.co/c9rZyx03Al

— Franchesca Ramsey (@chescaleigh) July 11, 2018
starting on 3rd base makes it real easy to get a home run. acknowledging that doesn't take away that person's success or wealth. i'll never understand why people on this app put on capes for folks who don't give a fuck about them. but go off i guess.

— Franchesca Ramsey (@chescaleigh) July 11, 2018
i apologize for saying Kylie Jenner was "born into wealth & fame" i totally ignored that she invested HER OWN 250k from modeling jobs she EARNED after using her reality tv checks to get plastic surgery to get modeling jobs & brand endorsements to start her company #SelfMadeWomen

— Franchesca Ramsey (@chescaleigh) July 11, 2018
the lesson here is that if your parents have the connections to shop a reality show that launches when you're 10 so you're famous from childhood & have very famous siblings, maybe you too can pull yourself up from your bootstraps & start a company valued at billions #goals

— Franchesca Ramsey (@chescaleigh) July 11, 2018
unfortunately when i was a teenager i didn't have Kylie Jenner to look up to. full lips weren't "like a thing" before her. my parents did have Olympic medals, brand endorsements, experience managing online personalities or any experience negotiating licensing deals on sex tapes.

— Franchesca Ramsey (@chescaleigh) July 11, 2018
it was wrong of me "come for" a young woman who's sacrificed SO MUCH to chase her dreams of repackage colorpop lip gloss AND put full lips on the map. as a black woman stating facts is really aggressive and threatening to the status quo. i should know better.

— Franchesca Ramsey (@chescaleigh) July 11, 2018
please respect my privacy as i take a break from social media to think about how my tweets have negatively affected a "self made" billionaire who's never heard of me. the stans for opening my eyes. the perspective you have given me is worth a thousand kylie lip kits #ad

— Franchesca Ramsey (@chescaleigh) July 11, 2018
Activist Brittany Packnett also weighed in.
You can get on the cover of Forbes + be a young billionaire by selling the very features, style and swag that Black Women have always possessed but got called ghetto for it.

The problem isn't Kylie. The problem is America.
If she didn't exploit it, someone else would have.

— Brittany Packnett (@MsPackyetti) July 11, 2018
And notice-now that she's made her fortune? Those lip fillers came out. The fake tan disappeared. Just like Miley Cyrus before her, she'll exploit black culture and black people for as long as its profitable-and then return to the comfort of whiteness.

Why? Because it pays.

— Brittany Packnett (@MsPackyetti) July 11, 2018
And it pays because America loves black culture and not black people.

— Brittany Packnett (@MsPackyetti) July 11, 2018
Honestly? Kris Jenner is an evil genius cause she understands that in America, proximity to black culture will make you richer than being black ever will.

They used America for exactly what it is. Racist and capitalist.

None of us should be surprised.

— Brittany Packnett (@MsPackyetti) July 11, 2018
Kylie Jenner is many things, but "self-made" is debatable.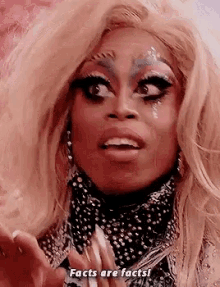 Liking this content? Check these out:
G.O.O.D. Fridays 2010 Vs. 2018: How Each Music Rollout Was Uniquely Impactful

What Hip-Hop Lyrics Have Taught Us About Wealth