These 15 Tweets Prove Just How Hard In The Paint Black People Are About To Go For Nike
SWOOSH, there it is!
September 04, 2018 at 5:58 pm
In a very well-timed decision, Nike announced Colin Kaepernick as the face of its 30th anniversary "Just Do It" campaign both on Labor Day and a few days before football season begins.
This caused a heap of saltiness to pour out of Kaep's haters, the most vocal of whom posted images of themselves burning and cutting up their Nike products. On the flip side, Kaep's supporters doubled-down on their love for the icon and basically told Nike, "Hurry up and take our money!"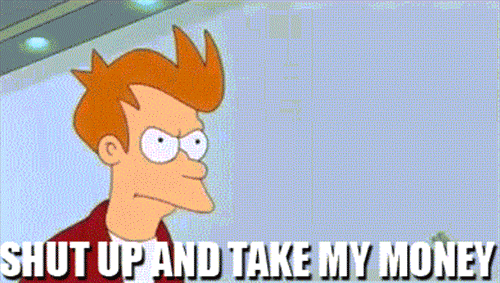 Nike said, "just do it," so they did!
Some took the Kaep shade as yet another reason to break out their freshest kicks!
Me showing off my nikes to white ppl pic.twitter.com/Hf2I5A7fX3

— suckaforbigthighsnbigasses (@traytrayolay) September 4, 2018
And of course, there were obligatory "Air Force Ones" references:
Me at Footlocker tomorrow pic.twitter.com/ypOooeLyVw

— ment nelson (@mentnelson) September 4, 2018
One user called out the haters for their self-destructive tantrums. A shoeless hater doesn't have much to stand on.
Nike made Kap the face of their campaign

The face of Under Armour told the POTUS he's not visiting the White House

Puma made Jay-Z who supports Kap brand ambassador

Adidas has rappers on the payroll who support Kap's message

What are you haters going to wear? #Kaepernick

— Topdollaztimeless (@Taylorweeze) September 4, 2018
You know you have support when folks go to bed wearing your product, despite it not being sleepwear.
I am going to bed with these on then wake up and drink some maga tears #NikeBoycott

#Kaepernick
pic.twitter.com/PYnsELgfTd
— ALT- Immigration ???? (@ALT_uscis) September 4, 2018
And yes, the popular shoe brand had military support, too!
Let me guess we're boycotting Nike because by them supporting Colin Kaepernick they are somehow "disrespecting the flag." We all know this to be untrue/unfounded but a segment of our population will continue to seek division over unity. I'm putting on my Nike shoes! #NikeBoycott
pic.twitter.com/fLRo6GFXDN

— MuslimMarine (@mansoortshams) September 4, 2018
Some folks reacted by saying, "Oh, you're boycotting arguably the most popular sports shoe brand? Good, maybe the damn lines for new releases will be shorter."
I actually need a new pair of workout shoes. The choices are dizzying. The #NikeBoycott helps me narrow the decision down to Nike Air Max Trainer. pic.twitter.com/Oi5UuxST9A

— LaneBrooks (@lanebrooks) September 4, 2018
Folks were perched in formation waiting to get more Nike products.
Me waiting on Nike store to open so I can support @Kaepernick7
#NikeBoycott
pic.twitter.com/OOoGaxUELD

— Jasmin (@JasminRice17) September 4, 2018
Me figuring out how I'm going to buy every Nike x Kaepernick release without going broke. Lolol! pic.twitter.com/AXaGsFh1hZ

— LoveYourself (@ScottieBeam) September 4, 2018
Me, looking to see if anybody burns some Jordans rather the Nike's they got on the clearance rack pic.twitter.com/5ZKHvpqJOP

— Jemele Hill (@jemelehill) September 4, 2018
Serena Williams, another athlete Nike has fully backed despite white pushback, took to Twitter on Tuesday to reiterate how proud she was to be associated with the brand:
Especially proud to be a part of the Nike family today. #justdoit
pic.twitter.com/GAZtkAIwbk

— Serena Williams (@serenawilliams) September 4, 2018
And of course, folks were ready to throw some shade at the Kanye who has gone the extreme opposite direction of someone like Kaep.
Who did this? LMFAOOOOO pic.twitter.com/y5FYSxJEJc

— cheybuttter fan acc. (@RiqueTheRuler_) September 4, 2018
The bottom line is, Nike won't be hurting. In fact, as some were quick to point out, signing Kaep might have been a public relations coup, but it was also very good business.
I'm just here to remind folks that last year Colin Kaepernick was in the top 50 in NFL jersey sales, despite not being on a roster. Nike made a business move.

— Jemele Hill (@jemelehill) September 3, 2018
The whole 20% of white people (well some of them ????) who buy Nikes has me crying with this whole #NikeBoycott thing???????? Nike will be fineeeeeeee, black people give them the most sales anyway????????‍♀️????????‍♀️????????‍♀️ pic.twitter.com/Org1rW5IWp

— Shelly???????? (@diosa_shelly) September 4, 2018
The people who were burning Tiki torches last year are burning Nike shoes this year. Either way, you've got to buy 'em to burn 'em. Can't be too bad for Tiki or Nike. I'll be buying Nikes for the first time in years this week. To wear. #NikeBoycott

— Ali A. Rizvi (@aliamjadrizvi) September 4, 2018
Whew, the shade!
Among all the commentary was also some next-level business advice for people who aren't in Nike's C-suite:
Just in case you are wondering. #Nike
#Stock
#NKE
#JustDoIt

"Don't just buy Stuff. Buy Stock." – Madam Money

*Consult with a licensed financial professional. pic.twitter.com/60e4Pgv541

— Tarra Jackson (@MsMadamMoney) September 4, 2018
Nike going to be like …
Liking this content? Check these out:
EA Games Apologizes After Giving Colin Kaepernick The Voldemort Treatment In Madden 2019
Understanding The Origins Of Why Colin Kaepernick Decided To Take A Knee
Colin Kaepernick Hits Back At Blackballing NFL Owners In 5-Word Instagram Caption