Very Smart Brothas Announces Acquisition By Univision
These two exceptionally intelligent homies are movin' on up!
If you've been immersed in the blogging world for a while — whether as a blogger, commenter or lurker — you should be familiar with Very Smart Brothas.
Even if you're not an OG blog fan, there's a good chance you've heard of them by now. And if not, well, you're about to find out all about them!
From appearances on Washington Post to BET, these two fellas are always making moves.
Founded by Damon Young, Panama Jackson and Liz Burr in 2008, Very Smart Brothas served as "culture" hub for online readers. From there, it expanded into a digital magazine in 2014. Cut to now, and the blog has evolved into something greater!
Why We Joined Gizmodo Media Group (GMG), Explained https://t.co/USpQ9AH2Pb— VSB (@VerySmartBros) July 7, 2017
Recently, co-founder and editor-in-chief Damon Young announced that Very Smart Brothas has been acquired by Univision under Gizmodo Media Group. It will join the Gizmodo family as a vertical of The Root.
That's right: after nine years, the platform longtime fans of the site call a "virtual happy hour at the lounge" is in the big leagues!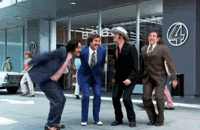 Young says that this deal will take some of the pressure off of what has been, until now, a two-person team.
"With this deal, however, we'll be able to focus our attention on being creative," Young said, "And we'll have access to Univision's amazing resources. (Which means we'll be able to do podcasts, short videos and more panels and events.) And we'll have a budget to pay writers actual competitive rates instead of the bite-sized Snickers and lapdances from Panama we offer now."
In short, this isn't just good news, for the VSB team, but for readers who want more VSB content, and for smart young writers and creators looking for an opportunity.
Congrats to Team VSB! We're all rooting for you and we're looking forward to what's next!
Do you prefer 'The Temptations' or 'The Five Heartbeats'? Is Jamie Foxx in 'Ray' one of your favorite performances of all time? Do you watch BET all day when 'The Jacksons: An American Dream' comes on? If you can answer any of these questions, vote in our Black Music Bracket here! You won't be disappointed.