And so, it has arrived–that moment when talking on the phone leads to a white man calling you a monkey. Yes, this happened.
On a Long Island Rail Road train ride from New York City's Penn Station to Long Beach, Long Island, a white man was caught on video unleashing a racist rant on two black women. The encounter lasted about 10 minutes before the man exited to another train car.
According to Law And Crime, the video was first posted on Facebook by a user named Aneesa Janat Rafeek.
As seen on the video (also posted by the Daily Mail), the white man yelled at the two black women, who kept telling him to "shut the f*ck up." He proceeded to call one a "monkey motherf*cker."
During the heated argument, he took the racism up a notch by implying the women's parents aren't in their lives. "Do you know who your mother is?" he screamed. "You don't even know who your mother or your father is because you're a f*cking monkey, that's why!"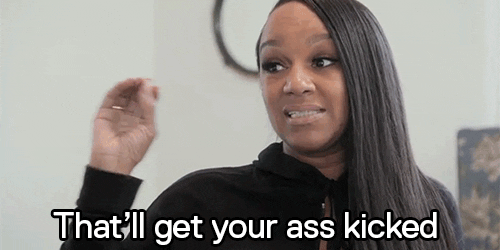 According to Rafeek's account, the man in the video was annoyed by the black women speaking loudly on the phone.
"Not loudly in my opinion as I was sitting only diagonally from him and could not hear her," wrote Rafeek.
Nevertheless, the white man began mumbling under his breath before yelling at the woman he claimed was "being a loud mouth b!tch [sic]." After yelling at the first woman, and then a second black woman, he called them both "monkeys."
LIRR confirmed they are looking into the incident.
"This language is offensive, completely inappropriate, and has no place in our society, let alone on the Long Island Rail Road," read the statement. "The MTA police are actively investigating this report."
"What this video does not show — him getting up to get in the young women's face to scream at her more. It was honestly so disgusting to witness," concluded Rafeek. "Say what you want in regards to 'both' sides being ignorant and needing to be quiet. Have someone start yelling profanities at you for being 'loud' and see how you react."