13 mixed feelings Twitter has about XXL's 2016 Freshman list
June 13, 2016 at 11:54 am
On Monday morning, XXL released their 9th annual Freshman Class issue, covering the 10 hip-hop stars to watch out for. Since 2008, the list has projected the rise of big names like Kendrick Lamar, Wale, Big Sean, J. Cole and Future.
The release of this year's Freshman class has been subject to mixed feelings. The 2016 Freshman class includes: Anderson .Paak, Lil Yachty, 21 Savage, Lil Uzi Vert, Kodak Black, Lil Dicky, Dave East, Denzel Curry, Desiigner and G Herbo.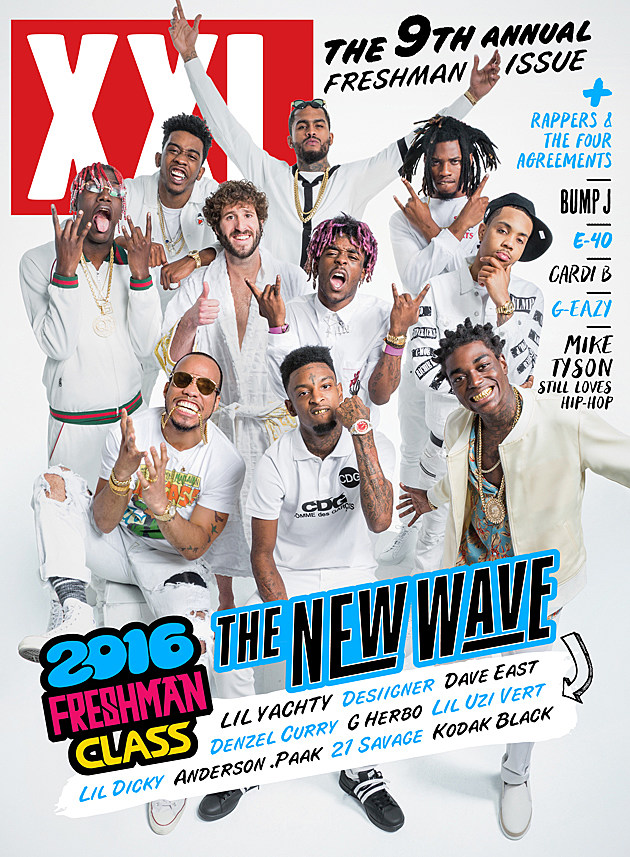 Twitter sounded on what everyone was thinking:
1. Every time this list comes out, many of us just feel older and older.
How the TL looks at the new @XXL freshman class cover every year: pic.twitter.com/JMxuDhadpJ

— Philip Lewis (@Phil_Lewis_) June 13, 2016
2. I mean…really old.
Every time the XXL freshman list drop. Old folks have a "Idk who these artists are" party on the TL. Look like dis pic.twitter.com/eZoRqgQoEo

— WordSmiff (@_WordSmiff_) June 13, 2016
3. Or maybe we're just not hip to listening to the newcomers.
Every time XXL drop a freshmen list y'all people who don't follow music complain lol, do your research on Lil Dicky

— Yes Im PATisDOPE (@PATisDOPE) June 13, 2016
4. Is this really an honor nowadays? Or is it a curse?
XXL's freshman cover rarely, if ever, features women, and that may be why it's a career curse. Few artists make it out alive.

— Ferrari Sheppard (@stopbeingfamous) June 13, 2016
5. Some artists we thought should have been on there aren't really worried about it.
thanks for you
guys wanting
me to be on the cover.

I want my own cover@XXL

— TPC Tokyo (@madeintyo) June 13, 2016
6. Lots of people were confused as to why there were no female MCs on the list…
Looking at all these XXL lists and there's really been like 4 women on all of them.

& one of those is Iggy.

Hip-Hop gotta do better.

— Ol' QWERTY Bastard (@TheDiLLon1) June 13, 2016
7. …notably Love & Hip-Hop star Cardi B.
Cardi B coulda got on that XXL Freshman cover. Name some other deserving female rappers?

— Matthew A. Cherry (@MatthewACherry) June 13, 2016
8. But what other female rappers do we know about other than Nicki?
Women complainin about women not being on the XXL list and none of you actually listen to female rappers

— Crosfather (@Crosfather) June 13, 2016
9. Other people are defending the list…
I'm not mad at the @XXL freshman cover this year. All of those dudes been putting in work for the 2016 spot, so we gotta acknowledge that.

— Shawn Caliber (@SurefireSCal) June 13, 2016
10 …some even calling it the best cover in years.
• the new @XXL freshman cover is one of the best it's been in years. Congrats to all the dogs that graced it. pic.twitter.com/0fz6oL78Qb

— Jacuzzi (@JazzCartier) June 13, 2016
11. Should Bryson Tiller have been on the list. More importantly is he considered a rapper?
@XXL HORRIBLE LIST WHERE BRYSON, DESIIGNER ONLY RELEASED 1 SONG SMH

— Erik Mejia (@ErikOcean18) June 13, 2016
12. Maybe scrap the Freshman list, and start doing a feature on producers?
They should do a XXL Freshman back cover of producers, b/c they're literally 50% of the reason these rappers are famous in the 1st place.

— NUFF$AID (@nuffsaidNY) June 13, 2016
13. But then again, we just love to be opinionated about things on Twitter.
Getting mad at the XXL freshman cover is a twitter TL tradition

— Yung Metaphysique (@SoloExMachina) June 13, 2016
What do you think of XXL's 2016 Freshman Class. Who should have been included or left out? Comment below!
---