As a future mother and active godmother, it is very important to me that our children feel comfortable in their skin. Their gifts should be a reflection of this. Recently, while browsing through site after site of "suggested" options for my little godbaby Amani, I realized that these options were not chosen with us in mind. The holiday season is always tasking as it is, so let me cut out the busy work for you and go straight to the checkout line!
Here are 10 children's gifts that are sure to excite and surprise the little kings and queens in your life:
Give a gift not only at Christmas – keep it going year round! Geared towards ages 0-12, with a subscription, the Brown Toy Box arrives at your doorstep filled with hand-picked culturally-savvy products and presents.
2. Crayola Multicultural Crayons, Markers and Colored Pencils
Growing up, there wasn't an alternative to the "brown" and "tan/peach" shade. When I asked to borrow the "skin color," I knew exactly what I was getting, and it was never brown. With the Crayola Multicultural Multipacks, children of all ages will finally have a chance to explore with a range of shades that they can more closely identify with.
3. Frank Morrison Shades Calendar
Photo: Black Art Depot
This year, skip the pop band calendars, and debut the art of Frank Morrison month after month. Filled with vibrant artistry, the artist takes us through the whimsical world of children through the lens of his illustrations, with a message that can be learned with each.
4. Doc McStuffins gear
Equip your future doctor with a few of the favorites from the global hit series. The series Doc McStuffins features, Dottie, a nurturing 6-year-old girl who cares for stuffed animals in her clinic. There are plenty of sets to choose from, but these are a few of my favorites:
Doc McStuffins Pet Vet and Check-Up Center
Doc McStuffins Magic Talking Clinic and Doll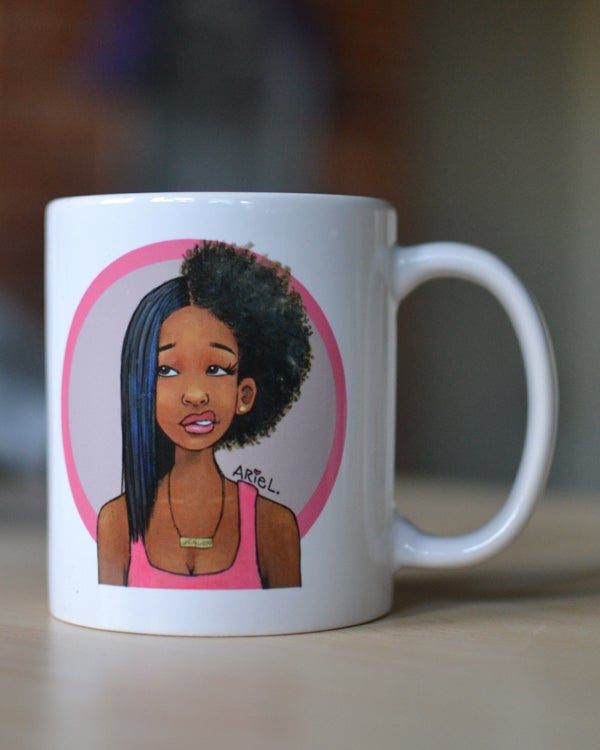 Photo: Ariel Brands / Keturah Ariel
For any age, give the gift of positive imagery and empowerment through prints, tees, accessories, sweatshirts, and more. Check out the entire stock of Ariel Brand products, and you will be sure to find the right gift for your special someone.
6. Baby Alive dolls
This year, give your little one a chance to play with a baby that looks like her for a change. These Baby Alive doll sets come with accessories for days, and plenty of options to choose from. The interactive munchkins are sure to impress as they interact and engage like a real little tike!
Baby Alive Super Snacks Snackin' Sara Doll
Baby Alive Lil' Sips Baby Has a Tea Party Doll
7. Madame Alexander Play Dolls
Designed for ages 3 and up, these little queens were made to fall in love! Crafted with material meant for the sole purpose of hugging and malleable hair for hours of endless playing, each 18" beauty is one of envy. Each doll can be dressed with custom outfits and purchased attire for an extra flare!
Beautiful Ballerina Dark Skin/Brown
Blue Shimmer Princess- Dark Brunette
8. Steven Universe disc sets
Photo: Amazon
The animated show and comic book series has become a global phenomenon for all ages. Through its unique tale, the universe as told through the focal point of Steven. It engulfs us in the twists and turns of what it means to be a "gem," as outspoken motley crew leads a rebellion to save the earth. Each character is relatable and powerful in their own right, with a profound story to tell.
Steven Universe: The Return (Season 2)
Opt: Guide to Crystal Gems Book
9. The Black Children Collection
Photo: Black Art Depot
The variation collection features several select artists depicting the beauty of our youth. The Black Children Collection contains artwork, figurines and more that is perfect for decorating any space including classrooms, daycares, bedrooms, and nurseries!
10. Books
What a more perfect time to curl up by the fire with a cup of hot cocoa and a few cookies this season with a few of my favorites:
Whoopi Goldberg takes our hand and leads us into the world of a group of talented, young ballerinas at The Nutcracker School of Ballet as they work through stage fright, moving, overcoming hardships and more.
Emi's Curly, Coily, Cotton Candy Hair
Photo: Goodreads
This first book, written by Tina Olajide, introduces Emi talking about her Curly, Coily, Cotton Candy Hair and appreciating what makes her uniquely different. Ms. Olajide understood, "that Images have a powerful affect on the psyche, shaping and affirming how we see ourselves, so why not create a positive character through vivid imagery and storytelling." Through future books in the series, Emi will inspire young girls to dream bigger, reach higher and create their very own masterpiece.
Jaden Toussaint, the Greatest Series
Photo: Cool Mom Pics
Written by Marti Dumas, and geared towards our tweens, the Jaden Toussaint, the Greatest series features an inquisitive, budding scientist with a distinguished afro. He's a blooming techie, who quite frankly feels like an outsider in his family. The series follows Jaden throughout all of his antics, and how he navigates his young life as an innovator. Jaden's ingenuity is rewarded. The series features humour and ingenious situations that include vivid characterizations and illustrations.
Sunne's Gift: How Sunne Overcame Bullying to Reclaim God's Gift
A hit for all ages, join Sunne as she learns that there is beauty and power in difference. Sunne's tells the message of self-love and bullying prevention when Sunne is teased and bullied by siblings because of Sunne's natural, kinky, curly, "nappy" and spirally afro-textured hair. The effervescent tale that is often embarked upon within our culture, and a message that can ever get old.
Check out all of these options, and keep me in the loop with new finds! Positive imagery doesn't have to be such a struggle to find anymore. Share and let us know if your loved one finds their unique gift just as magical as they are. Happy Holidays!
---